In some ways, getting into cam modeling is deceptively easy. The sign-up process is quite simple, and as for the actual shows, all you need is a webcam and an internet connection. What about actually cultivating a career as a webcam model, though? That takes a bit more work. If you're aiming to be listed on sites like ReadySetCam.com, you'll need to outshine the competition – and that takes more than raw talent. It also takes the right strategies, some of which you can learn about below.
You should start by signing up on the right webcam site. Even if you're an amateur, you don't have to join a site that's mainly known for amateurs. Instead, it's recommended to choose a site that's known for higher-quality webcam models. Not only will this pave the way for you to develop your professional brand, but it'll also give you access to viewers who are prepared to spend more money on top-notch cam shows.
Assuming you've found the webcam site you'll be using, what's next?
Tip #1: Maintain your boundaries
A lot of webcam shows go for a no-holds-barred vibe, but that's just part of the performance. The reality is that webcam models have limits, and they shouldn't feel obligated to do anything they aren't comfortable with. Even if a viewer acts aggravated when you turn down their request, remember that they don't have any right to ask you to cross your own boundaries.
Tip #2: Fine-tune the background
If you want to go all-in for your webcam performances, you'll turn your background into the perfect stage for your show. From the lighting, to the decorations, to the color of the floor, everything should work together to set the mood.
Keep in mind that you should probably go beyond simply cultivating a generally sexy atmosphere. If you're specializing in a certain niche, you should lean into that with your setup. Getting the lighting right will do wonders – something brighter for a college cam, something more sultry for a MILF cam, and so on.
You can also try to tell a story with the background. For example, a messy bedspread could imply that you were recently getting down and dirty with a partner. Or what about making white or off-white the predominant color in your background, implying purity or innocence? This could provide a great contrast to your on-screen activities.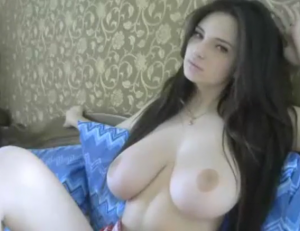 Tip #3: Give personalized attention to viewers
As your following grows, it'll become more difficult to keep track of everyone who shows up to your public performances. Even so, it's still possible to pay individualized attention to the people who deserve it the most.
Take notes on what regular viewers appreciate
Your most loyal fans are the ones who are likeliest to splurge on private performances, and with a bit of note-taking, you can develop targeted offers to send their way. Start by writing down which viewers show up for each performance, plus what their requests are, and how much they tip. This is your target audience for private shows; by offering them exactly what they want while also making more money, you're both benefiting.
Pay attention to requests from your viewers
Depending on how many people are attending your public shows, you may have a bunch of requests coming your way. Some of them will be accompanied by a tip, while others won't be. The idea is to acknowledge viewer participation, and to encourage tipping at the same time. Try to focus on the requests that are accompanied by tips; otherwise you'll essentially be customizing your cam show for free.
Even if they don't send in tips or requests, it never hurts to shout out some of your viewers who are interacting in the text chats. This makes them feel special, and it makes you look like you genuinely appreciate your viewership.
Tip #4: Look like a professional
If you've decided to become a webcam model, the chances are good that you're already naturally beautiful. Even so, you shouldn't completely rely on that if you want to look like a real pro. You should also get a manicure/pedicure, apply some makeup, do your hair, and maybe even use special skin treatments for that glowy look.
Tip #5: Approach your cam modeling career like a business, instead of a hobby
Even though it's easy to get into webcam modeling, it isn't so easy to set yourself apart as a high-caliber professional. That takes both work and planning, beyond simply scheduling cam shows and then showing up on time. If you just want some extra pocket money from camming, you could probably get by with an informal approach. If you wanted to actually develop it into a career, though, you'll need to take the following steps.
Consider specializing in a niche
You know all the categories on every cam site – gay or lesbian cams, BBW cams, MILF cams, and so on? When viewers know what they want, they can use these categories to seek out a specific type of cam show. And if you decide to develop a specialty in one of these niches, you'll basically be setting yourself up to receive targeted traffic to your webcam performances.
If you want to offer polished cam shows, you'll need a decent webcam and microphone, lighting equipment, and probably some props like sexy outfits or toys as well.
How much money do you want to make, and how much of that should come from public vs. private shows? Once you've set these types of goals, you can start promoting yourself with special offers, social media outreach, and so on. This strategy will also help you stay consistent, something that's crucial as you build your viewership.
The takeaway
It takes a lot of hard work to find success as a cam model, but the same could be said for most career paths. With some expert advice and plenty of determination, you'll be on the path to your new career!