All Committe members submitted their votes. Fans made their voices heard. This 2021 edition has been the most tight one in the finals. Usually after 48 hours the trend never chanages. However for the first 7 days Touki, Tessa Fowler and Cheryl Blossom were swapping places and all were in the first place in fan voting at one point. Imagine that allmighty Tessa Fowler was ranked twice.
However, the trend was clear since December 30th. I recommend you to check out the Commitees opinions  in part 1, part 2 and part 3 before reading the fan voting analysis.
Fan Voting:
This was as close as Antonella vs Lucie Wilde in 2014.  However, the rookie defeated the defending champ. It was amazing how results were changing every day.
As per fan voting Touki gets 2 points and Tessa Fowler 1 point.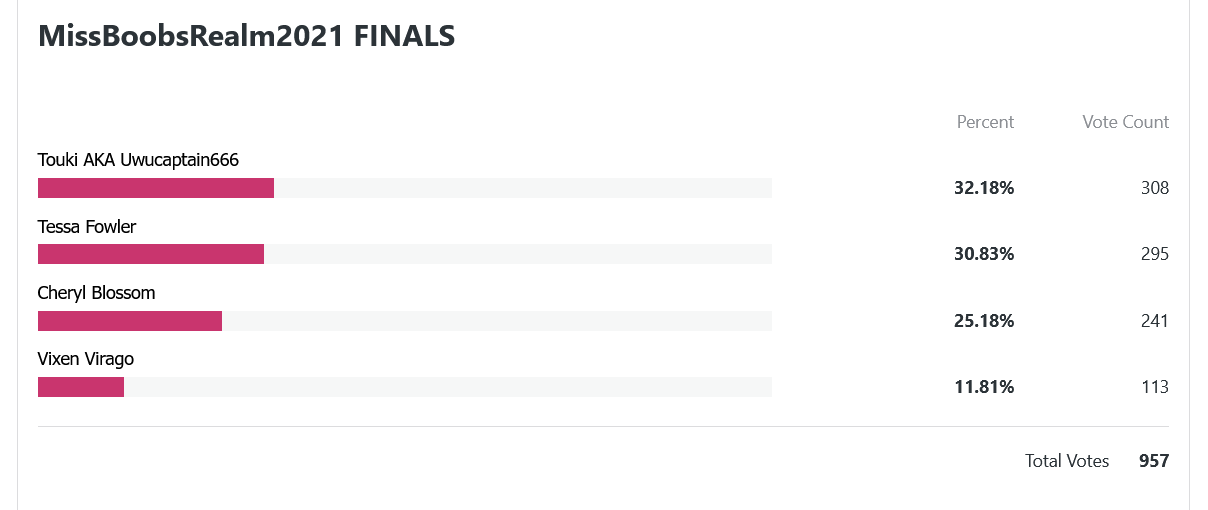 Results
Based on the Committee Voting and Fan voting the final points end as follows:
Fan Voting: Touki 2 points, Tessa 1 point
Boobsrealm: Touki 2 points, Cheryl Blossom 1 point
Douglas Dribbles: Cheryl Blossom 2 points, Tessa 1 point
Ninersfan: Tessa 2 points, Touki 1 point
MonkeyBoySam: Tessa 2 points, Touki 1 point.
Total Points: Touki 6 points, Tessa 6 points, Cheryl Blossom 3 points, Vixen Virago no points.
As per the rules, in case of a draw fan voting is preferred. In 2019 Tessa won fan voting and Committe votes, whereas Gabbie Carter won the most of the committee votes tying both. As per the rules Tessa Fowler was declared MissBoobsRealm2019 (3rd win).
This was the sentiment of some fans. You understand the reference now.
The feeling of some fans on the #MissBoobsRealm2021 Finalshttps://t.co/yFeFmeQJz4 pic.twitter.com/0Q7TVGiCpN

— BoobsRealm.com & loyalfans.com/boobsrealm_com (@BoobsRealm) December 24, 2021
FINAL RESULT
Touki won fan voting thus her 2 points become 3 points:
MISS BOOBSREALM 2021: Touki 7 points
RUNNER-UP: Tessa Fowler 6 points
Touki wins the symbolic $200, a BoobsRealm commemorative tank top and an offer for a 4-figure shoot for Boobsrealm.
FINAL WORDS
Thank you to all fans who voted and to the members of the Committee who were impartial.
Congratulations to Touki who is without a doubt the new Queen of Big Boobs. Let's see what 2022 holds for us and what Touki can do this year so she wins it again. We have 365 days for more of the best busty girls in the world and also for the consolidation of new girls, the debut of girls who as of today have not shown their boobs online yet and what legends will do this year.
Congratulations to Touki! Merci beaucoup petite quebecoise Touki. Tu es la meilleure!
All that meat is natural!@Touki003
Vote on #missboobsrealm2011 Group Ghttps://t.co/XgbcGiTZNC pic.twitter.com/DNVEvg4ljz

— BoobsRealm.com & loyalfans.com/boobsrealm_com (@BoobsRealm) December 6, 2021