As always BoobsRealm.com want to bring you the best porn sites. This time I wanna share with you a top Porn Reviews site. Ladies and gentlemen please let me introduce to you X3guide.com. This amazing porn reviews site is what you need to visit before joining a porn site. X3guide is the result of hard work -pun intended- made by some guys who want to make sure you enjoy the best porn sites.
X3guide was born when a group of porn lovers got together and decided to create a platform where you, the user, would be able to know beforehand what each ad every porn site has to offer. Are you tired of joining porn sites only to be let down by the content? Those days are over with X3guide.com. Each porn site featured on X3guide has been reviewed independently by porn experts who evaluated the porn site's content, how user-friendly the site is, the frequency of the updates and other criteria so that everybody could be aware of what to expect before joining a porn site.
x3guide has several hundreds of sites reviewed. The guys who work on the site take their job very seriously offering guides and advice about each site besides the prices of each plan. X3guide classifies the porn sites into categories, so any user can find the site they want to know about and also has the opportunity to get to know about new porn sites.
Take a look at the Big Tits Reviews. You will find more sites.. I even discovered some new ones!!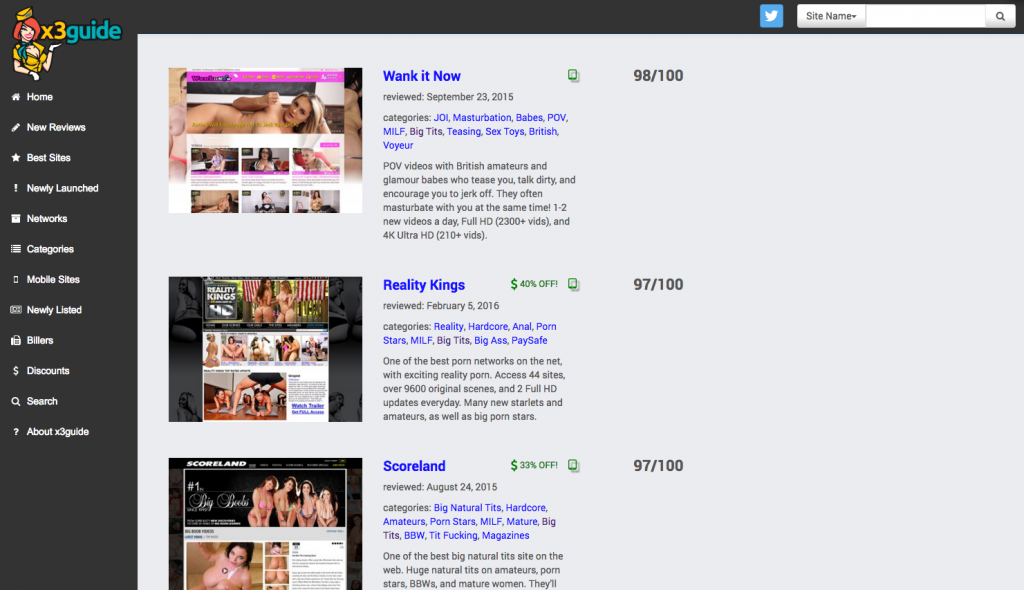 Among the categories we have obviously Big Tits Reviews, Anal, 18-23, Blowjob, Amateur and many many more. You gotta check it out. You know what is also amazing, that X3guide.com offers Porn discounts (also featured on the top menu of BoobsRealm.com to provide you with the best tools to enjoy the best porn in the world) and also PayPal Porn sites, so you can actually know what porn sites use PayPal to make your life easier when joining an adult site.
In conclusion, X3guide.com has what you need in order to enjoy the best porn sites. The site keeps on adding new porn sites daily, so you have the chance to check out the best porn sites in one place and that place is X3guide.com.
What do you think? It's pretty awesome right?
Holly Randall review (where Viola Bailesy will debut soon)