Busty British Yasmin Disney has been around fora while teasing her big boobs. However, she has recently started her Onlyfans site where she offers topless photos. Today we will take a look at some of what you can get on her site and also stories from Yasmin, before she got big boobs famous.
Yasmin Disney is a busty vixen who teases her great boobs in 2016. However, that was not the case before. Actually, Disney was in the first episode of British Reality Show The Beauty and the Beast: The Ugly face of prejudice, where she complained about having large breast.  In 2011 she was the first British woman to have non-surgical breast reduction. She went from 36J to 36E. Here you can read an article on The Sun about her reduction and her nightmare of having big boobs. Although now Yasmin has embraced her big tits, it was not pleasant back in the day.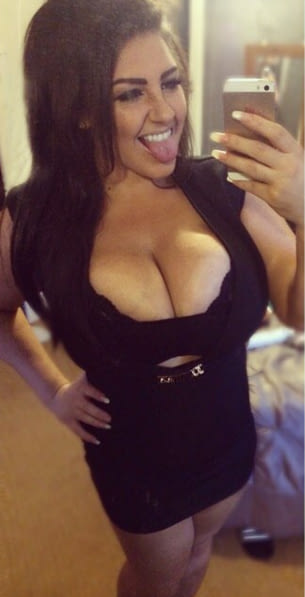 Yasmin made headlines again in 2015. She had been working as an army Major's secretary for years. She got caught claiming over 100,000 pounds in expenses which were destined for an Audi, bags and jewelry. She faced jail time and her boyfriend had to give back a car she bought him. I don't know what happened, but Yasmin disney has been around on twitter and instagram showing off her big titties since at least 2016.
We hoope now that Yasmin is on the good side of the law. However, she has always been on the good side of big tits lovers. She might be funding her vacations through her work, but fans know -and Yasmin herself- that thousands of guys all over the world have been dreaming on those big naturals she has on her chest. We now know that she had even bigger tits. It would have been wonderful to see those naked too.
You can get Yasmin Disney nude photos on her OnlyFans. Below some samples that have been shared by some satisfied fans who bought her pics. Enjoy and buy some stuff. It is worth the fap.