I had never heard of a youtuber XQC before, and probably I never will ever again. The guy went viral and cause an uproar of Onlyfans and pornstars. Several online sex workers replied. In the same week GOP politician Candice Owen got a lot of heat from Onlyfans girls after her appearance on the "demonetized", "vilified", "name-called" Podcast that goes under the name Whatever Podcast. I also add my 2 cents at the end fo this post.
The triggers
Youtube XqC is a guy who I have no idea what he does and I gave 2 fucks to search online about. However, he did became a hot topic when he mentioned online that he would not create an onlyfans if even if he was broke, while labelling the online sex activity as rotten. The comment got million s views and thousands and thousands of responses.  I will elaborate more on those later.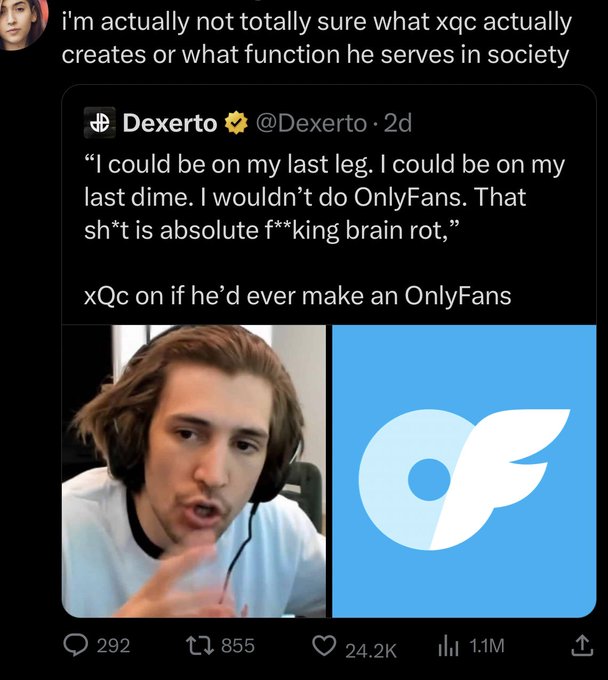 On another part of the Internet, Candice Owen was a guest on the Whatever podcast debating young onlyfans girls and escorts, who I never saw in my life on social media, yet they claim to be reeking money from simps. Candice got a lof of hate on twitter from telling girls that they would have issues in the future trying to find a high value man when  they decide to leave and settle
The Responses from SW
I will add in bullet points some of the common responses and posts I saw online. I, however, wanted to quote the one from MrLuckyPOV, which I will address below.
MrLuckyPOV "I HIDE MY FACE BECAUSE IM ASHAMED OF WHAT I DO ⚠️Only a simple minded person would believe this.Everyone in my personal life knows what I do.I have enough money to never need a "real job" again. I will never need to appeal to a corporate/government employer.I have no unaccepting religious affiliations.HERE ARE THE FACTS….I'M A POV PURIST, ITS WHAT I ENJOY, ITS WHAT I DO BEST.The reason I remain anonymous is because I believe it enhances the experience for the viewer. My content FOCUSES ON THE GIRLS.As a matter of fact, starting in this business is SIGNIFICANTLY HARDER operating as a faceless, independent, content trade only, shooter.In the early days girls thought I was like the rest of the creeps, just trying to fuck for free and lead a double life.And, yes, I do enjoy being faceless. I won't apologize for that. I got into this business to have sex and make money, not for personal attention.It clearly triggers some that I found a way to make it in sex work while maintaining my personal anonymity.If you feel like you're suffering from the repercussions of the sex work you chose (I'm not saying it's deserved) that's not my fault.To be fair, in all my years, I've only heard small levels of criticism from irrelevant people. But either way…there you go.Now here is a video I took today, in an incredible location, with a beautiful girl, off an amazing boat, living an extraordinary, consciously created life. "
Some girls said that they were in relationships or married when they started onlyfans.
Other girls say that they have several fans who say they "want to date"  / "marry" them.
Rebecca Goodwin mentioned something along the lines with : She is making a lot of money, and people complaining were jealous women were making money without the need to fans.
The most common answer was that girls were making a lot of money and they preferred that versus working a 9-5 and making less money.
BoobsRealm's take
I want or point out things I have noticed with all this and my take on XqC and Candice's comments as well as the responses from sex workers.
XqC has the right to express himself as he wants. You may agree or not agree or think he should have express his view in a different way is acceptable. However, judging by the responses he -and Candice- got there is a Carl Jung's Shadow issue. IN psychology one of the best ways to identify your shadow is to pay attention to your emotional reactions toward other people. Sure, your colleagues might be aggressive, arrogant, inconsiderate, or impatient, but if you don't have those same qualities within you, you won't have a strong reaction to their behavior.
We can not label as good or as bad everyone in the same Group of people. There is a case by case analysis; however, that is when stereotypes come into play. Whether we like them or not there are always stereotypes: Mexicans are lazy, Irish are drunk, Americans are Fat, Jews are cheap, etc. So while stereotypes may fit a large group of individuals part of the stereotyped group, it is up to each  individual to proof the stereotype wrong, the change it in the long term.
Candice makes valid points. However, she may have missed the memo that mot men nowadays put women on a pedestal, thus are more willing to accept traits that would have not been acceptable 10 or 5 years ago. I will post the results from the BoobsRealm Survey, where most men would be ok to marry a girl who fucks other girls on camera, yet most of them would have issues telling their friends and family about what their gf/wife does for a living.
MrLuckyPOV responds to a claim with a particular example. His. I have always said he is one of the few professional guys doing collabs and have praised his work. However, I have to mention here that he seems to be doing the same exact thing he is criticizing in others. Not everyone has the chance to make 20k or 30k 0r 50K a month.  Not everyone has friends in the adult industry and was involved before. So there are many people woman that are making barely 5k to 10k at most in a good month. The amount may sound good to some, but realistically speaking is not enough money to think you can never need another work.
To continue with the previous point, money in adult goes down for women every year. The older they get the more competition they have. Girls who have bashed Candice or xQc saying they are making enough and that is what matters, may have ignored the fact that there is a high probability that the ones making 20k a month may be making 10k a month in less than 1 year.
As a result, there are many women -and men- out there that do care about life after porn/onlyfans. As I stated before. MrLucky says "If you feel like you're suffering from the repercussions of the sex work you chose (I'm not saying it's deserved) that's not my fault.:, thus shaming the people who do not show face. These women -and men- have the right to make money and maybe aspire to a different life in the future.
I have said it before and I will reiterate it again, The women that enter onlyfans and decide to show their faces and/or start doing collabs should understand that whether they like it or not, whether they consider it is empowering or just another job, they should be fully aware of the risks. I have run BoobsRealm.com for years and I have gotten several messages from girls who were even happy to get a BoobsRealm top and proudly took pictures. fast forward years later, they send an email or hire a DMCA guy because they have a new boyfriend or are looking for a job or want to be welcome back in the family.
Conclusion
It is a very sensitive topic. It is impossible to not have people take it wrong. Remember some girls have complained about BoobsRealm being a "tasteless" blog for claiming that "Busty slim women are rare".
What is your take on the matters.
We can chat more on the BoobsRealm Discord.