Scoreland was not having much going lately, but the Alaura Grey first titfuck announcement just made headlines. Scoreland also celebrates its 25th anniversary introducing Erin Star and her huge naturals.
Alaura Grey was one of those busty ladies that Scoreland followers wanted to see back on the big tits site. Their wish was granted and actually they got more than they asled for. Alaura Grey returned to Scoreland for a titfuck scene.On June 9th, Alaura Grey will get a cock between her tits for the first time-ever  for the camera. Will she suck and fuck after that. Who knows, but stay tune as Scoreland wants to celebrate their 25th anniversary with a bang.. and I mean a bang or many bangs!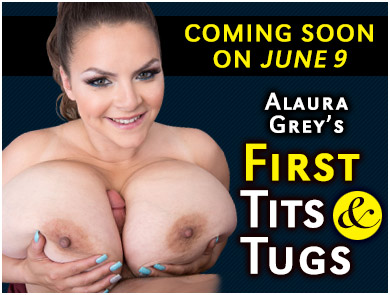 Speaking of Scoreland, they take pride in bringing the first big boobs sister act in Scoreland's history in what pertains big naturals. Erin Star and her sister Helen are debuting on Scoreland.com in this next few weeks. Today Scoreland brings the blonde sister who goes by the name Erin Star. Big mammaries. Natural and very suckable. A new face and new tits to be the main models on Scoreland in this new era.
Keep them coming!