Blacked.com announced that Angela White and Lena Paul have shot a threesome for the website. This post also features partial results of the BoobsRealm 2017 Survey, which you can complete HERE.
Angela White is taking over the Porn World! The busty aussie is on a roll since moving to the States. She and up-and-coming top busty pornstar Lena Peach shot together for Blacked.com a threesome scene. It is awesome to see Lena shoot with other guys different than her husband. Lena Peach might be the new top American busty pornstar, so teaming her with Angela make this a legendary scene.
This is scene is for Blacked, but you can see more Angela White Interracial Porn on Her Official Site.
Now time to address the Boobs Realm 2017 Survey. I appreciate all your kind words. There are loyal followers who visit it at least every two days. I also appreciate that you can notice my genuine love for real boobs and the news. Once I got an informal offer to sell the blog, but it was going to be transformed into an automated blog with just galleries that you would see on any other blog and advertisement of fake sexting profiles to make quick bucks. I did not see the point of selling it at the price offered and never wanted to see BoobsRealm.com reduced to a site whose sole purpose was to make money and "legally scam" casual visitors to make quick bucks.
Most of you want more new girls. Believe me, January will start with daily new girls. Also, most of answers are against Miss Boobs Realm. I will elaborate on this paragraphs below. So far, most think 2016 was a good year in terms of big boobs models. I do think there were many new girls, but sadly it was the year many fan favorites retired. Some do not like the layout. The current will stay until around summer 2017, until I find a better one with more security features.
Fans complain about Miss Boobs Realm: Below, Antonella Kahllo (2-times winner)
Now let's address the controversial topic here: Miss Boobs Realm, why there is a Committee, what's the point and what will happen next.
I have to tell you the whole story here, so fortunately you understand where I'm coming from.
Miss Boobs Realm took place in 2010 as a way to engage fans in the newly created blog. BoobsRealm was part of a free blogging platform and I was thinking of ways to draw more interest. The first contest was the first contest and probably the most perfect one. It featured the likes of Jena Doll, Gianna Michaels, Karina Hart, Yulia Nova, Tanya Song, Milena Velba, Ala Passtel, Shione Copper, Lindsey Dawn McKenzie and many others. The winner and Original Miss Boobs Realm was Merilyn Sakova.
In 2010 there was no social media. No obsessed fans. It was all fun. It helped the blog start getting noticed. However, the platform were the blog was id not help make anything better. Fast forward 2013 and BoobsRealm got its own domain BoobsRealm.com. I asked fans about having the contest again and all were excited. Miss Boobs Realm 2013 took place. However, there was a difference I did not notice until almost the end of the contest: Social Media had taken over the porn world.
Miss Boobs Realm 2013 was won by then-newcomer Antonella Kahllo (735 votes) and the runner-up was Vodkka Jane (482 votes). Third and Fourth place were for Sha Rizel (130 votes) and Gianna Michaels (127 votes), respectively.
Fans were excited about having the contest again. For the 2014 edition, Sponsors donated money for the Prize, so they required ads impressions. I launched a forum and took the Miss Freeones example, where registered fans could vote every day. Pornstar Siri warned me about the risks it would represent, but I was too naive to think that fans would be obsessed and cheaters. The final round saw Antonella Kahllo and God's gift to big tits porn Lucie Wilde as winner and runner-up this time. However, things got crappy -or it was easier to realize what happened- I explain you what I have never disclosed:
The third and fourth place were obtained by Leanne Crow and Tessa Fowler, who got less than 400 votes.
Lucie Wilde was in second place with around 500 votes
Antonella Kahllo was in first place with over 600 votes
I decided to audit vote by vote and user by user, which took me hours of my limited time. I discovered that 2 fans created fake e-mails from the same IP and voted for Antonella Kahllo. I had to deduct those votes. The legit votes showed a draw between Lucie and Antonella Kahllo. I decided to give it one extra day for voting. Again, more fake votes to deduct and oddly enough there was another draw. I give it 10 more minutes, announcing it online. Fans voted. A draw again. I decided to take one more vote and that extra vote went for Antonella Kahllo, who won the contest and became Miss Boobs Realm for the second time.
The rules were made. Siri was right. The fans that voted on a daily basis were voting for the eventual winner. Lucie Wilde did not have a legit twitter account, so she losing the contest was because of the rules that did not foresee the impact of social media.
After the results fans e-mailed me and messaged me about Lucie Wilde's defeat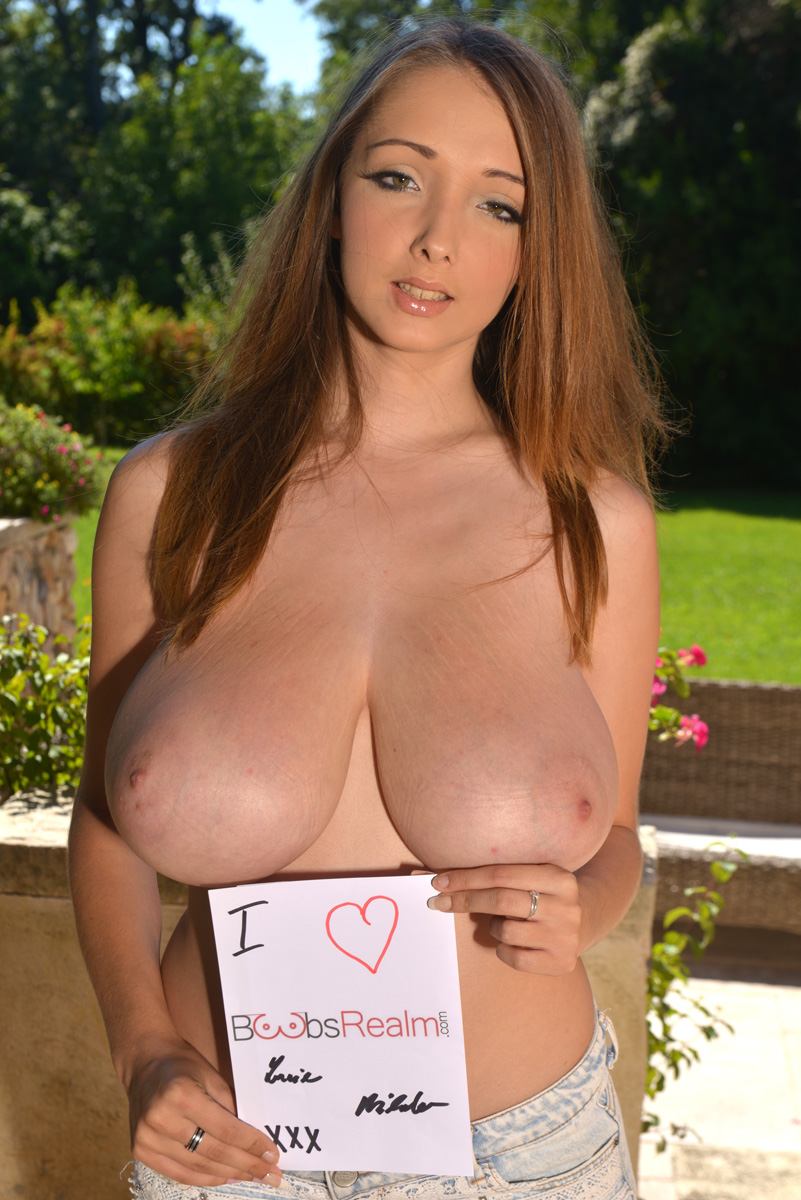 I decided to have the Committee for the 2015 edition, but backed down last minute to give fans a chance. No repeated votes were allowed and I was going to spend money to track IP's. Beth Lily advanced in her group thanks to traffic coming from a 4chan post. Unfortunately for her those fans were casual fans who only voted that time for the girl they felt more attracted to, but did not come back for the Finals. However, those votes allowed Beth Lily to advance to the final, eliminating Antonella Kahllo. Busty newcomer Samanta Lily became Miss Boobs Realm 2015 after I had to took some votes out that were made cheating the system again to favour a cam girl.  What happened next is what made me establish the Committee for 2016.
After Antonella's fans whining and kicking and screaming (see here) Beth Lily's and Samanta Lily's instagram accounts got reported and deleted. Both girls received distasteful messages on social media. While I can't assure the attacks came from Antonella's fans, the timing was odd.
BoobsRealm.com means a lot to me. The site and the contest got attacked and what was supposed to be a source of fun and bonding with other big tits lovers became a war. In 2016 I decided to establish to Committee including two long-time fans and collaborators of the blog who are objective. I also included NaughtyBoy and XX-cel who are producers. All this, to avoid fans boycotting the contest.
Antonella Kahllo withdrew from the contest to avoid controversy. I have monitored voting, and no odd voting has taken place. However, the lack of social media accounts have still moderately hindered some girls chances.
If we go back to 2010 and we imagine that only Minka would have had Facebook, would it have been fair to have her won over all the Legendary names she competed against?
So far fans voting has not been affected, as it weights 2 points. From what I can see now in round 2 it seems that fans voting is the most important vote and is defining in 99% of the cases who advances to the final.
So far in Miss Boobs Realm 2016 there is one girl that has voted over 50% of the votes in her group and 90% of the Committee votes. Throughout the year I received many e-mails and comments from fans expressing their picks for this year's winner. This time, so far, at least in her group, no irregular voting has taken place. I still don't know who will win the Finals. Other 2 girls have received massive support from fans. And rightfully so. Oddly enough none of those girls have shared the contest on social media, so it seems voting is fair.
FINAL TWO (o) (o) THOUGHTS:
You can vote until tomorrow in Round 2 (gorups A to K) The top 12 who don't make it will go to a Redemption round that will be defined only by fans voting.
As a result of the controversy, a few fans immaturity -as you could see above- Miss Boobs Realm 2017 will be the last contest.
List of Boobs Realm winners:
2010: winer: Merilyn Sakova, runner-up: Danielle FTV, third place: Ewa Sonnet, forth place: Jana Defi, fifth place: Hitomi Tanaka.
2013: winner: Antonella Kahllo, runner-up: Vodkka Jane, third place: Sha Rizel, forth place: Gianna Michaels, fifth place: Hitomi Tanaka.
2014:winner: Antonella Kahllo, runner-up: Lucie Wilde, third place: Leanne Crow ,forth place: Tessa Fowler, fifth place: Angela White.
2015:winner: Samanta Lily, runner-up: Casssidy Morgan, third place: Tessa Fowler, forth place Sensual Jane, fifth place: Beth Lily.
Cam Girl 2016: winner: Kittiesauce aka Asiri Stone, runner-up: Nikki Eliot, third place: KissMeFirst, forth place: Jane Best Tits, fifth place: ThatSubieGirl
Legend contest: winner: Ala Passtel, runner-up: Yulia Nova, third place: Merilyn Sakova, forth place: Lucie Wilde, fifth place: Hitomi Tanaka.
I hope this makes you understand why the change in the voting system and what was the original purpose. Merry Christmas!!