On Monday legendary pornstar Nikki Benz made headlines. Unfortunately, it was not a new porn scene -or at least not about the porn itself-, but about Nikki voicing her right to call out porn actor and director Tony T and Brazzers for being "traumatized" on set during a recent shoot.
Nikki Benz shot a scene with Tony T for one of the several Brazzers sites. Nikki, who has been their Brand Ambassador, has shot for them several times. She had no idea what was about to develop on set.


"This year has been full of ups and downs & after the most horrific scene I filmed right before Bali…I deserve this! Trust…I'm not happy," she said via her Twitter feed @nikkibenz.
She continued, "But I'm letting shit go…have fun releasing it. I'm not ok with it!!! …as an ambassador, you should have never put me in that kind of situation. Good luck."
Benz later posted, "I guess rape scene[s] are in now huh? I guess when I'm signing out and I tell you I'm not ok with the scene, you make me say I'm ok so I get paid. I'll go on CNN and tell the truth. I have zero to hide."
"Once I'm back in L.A., I will properly handle my business. No girl should have to go through what I went through on @Brazzers set.
"#NoMeansNo #CutMeansCut and me telling you I'm not ok with any of this should be taken seriously. I should not be beat down… In my 13 years in porn, this was the first time I went into shock on set & cried. #Brazzers… On set bullying, rape, & violence should never happen. #NoMeansNo on camera, off camera. Just NO!"
During the scene Nikki Benz was choked by Tony (with his hands I assume), had her head stomped on, and her hand is black and blue. Supposedly, she was yelling cut, but they would not stop.
Nikki Benz performing for Brazzers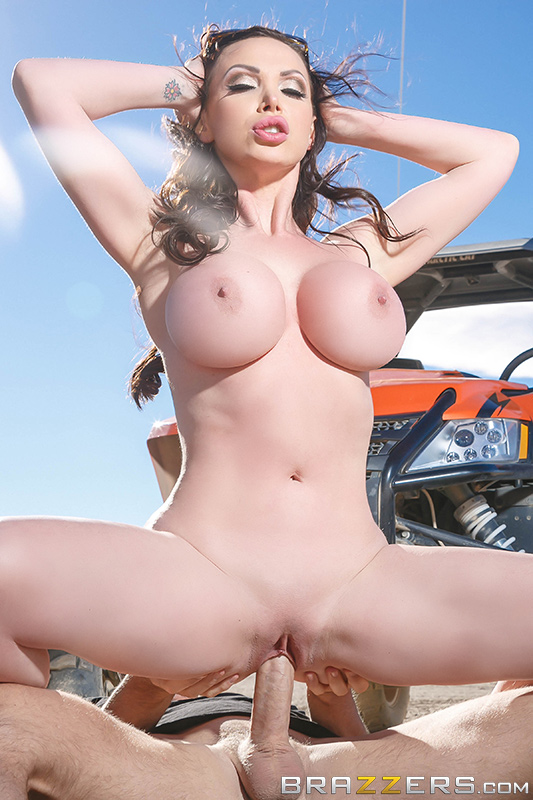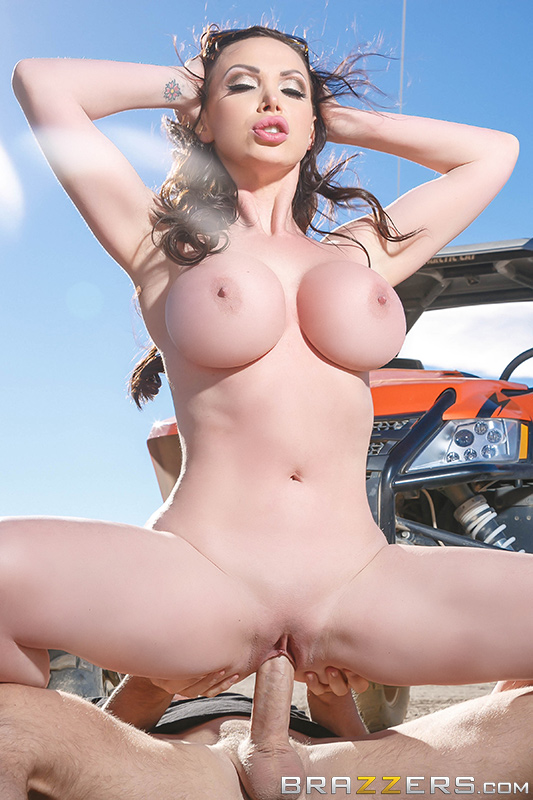 This is not the first time incidents like this on set have happened, but Nikki Benz is the first major name -besides Stoya- to voice her disgust. Other less known performers are either ignored or just choose to remain silent to avoid getting "blocked" by some producers or studios.
Rayveness had the following to say about the incident:
I did too many scenes I wasn't ok with for way 2 long bc it was my only source of income 4 last 25yrs. I understand my friend! @MyRayVeness https://t.co/NDHK3EirEV

— RayVeness (@MyRayVeness) December 20, 2016

And well-known Devon:
@nikkibenz @Brazzers I'm soo fucking sorry this happened to you. Same thing happened to me. #no one gave a fuck.

— DEVON (@devonxxx) December 21, 2016

Apparently this has not being Tony T first rodeo. Other performers have not been surprised by his actions. Some people in the adult industry are surprised that Tony T still has a job as he is considered a repeated offender.
Ex-pornstar Eve Laurence commented that she was victim of the same treatment back in the day. Niki Benz added the following screenshots of SMS with other colleagues:
Note: On a side note, This Sunday Miss Boobs Realm 2016 Round 2 ends. Please vote on Groups A to K.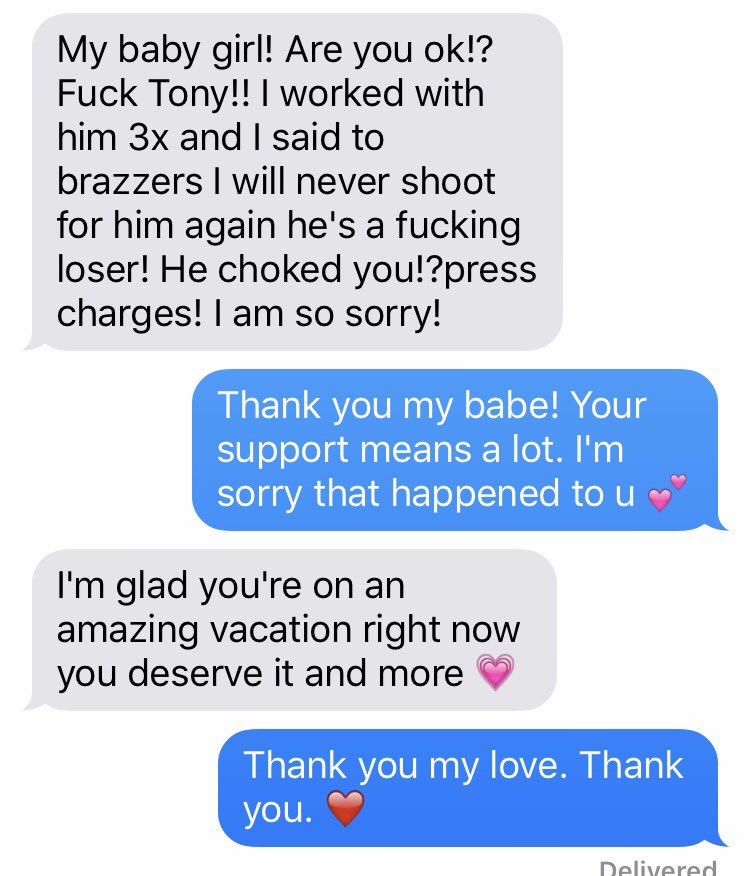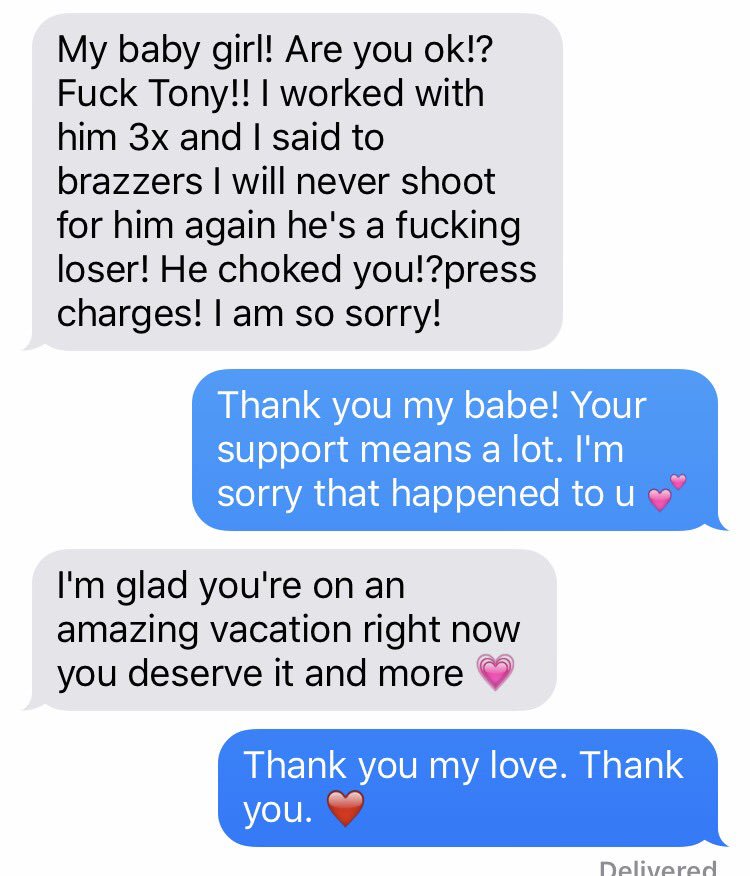 Brazzers responded via PR on their SFW blog Trenzz that was headlines "Brazzers Supports Nikki Benz.". In a nutshell, Brazzers distanced themselves from the Tony T and his studio claiming that Brazzers do not have directors, actors under their payroll, but outsources the shoots to studios. Brazzers also said that they won't purchase the scene.
For those who are unaware how the production process in porn works nowadays, this is what you need to know: Big companies do not have actors, directors, crew under payroll. All performers and crew are independent contractors. The websites, through a Production Coordinator, order shoots to different studios sending them screenplays, technical specifications and other notes relevant for the shoot. After the scene is shot, the studio submits the raw material or the edited scene -depending on the agreement- and if everything meets the porn site requirements the purchase of the scene is finalized.
While Brazzers is right about the studio being a third party, thus there would be no accountability on their end, Brazzers does not comment about the claims made by other performers who have already complaint about Tony T.
On behalf of BoobsRealm.com and its followers I want to express our support to Nikki Benz and our disdain towards abuse and disrespect on any porn set. Female porn performers deserve to be treated with respect not only by fans, but also by male performers and directors as well as by office staff whose job must be not only to get a scene shot but also make sure that there are no incidents during the production of the scene.
This incident can also be seen as the Evil Corporation vs the blue collar man. Brazzers seems to see talent as disposable individuals, ignoring complains or avoiding addressing these.
Below a video of Nikki Benz. You can express your support to Nikki Benz on twitter @nikkibenz
Note: It's funny that there is no full Brazzers video on Xvideos -probably Brazzers complained about piracy-; however, Mindgeek (Brazzer's company) also owns Pornhub, which features tons of free movies from their competitors.