I bring you a couple of Christmas gifts for you today. The first one is inside scoop about the drama behind the scenes that many fans ignore and that hinders many models career's and may have caused retirements. This post is nothing personal against anybody, but I will be stating some facts that may either answer some of your questions or may destroy some of your hopes.
Why Myla Azul, Talia Amanda and Sha Rizel will never model for Nadine again?
As you may have noticed there are some models that are recurrent in Nadine's website. Samanta Lily, Luna Amor, Sha Rizel, Hitomi Tanaka and Sha Rizel are among the top names. However, we can count out Sha Rizel. And forget about any hope t see Demmy Blaze for Nadine. Why? Well, just think what do all the girls have in common besides big tits. Ok… I won't say it explicitly but think what sites they have shot for and what sites they have not? Well Sha Rizel and Demy Blaze (check them on Patreon)who are real life friends have recently shot for a producer in a solo scene. That is one of the don't for Nadine's site. And that is why all the women on her site will never shoot for certain websites or they will be gone losing their annual shoots. That is the unwritten rule.
Myla Angel also did boy/girl on cam, which seems to be a no-no for Daktari who runs Nadine's site. While there is no issue with Hitomi and Katerina, Myla Azul was discarted because of her hardcore story.
Newcomer Talia Amanda has been also "fired" from Nadine's site as she was told not to shoot with anybody else. I have nothing against anybody, but girls make money with shoots and if you are telling somebody not to shoot with anybody else you have to compensate them for the Opportunity Cost.
Note: I like Jana Juraskova but I think she should add less make-up to the girls that shoot for Scoreland.
What other examples of grown-up crybaby situations I can share?
Sensual Jane was in talks to shoot a bukakke with Torbe…. because I hooked them up and Jane was traveling to Spain. However, Torbe's competitor literally threw their bodies between Torbe and Jane and told Jane that she would not be hired again if she choses to work with Torbe.
Do you have a Lucie Wilde story we do not know?
Yes. Lucie Wilde was offered 5,000 for a shoot for Nadine's site a year after her retirement. Her response was that she did not need the money. Insiders have said that Lucie Wilde got a lucrative contract when working for Legal Porno, but also that she did not invest the money at all.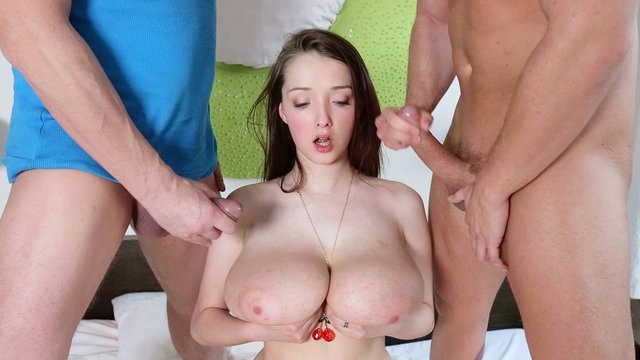 Why some Romanian cam girls are not hired by the big sites?
Not naming names but I know this for a fact because I was in touch with a few of the girls. There are many hardworking busty models in Romania; however, others do not want to hustle and just think that money comes easy. Some models do not want to travel and demand that the producers move all crew and equipment to their town, which can be more expensive than flying the model. Other models are ok to fly but overcharge. Others do not understand how to handle contacts and just ask for shoots without saying "hi" or "good morning". yep, that is why some girls are not going to be in the top sites.
Why do busty models end up retiring after a year or so?
There is no enough  money in topless modeling to make you live out of it unless you live in Easter European countries where just a very few have a comfortable live with camming -because modeling does not pay the bills at all-. Modeling for sites is a way to get more fame and to kickstart Patreon and webcamming business; however, not even pornstars make enough money -and those are the ones that get paid more-.
Many models have side jobs, but obviously stating that in public would destroy the fantasy. Some of the others make more than enough money modeling but with a cock between their tits and no cameras at all.
So please do not think girls make a lot of money and do not steal their content, because they will end up retiring sooner rather than later. You won't see them around and you won't fuck her.