I know it is late for 4th of July celebrations, but BoobsRealm.com was down. Also, it is never to late to celebrate when we have beautiful girls with big balloons. The party is brought by Beth Lily on Pinupfiles.  If you think you were not going to miss Beth Lily huge natural boobs, you have to take a look at the whole set. Besides her big G cup juggs, Beth also has a really pretty face and a very round firm ass. Beth Lily is british. I don't know if she is among those celebrating #Brexit, but for sure she makes us celebrate the USA day.  Take a look at the sample photos and visit Beth Lily on Pinupfiles. for a all the photos and videos. Just watching Beth Lily's tits bouncing one more time is worth it. Cherish the moment, as we may not see these big gazongas anytime soon.

You know who else loves to celebrate wearing a a USA bikini vovering her big natural J cup tits? Amanda Love. yeah, Amanda Love has bigger monsters than Beth – she is shorter too, so these are huge- Amanda Love is away from modeling, but she still teases her over 100k fans on instagram. Just look at how perfect her breast are.  Below a photo and a video of Amanda showing off her big rack.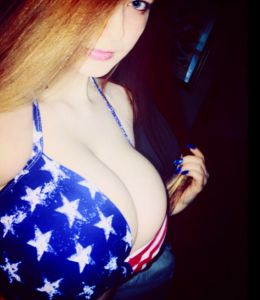 You know what comes next??? Amanda Love latest topless.. Yes Amanda Love has been selling topless photos on instagram. Amanda Love oils her big giant boobs and sells videos to her fans. Now here is the question… If you see Amanda Love latest topless do you think she should enter Miss Boobs Realm 2016 ?
Next post will have a poll and you will have until July 24 to decide whether Amanda Love deserves to enter Miss Boobs Realm 2016.
Please for the moment take a look at the best Busty Cam Girls on BestBoosbCams.