Our friends from Alrincon brings us busty Lauren Victoria Halen. While this busty instagram celebrity does not show the boobs, she is still worth taking a look and fapping to I guess.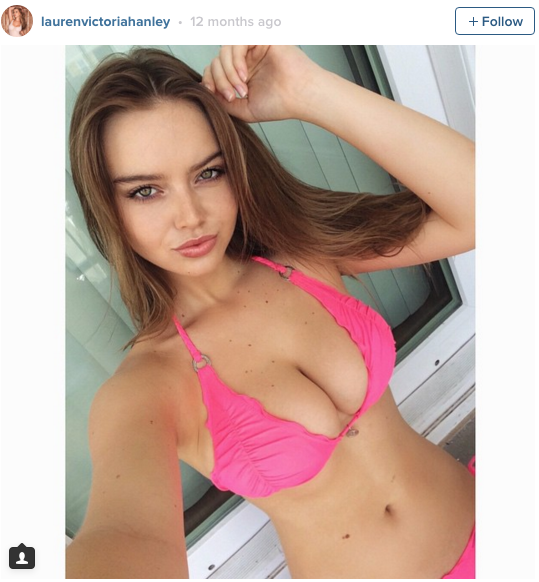 The cam girl of the day is the busty Andreza Prats. The Brazilian cutie is 20 years old, but she seems to already have a lot of sex experience. Her shows are amazing. Her boobs are not as huge as the ones I often feature on BoobsRealm, but they are really surreal. You can follow Brazilian cam girl Andreza Prats and enjoy all her updates. Here a screenshot of her amazing boobs. Do you want more busty Andreza Prats?
My buddies from Floppy-tits brings us Avri Gaines, a Zishy girl. Click on this link to check out the full busty Avri Gaines gallery.
The featured site of the day is DDFBusty. Not only because they have the last ever Lucie Wilde porn scene, but because if you join DDFbusty using this link. You will get 50% off of your membership thanks to BoobsRealm.com Sounds like a sweet deal right?
Ok if you are not convinced yet what about another photo from the last -and newest- Lucie Wilde fucked by the pool scene. Just look at that body. I never care about legs, but I like Lucie Wilde's legs too.
The shout out of the day goes to Miss Boobs Realm 2015 Samanta Lily. Just look at that body and that cite face. I don't mention the giant natural tits as I know that is where your eyes are at. You can watch even more joining Samanta Lily's official website.
Coming soon…!!! samantalily.eu pic.twitter.com/CK2jsZ9CDW

— Samanta Lily (@Sexy_Lovely_Sam) June 2, 2016

I wanna end up this post with two comments.
I could not start posting my Top 50 busty girls of all time because I had some personal issues going on, so I preferred to give you more updates. However, I will start soon and you will be able to comment.
I appreciate all your support and I thank everyone who has been buying porn through BoobsRealm.com links. That has helped keeping the site alive. I just wanted to share some stuff related to the "personal issues", but I will open up about it in some months. What I wanna share now is that basically for quite some time I have been hearing from experts in the adult industry that sites like BoobsRealm.com are doomed to die because nobody cares about blogs and nobody cares about reading about porn. I want to believe that people like BoobsRealm.com not only because it features the best busty girls in the world, but because I can take pride of building a site from scratch and being able to share my love to busty girls, my comments and interact with other big boobs lovers, while making the fans -like me- feel that I'm here to share what i like and what I know and not just pushing you to join a site because I will make money out of it. I added pop ups to make some money to fund some projects you will hear about soon, but I just don't think that money should be above quality and user experience. I still believe that building a reputation and being able to interact with people is what matters.  I still believe that I have done the interview with the best busty models in the world because some of them think the site is relevant to the audience. I still believe that I don't have to take money to promote a site that was offering 4 figures a month to promote illegally uploaded content was a good decision. I still believe that regardless what some experts in this industry think people will pay for the porn they like. I still believe that creating a brand in a long-term process is better than making quick cash promoting shady websites. So, regardless if I'm wrong, I will do my best to offer you the best big boobs models and launch two new sites that will make everybody happy. One will be ready this month, the other will take time, but it will facilitate change in the porn industry in general.. and if it doesn't at least I know I tried to do what no one else wanted to do… make everybody win.
So thanks for reading what I needed to get out of my chest. It seems cryptic, but as of now I can't give any details to what let me post the paragraph above. Thanks for supporting the blog. And to thank you why don't we enjoy some Miss Boobs Realm Legend: Ala Passtel. These photos and more are courtesy of XX-Cel. And Met-art