It got to my attention that the famous big boobs blog boobieblog.com made a very poisonous post about Lily Madison. I checked what happened and the story goes as follows: BoobieBlog posted about Lily and she took a "no doubt she is hot" comment  in a not so good way.  Lily replied mad at the post and fellow cam girl Ophelia Vile jumped on to defend Lily, who was also followed by Lily's fans. I think that the issue was a complete misunderstanding and it would have been solved in a civilized way. DM's and e-mails or tweets still work to chat as evolved humans; it happened to me and I DM'ed the girls to apologize if apologies were due. However, boobieblog had a very dirty and childish comeback. BoobieBlog published an article referencing the incident and offending Lily Madison: "Lily, you are narcissistic and delusional if you expect all men to fall at your feet because you're just so goddamn irresistible. You're a middle of the road big titty model and I think my post was a nice way of stating that. Also, it has an awesome bird in it." boobieblog said.  Later Niklas, who runs boobieblog along other writers, adds "I've looked at your photos Ophelia. VILE indeed! And Lily.. yeah. REAL thick skinned. A person isn't sure if you're hot or not and you're acting like they just called you a fat troll who just walked out of the Fort McMurry fire. The only thing thick about you is your fucking thighs!! BOOM!! ROASTED!!".
Check out the top comment by Boobieblog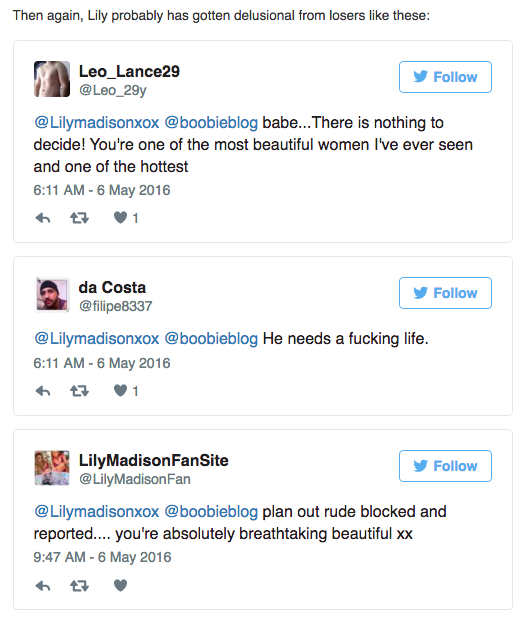 Boobieblog atatckes Ophelia Vile and Lily Madison..
This is Boobieblog post. BTW you can thank me for the backlink later.. at least I do it, unlike when BoobieBlog base its post on BoobsRealm.com
Basically, Boobieblog condemns Lily Madison for "complaining" to her hundreds of thousands of fans; however, BoobieBlog does not say that his post reaches over 1m visitors a month. So basically, BoobieBlog plays the vindictive saint whose name has been tarnished. Boobieblog later adds tweets by Lily Madison's fans calling them losers. I find boobieblog post disrespectful towards Lily Madison, her fans and his followers. He turned some of his blog readers against Lily and allowed them to post insults towards her. Boobieblog may be one of the top 3 blogs dedicated to big boobs, but it is not fair to insult people hiding behind his computer. BoobieBlog mocks Lily Madison and in a way mocks many models by the way the blog owner expressed his opinion. Let's remind everybody that attacking somebody based on their looks while hiding behind a computer is not a very mature behaviour.
I have made mistakes on this blog and have had disagreements with models and fans. I don't call them out or mock them just because i wanna be a whiner. Blogs play an important role in adult affiliate marketing and influence the views of the readers. Boobieblog calls Lily Madison narcissist, but ends up with this message to Lili "I will continue to talk about whatever I want and whenever I want. I rule. You suck. And, when your boobs are old and saggy I will still rule." I don't wanna start a fight with BoobieBlog. Although Boobieblog has been ripping off some of my posts without acknowledging BoobsRealm ( Cara Ruby, Elizabeth Anne, tanya Song,  Twitch and cam girls, Busty Blonde Princess -whose name I changed to confirm Boobieblog writers were using my blog as "inspiration")-, I think that collaboration is key to succeed. However, I do not condone childish posts and attacks to models and fans. Boobieblog you say you will always rule, you have to remember that websites are supported by fans who pay their hard earned money to join websites as well as by models who pose for sites. Acting like a kid makes you look bad. Traffic comes and goes. Congrats for being online for over 10 years, but respect is a two-way street.
Everybody can have a favorite model and defend that model. While I don't like obsessed fans, insulting them is not a very brave act. I think that all this drama created by BoobieBlog should go away and the one who made the post should apologize for the lack of respect to Lily Madison, Ophelia Vile and the fans offended -were they notified when the post insulting was published?- I have had issues with some models. Even Ewa Sonnet was indirectly involved in taking down BoobsRealm when it was run on blogspot. Did I ever insult her? Did I ever offended Abbie Seccraa who said that BoobsRealm.com was not worth her time? Now let's enjoy what we all love. Regardless of what Boobieblog says, I think Lily Madison has wonderful breast. I have actually seen Lily Madison live in Vegas and her boobs look better than most of the boobs on the internet.
Enjoy Lily Madison latest work for Scoreland.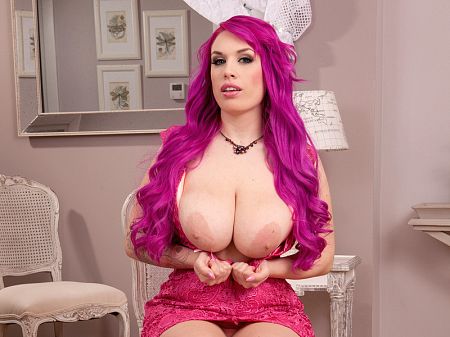 To end this post with positive note, Cara Ruby returned to Only Tease wearing a red dress. However, the big boobs model could not stay prisoner of the evil red dress and set free. Cara Ruby also set her young shaved pussy free, but covered it with her hand. I'd love to see Cara Ruby fully naked, but I know that it is a dream. Enjoy some samples here: