Last week I went to Las Vegas to attend to the AEexpo,  a convention which is part of the AVN activities. It was my first event ever and it was the first time I was going to do video interviews. I will tell you the story as it is; no bullshitting or lies. The things that went right, were good, whereas the ones that went wrong, happened. Anyways, it was a big learning experience.
I was supposed to do video interviews. I contacted a model in order to have somebody pretty conduct the interviews, but she has schedule issues. Then I had contacted a fan one week before the ebent in order to get help for the camera work. That fan was really happy to help out. I was going to  pay him, but he was ok to just get some drinks and food. I bought a shoulder rig and a unidirectional mic for the interviews. I took my camera and my lights with me. The equipment was complete and I had my list of girls to interview. I got to Vegas on Tuesday and headed to the Hard Rock Hotel. I met the fan, my camera man, so we had some drinks. We bumped into Cali Carter, who was with her boyfriend. She was super nice. She looks great in person. I bumped into another kind famous pornstar and introduced myself. She did not have the best attitude, so I just moved on. My camera man went to hang out with his friends, as he was not so willing to talk to the pornstars. I walked around and met the gorgeous Jenna Ivory, the beautiful Aubrey Snow and the, as of that day, new to me Brooke Summers who has a huge ass. She has been less than 2 months in the adult industry. Check her twitter here. I was going to interview Jenna, Aubrey and Brooke on Thursday, plus Tee Reel -their agent-. like I said, I was going to…
Angela White teasing the fans
The following day I my "beloved" camera man in the morning at 8:00 a.m. One hour later the glorious Cel from XX-cel.com made his way to the hotel. We has some coffee and then looked for a calm place to conduct the first interview of the day. I realized that doig interviews on video was harder than I expected, but Cel managed to make it fun. The interview will be available this sunday. Note: We talked about porn, big boobs and the famous tit-sucking scenes with Faith Nelson and Merilyn Sakova. He also dropped us some must listen info about Eden Mor and Joanna Bliss.
Anri Okita eats sushi on Hitomi Tanaka's body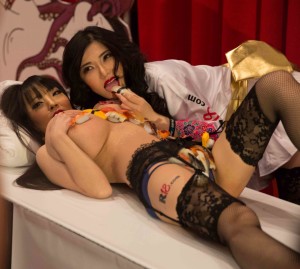 After Cel's interview my camera man went with his friends while I hanged out with Cel. I was going to get the press pass for my guy. An hour or two later we got into the rooms. I got to the R18.com booth where stunning Hitomi Tanaka and incredible Anri Okita were getting ready for welcoming the horny fans. Hitomi is really short, but her breasts are gigantic. Anri was new to me, but it was just a matter of minutes to make her a favorite. It was time for the second interview of the day; however, I was missing my camera guy. I called him 1,2,3,4…15 times. His phone was dead, then it wasn't and then it was off again. The guy never got back to me. I was wasting time and I could not wait for him, so I interviewed Hitomi by myself. I managed to handle all the equiptment. Hitomi and I are not native english speakers, so the interview was a bit accidental. The camera was shaking and as a consequence I will have to transcript the interview instead of showing the footage. But don't worry I will show you some footage of Hitomi. The following interview was with Anri Okita. She was super nice. Really fun to talk with. Her english was perfect. One of her assistants helped me out with the camera… everything was perfect….. but the mic was not plugged properly due to all the handling. Following that interview I headed to the chaturbate booth. I met the amazing Fionna, who offers the best sex show along with Jimmy, her boyfriend. Then I interviewed other hot camgirls. I moved on to the gorgeous Summer Carter, while still looking for my camera man. Nobody wanted to help me for the interviews so I realized that for next year I will take with me someone I can really trust. All the handling cause the mic plug to twist. The sound was awful. Everythng recorded after that went just to the toilet. I met some hot ladies from C4s. I saw some hot MFC girls. I met Sophie Dee at the pornhub booth. Sophie might have been the biggest star at the event; however, she was one of the nicest and down to Earth. She really earned my respect.
Future superstar Alexis Rodriguez.. You'll see her on heavyonhotties.com pretty soon!!
The following day I found the "camera guy" at the HRH and asked him WTF happened. He said his phone was dead. I told him about the deal we had – I already paid for his dinner and drinks, but that is not the important thing- in the end, you can't argue with a person who only answers "yes, no,sure" to every question. I wanted punch him, but I was not letting this issue screwing up my trip. I had to take the accountability of "hiring" any idiot for the job. Fortunately, just for that second day I found a guy who was willing to help. He had to hold the mic plug tight to the camera to get some decent audio. Angela White was wonderful. The interview went shorter than expected as the people from her booth asked us to wrap it sooner. I met Kendra Lust. What a body!!! Alex Chance looks cute. She is taller than what I expected. Brooklyn chase might be one of the prettiest girls in the world. I did a follow-up interview with Anri Okita. I attended to the Camgirlz documentary premier. I interviewed Sophie Dee who did the interview despite the security not so much in favor of it, which made me love her even more. I met Ashlee Graham (@TheAshGraham) who has nice soft big breasts.. =). I did what I think was the best interview so far. I bumped into Alexis Rodriguez aka Alyssa Gadsson while she was going to drink at the bar and then the beautiful Molly Jane entered the scene. The interview was more a conversation. Molly was very fun and easygoing. I would have marry any or both of them at the spot. I swear… the kindest pornstars I have ever met. I will post the interview on Sunday too, but there are some audio issues.
Beautiful Molly Jane
The following day I had an interview with BBW Angel Deluca at the coffee shop. She was really nice to talk to. I also got to meet Allie Bay. Allie was what I expected and more. I was all by myself; struggling with the equipment and losing my voice. We could not have the interview as it was too loud, but we talked for quite some minutes. I will have a special post about her including some pics she let me take of her. Allie is a sweet girl and more important a really kind person.
I will post more about my AVN adventure soon, but I wanted to share with you some interesting facts:
– I met Ron Jeremy at the casino. I could not leave Vegas without a photo with this guy
– I spoke 10 seconds with James Deen. I think it was enough to realize he was a nice guy.
– Some pornstars -that I have not named- look better on my computer than live.
– I bumped into Samantha Bentley and said "Hi Angela (White)". Oopppssss.. The good think was that she told me she got that sometimes because of her face. She gave me a pic to remember her lol. BTW, if you are told you look like Angela White, it means you have a pretty face.
– My second big screw up was when I met Tory Lane. I swear I have not seen anything of her in years… So I went with a naive  "What have you been doing after retiring?". She was not Samantha Bentley.. If looks could kill, I would not be writing this right now. I am pretty sure that she did not kill me because she could have gone to jail. But I saw hatred in her eyes. Ok, ok I get it…
– I met a couple of girls I had told them before about interviewing them..I am still waiting for the interviews…
– Samantha Rhone looks like an angel.. enough said.
– I met the swiss Bianca Breeze at the bar. Her face is prettier in person than in photos. What a girl… Unfortunately, the bar was flooded by fans and pricks. However, I went to the slots and bumped into Dillion Carter. I got to talk to Dillion, not having a  fan/pornstar conversation, but a person/person one. I mean, she is a nice and pretty girl with her own story and life.
– Expect by Saturday a post about comparing porn and wrestling. I realized they are alike… and the fans are alike. Some are really annoying!!!!!
– 4 days was more than enough for me… Believe me.. after the third day, you end up hating that place…
Stay tuned for the second part of my story.. any comments? You are more than welcome.
Here some pics
 Alex Chance is interviewed for a radio show
Smiley Top MFC camgirl Allie Bay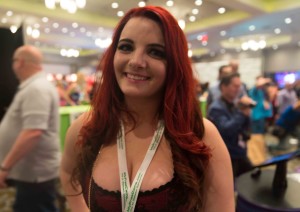 Anika Albrite signing autograhps

A hired model and a huge silicone babe
Chaturbate camgirls have fun
Jada Stevens has a HUGE ASS!!
Lily Madison groped by fellow camgirl
Samantha Bentley saying " I am not Angela White"
Samantha Rhone farting on a fan's face