Thanks for the good reception of the first part. Where was I? Oh yeah oh yeah. after the nice interview with Angel DeLuca I headed to the MFC booth. Allie Bay, Lily Madison, AdorableYogi, Rachel Singer and other cute girls. I was worried because the mic was not working. I gave the busty ones the BoobsRealm.com tank top. Then I tried to interview Allie. I could not raise the pitch of my voice; maybe it was the alcohol or the Montreal/Las Vegas temperature change or IDK what, but my throat was kind of sore. We tried to do the interview, but in the end we just had a small talk -you will have a special article about Allie Bay, with some additional pics-. Allie was really sweet. I think some camgirls I am not that familiar with thought I was a creep trying to take her away lol, but she explained to them that I was the owner of this blog and I was promoting some girls.
After that I went again to see Angela White -no Samantha Bentley- and took a picture with her. Oddly enough, she was so hot that my battery just went off forever, so I had to wait to charge the back-up one. In the meantime, I saw Claudia-Marie. WOW, her boobs are bigger than my head…. literally. She is a nice lady and her husband is a nice guy. I saw some girls from motleymodels and came across with Trinity May. She is a girl who has been doing porn for 3 weeks now. She has beautiful eyes, tiny body, redhead. I saw her the following day as a civilian. She is really a girl you would love to marry.
Sophie Dee looks amazing! A real knockout!
During the last day I just took pictures and met Cel again and also had the pleasure of meeting the owner of pinupfiles. We had a nice chat. I have to say that I have been lucky for meeting amazing people in this industry. There are good people and there are others with different agendas. I am happy of having met these guys and I am looking forward to see them again down the road.
I went to an official party that night. I hanged out with the owners of SantaLatina.com, who are the porn power couple in Latin America. They introduced me to some nice people who work for Flirst4free.com which is a camsite in the rise. This led me to meet 3 hot ladies. If I would have not been told, I would have not imagined they were camgirls. I could mingle and have a good time with 2 of them… Did I tell you one of them was Romanian??? Ok, yes, thus.. she was hot. The funny part, to name is somehow, was that I asked what she was doing for the company… Her reply made me realize that I was naive…"I am a content producer"- she said while drinking vodka. To be honest I have always referred camgirls as talent, models and just camgirls. The term "content producer" is really accurate;however, it adds a different shade to the job description. Tis would be like the following: "The girl has the responsibility to produce enticing content in order to attract potential customers." This is what a camgirl does, but I think nobody thought about dildos, tokens and boobies while processing the definition.
Forgot the name of this cute girl who does femdom on Clips4sale
UPDATE: Thanks to Jim. Her name is Missy Rhodes. Her twitter @Ontherhodes)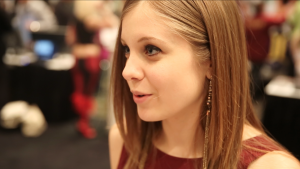 I may get some heat because of this paragraph, but I think I need t say it. There was alley for the MindGeek sites. In case you don't know, MindGeek is a Montreal based company which runs Brazzers, realitykings, mofos, digital playground, babes and their related networks, as well as webcams.com and the unfamous pornhub.com, youporn.com redtube.com and many other sites. In other words, they are the ones who rule porn in the world, one way or another. What caught my attention the most was that they had 2 booths for pornhub.com. The first one had Samantha Rhone and other girls broadcasting live everything they were doing, while the other one had Sophie Dee and other stars just promoting the site. The controversy originates because MindGeek runs some of the biggest tube sites -yes those that allow people watch videos for free, thus killing the business- . I know some people that work for the company. They are really nice people. Don't get me wrong. However, how come some girls that have spoken against internet piracy wear the pornhub t-shirts they were given? I mean, Sophie Dee was contracted by them, so it is understandable, but why others who were at other booths? Is it true what I have heard from a couple of girls who think that if they have not shot for brazzers, they have not made it in the biz??
Tube sites allow any user upload any video. Porn companies, affiliates, etc can pay pornhub to get traffic to their websites. This means that if you are not affiliated to MG, there is a big chance that your porn video, which costed you XX bucks- will be shown for free on a tube site. This means, less money for you porn producer. However, if you want traffic, you have to pay money to that tube site. In a nutshell, MG makes money from their porn and from everybody else's.
In front of the pornhub booth, fans were making long lines to take pictures with Phoenix Marie, Alexis Texas and other big names. On the other site of the room Dani Daniels was radiant and smiley. Dani has an amazing butt!!!!! She looks like a star. Even with clothes on, she is better than on film.
I was too tired to make it to the red carpet. It seemed fun. .. please come back for the last part of my story… which will be a kind of rant, but no naming anybody, just stating some facts that I found curious.
Looking backwards, I can say it was a nice experience. I think I will be better prepared for next year.
Note: The videos come the next weekend… sorry about the delay
Summer Carter started in porn through Sexyjobs.com
Hitomi Tanaka huge udders!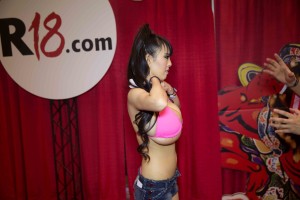 Busty Anri Okita signing
More the c4s femdom cutie

Strippers from Sapphire 

A porn rookie!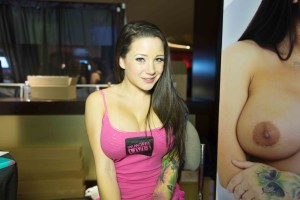 Claudia-Marie teases me with her huge boobs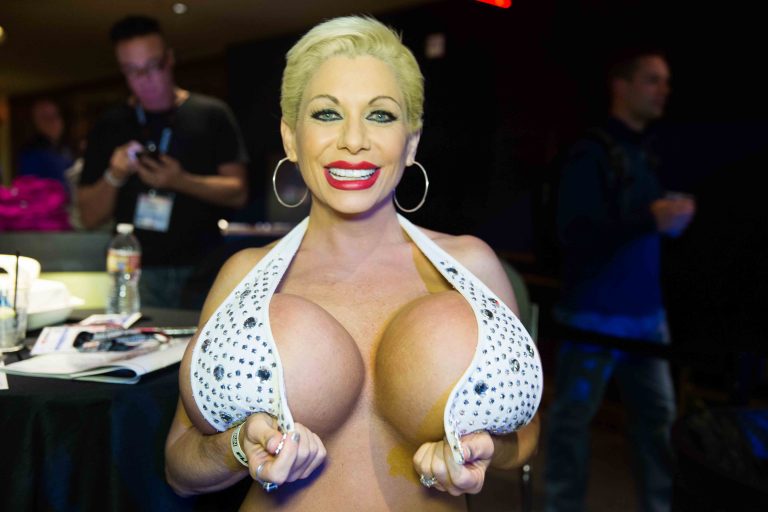 Newbie Joyce Smith knows how to party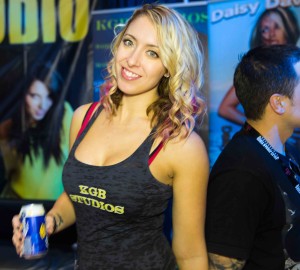 Necro Nikki from Burning Angel
"The Bad Bentley" – Samantha Bentley
I have bad memory =(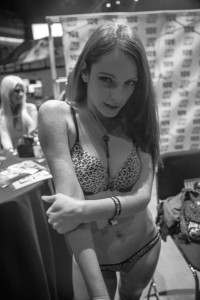 Ashlee Graham and her portable dildo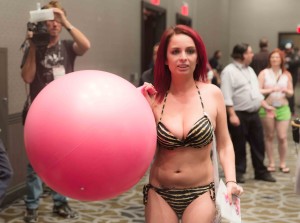 Trinity May is so cute! Follow her here @TrinityMayxxx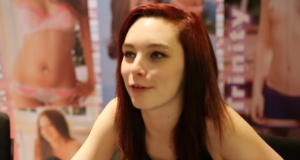 Fans posing with the best pornstars
Phoenix Marie is Gorgeous