Well, before I go with this last part, please take one minute to vote for your favorite busty girl on the MissBoobsRealm 2014 contest. The top 10 busty girls who were active in 2014 are there. Make the best win!!
Going back to the AVNs. I have to express my respect to all the models and pornstars who made it to the event. Many people do not understand that it is not easy to be at the booth for 4 or 6 hours. Standing, smiling regardless any personal issue they might be going through, dealing with some fans who try to touch more than they should, etc. It is not only a physical effort, but also monetary effort. Having a booth is not cheap. The huge websites can pay for that, but I am not sure if money-wise is the greatest decision to some.
The exact moment I met Angela White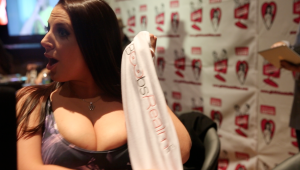 I encourage each and every one of you to try this event once -or Exxxotica, which I haven't been to yet- Go with your buddies and enjoy. Models sign pictures for free and you get to talk to them. I spoke with her for a few seconds with the Skylar Madison -the former Amber Sativa- who is still kind of new to the biz. She showed up to network and it worked. She shot this week with Dan Lean for the FuckAFan site… lucky fans!!!!! I hooked up a couple of girls for some shoots.. so in the end everyone ends up happy after the event.
 Note 1: On a side note, please check Samantha Lovely on Pinupfiles and Scoreland…. Seems she will be the star of 2015…your thought?
I didn't attend to the Red Carpet because I was too tired. However, I saw Samantha Rone in her dress and she looked flawless like a Prom Queen. And here is where my rant comes…..
I congratulate all the AVN winners. I think that all are hardworking people, but I would like to know what is the criteria to nominate somebody. I understand that Jayden James has great boobs… don't get me wrong, but having a Best Boobs category and not even including Lucie Wilde or Siri is an Oxymoron – I am only talking about girls who did porn-.
Dani Daniels and me.. just kidding, not me lol
Love or hate Pierre Woodman, doesn't he deserve some kind of recognition?
Torbe might be vilified by many, but he is only one shooting legendary bukakes. In the past he got Katerina, Shionne, Sandra Milka and others do it. He has discovered many stars…. I bet nobody on the AVN committee has ever considered him as a star, but he has been really succesful with putalocura and chicasdetorbe without having the machine behind him.
There was a production called All Natural Glamour, which won the best solo category…. wait…Did met-art or ftvgirls ring you a bell? They have been the best at solo for years, but they are not even nominated.
I am not sure why Siri has been completely excluded from this. Maybe she was busy, maybe she just does not enjoy these events. Siri did a great job with her TeamBJ campaign, along Sara Jay, but that has not gotten the appropriate recognition. I am not sure if everything is subjective or it has to do with the fact that she has been one of the few pornstars to raise her voice against tube sites and The Powers that be in the adult industry.
Note 2: Cel from XX-Cel.com and the interview you don't wanna miss… believe.. Did you wanna know the stories behind his scenes with Faith Nelson and Merilyn Sakova? What about Eden Mor and Joanna Bliss? Coming soon….
Note 3: Tomorrow I am launching BigBoobsGlamour.com which is a blog with busty girls, but without porn pics or links…Expect Beth Lily, Stacey Poole, Jamie Love, Pinupfiles girls and more,  plus girls you have never heard of…..yet.
But anyway, I thought it was important to bring these topics up in this post. The event is great. If you have money to attend the AVN ceremony, do it… and please take pics for me lol. I am glad I saw all these stars, but I think that there should be a "perfect" event where actually everybody who deserves recognition, gets it.
So.. what you were waiting for… more pictures!!!! Including screencaps from my interview with Hitomi Tanaka and Cel. I have a hectic 2-weeks period, so please be patient for some vids
Screencap of Hitomi Interview with BoobsRealm.com
BTW, I checked the video today… I think it will be released as a Comic style..lol jk probably screencaps and a lot of information that believe…. your world will never ever be the same again
Jaydem James says hi
Forgot her name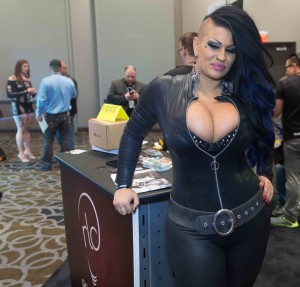 Kendra Lust's butt made me a believer
More Dani Daniels