September has become an important month for BoobsRealm. Last year in September I decided I was retiring and made an official announcement. Earlier this year I adjusted the plan based on certain factors (war in Ukraine, my busy schedule). Coincidentally, 365 days after the decision, this time I see it even more clear and the plans are more specific now. Spoiler alert: Last year the decision was made with some sadness, this time I see it more clear and I am excited, regardless of what happens on the periphery.
Background story
Last year's decision came as a result of analyzing that everything comes to an end, so I decided to set an end date to the BoobsRealm project instead of just disappearing at one point. Different personal and professional situations kept me away from posting much in the past 2 years, so you can notice that the end is a long path rather than just cutting it all off all of a sudden.
The other part of the retirement motivation comes from something else, which I vaguely described in the past. However, everything can change for better or worse in that regard. Combining all reasons last week I saw it crystal clear that it is going to be the moment to step down soon.
Some other reasons
The blog started in 2009 and in 2013 I got my own domain. In 2019 the content creation venture started. As COVID hit in 2020 Onlyfans became the door for many girls and guys to saturate a market. I have been fortunate to get to work with the Top professional busty models in the world and also got to meet some very responsible and professional amateurs such as Katie Savannah, Goddess Arianna and Busty Kait. However, seeing the landscape full of guys who offer shoots to girl just offering an smartphone and a dick -and not everyone showing STD tests- as well as finding girls who are not showing to shoots or just ghost you as day of shoot approach are things that really make you think that the stress of shooting non-professionals is not worth it. I will elaborate more of this in a post.
BoobsRealm Content business model was modeled after Pinupfiles, Cosmid, Score, Xxcel but at the amateur level combined with a lower price for fans. The traditional 10-minute videos are no longer the standard on Onlyfans. Also based on most of the sites, I selected carefully who to shoot. The idea was: If you were on BoobsRealm it means you are a Real Busty Star. As we go towards 2023 aside from literally 5 girls from Onlyfans I have not worked it, I really have no intention of adding any other OF model, thus making the list exclusive.
On the other hand I see other low-cost boobs sites -OF, manyvids, fansly- that bring in anyone that wants to shoot. I wish them luck and I am happy for their success. Fans have moved on from the Ala Pastel, Jana Defi, Viola, Candy Cole type of girl to curvier girls. However, I think I am like Jim Cornette (JC) from wrestling in the boobs niche. I think I do not feel the boobs niche is what I used to like.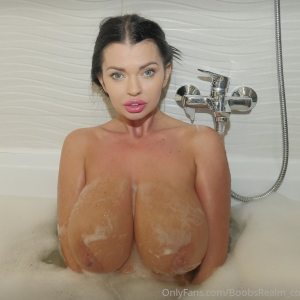 Content creation until April 2024
Creating was lots of fun. The process of not only shooting but trying to set up shoots showed me a different side of the business. When it sucked it sucked, but the positives are always more important. As of today I can say that shooting Sha Rizel, Katerina Hartlova, Demmy Blaze, Katie Savannah and Lana Blanc were the best experiences I could ever ask for before starting to shoot. Yes, some would say grabbing boobs were milestones. Yes they were, and I am happy I could bring these exclusive things for fans. However, getting to meet the human side and just having some laughs and getting the trust are what really make all the negatives go away. The rest of the girls were amazing too, but the aforementioned girls made the experience get to another level.
As life continues I gave myself a time limit for the shoots. Let's hope the planned shoots take place.  My schedule will be more limited in 2023.
I was suggested to hire someone to carry the shoots. However, I cannot trust anyone else to do it and risk putting the Boobsrealm name in jeopardy. I know some people who I trust are going to behave, but it still represents a higher cost.
Blog ending in 2024
Originally expected to end in January 2023, I think the fact that I slowed down in updates in 2022 makes me think that still  18 to 20 more months than originally anticipated is going to be good for everyone. The blog will continue with weekly updates. I will still aim to update 5 times a week from October. In 2 years from now in late September 2024 the blog will officially stop the updates.
However, in October 2024 the final Miss Boobsrealm will start with the featuring of all girls. The contest will take place in December 2024. All prior winners will compete in January 2025. The blog will have a farewell  post around January 31st 2025.
Between November 2024 and January 2025 I will post my memoirs.
As of today I have videos shot that cover weekly updates until July 2024. Should the rest of the shoots take place before April 2024 I may have content until July or December 2025. The blog will be updated only for Paid promotion and weekly posts to promote the content until I run out of content.
Girls to shoot
I started the year with a list of 13 girls to shoot. Luckily I did not expect to shoot Busty Kait, Goddess Arianna as well as the return of Katya P and shoot non-busty Anastasia. However,  I got great content from them to release between now and 2024. I do have a list of 13 shoots more to do. However, if things do not pan out the way we would all want, I will do a minimum of 6 shoots.
I did b/g with Goddess Arianna, Katya P and Meghan Montblanc. These videos are special and rare. Doing more b/g would devalue some of the topless or boob grabs. I intended to shoot pornstars at AVN, but I recently decided to just focus on the original concept.. topless and boob grab.
I appreciate any suggestion for shoots, but it would have to be something really special so I can add someone to the 5-13 girls on my list. Probably I would only add Touki or Viola Baileys, but they are gone, so no hope.
Other projects
There are chances I will show you a couple of other projects. One is an onlyfans review site which is not ready due to lack of time. The other one is a more personal project that is not related to NSFW content.
Content distribution
For those wondering, shooting content has costed 5 figures , and not in the low range, however, making the money back is happening. Shooting b/g makes bigger returns, but I think if you sell ice cream you should not sell mcdonalds just to make more money. The main site has been onlyfans. Loyalfans is not the most well-known platform. BoobsRealm will open a fansly soon and in 2023 I will start using manyvids for the older content. However, the latter will be priced way higher as they take 40% of your sales, unlike the other sites which take only 20%.
Conclusion
While a certain factors may change, I am now more focused on finishing things up. There are only a couple of people that know the whole story about how the shutting down came along. One may be indirectly involved. While things causing the retirement can change, I think the journey in these next 28 months will be fun.
Thanks for everything. The supporters always made it fun and the haters motivated me to expand the retirement until 2024 LOL