Eva Prevost is a famous local Quebecoise Tik Tok star who has gone viral thanks to her funny videos and her pretty face and big boobs. The hot blonde has conquered the francophone market and is now taking over the whole internet.
Eva Prevost is one of the top creators on Onlyfans (0.13%). She does show her great perfect body on he adult platform. She gets it. Eva knows that is not enough to have big boobs and be a pretty girl. Eva takes a lot of time and puts a lot of effort to provide entertaining content. This hottie is a girl who is not just taking photos with her phone and waiting for simps to drop some cash. She is committed to entertain and create fun and hot content.
I had the chance to chat with her this past week and get to know her a little bit. I am really happy I did. Eva Prevost is a very nice girl and deserves a lot of good things.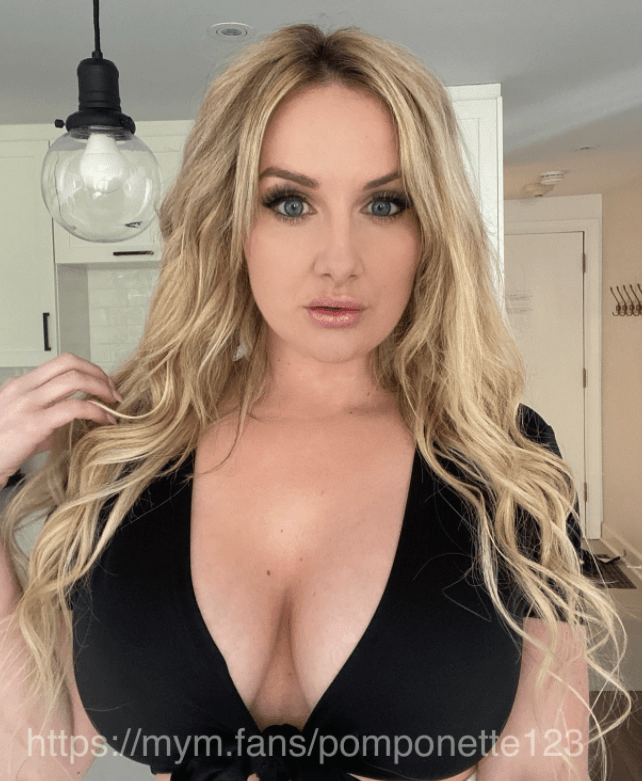 Unfortunately, there are many jealous guys and girls who reported her Tik Tok once it reached hundreds of thousands of followers. Same for her IG. However, she is putting the effort and working every day as a full time job creating and editing and taking care of the final product she offers. It is really remarkable and admirable to find a girl who does not want to insult the intelligence of fans and is focused on having a win-win situation.
I strongly advice you to follow and enjoy her social media posts and subscribe to her Onlyfans.
Eva speaks some English too. She has a sexy french quebecois accent. Maybe you can teach her and she can show you her gros seins et tu peux voir son cul et sa chatte.
Suive la peite pomponette sur Instagram: https://www.instagram.com/pomponette1234/
Alors vous en pensez quoi? https://t.co/dTMFc575EU pic.twitter.com/AOoG8kFzUt

— Evaprevost0 (@evaprevost0) April 16, 2021
Ahh c'est bon ici je fais ce que je veux j'adore !! pic.twitter.com/hk3uOr0g9j

— Evaprevost0 (@evaprevost0) April 3, 2021
RT if you want to milk @evaprevost0 titties!!!@MilfsnCum @Boobs_4_You @BigBreastPics @gotmilf7 @Dcuplover @TheBoobExpert @boobszone @mature_n_boobs @hometits @boobs_crew @MILFCUMS @MilfTotal @slol59 @NaughtyMomsXD @hotglammodzz @BIG_BOOBS_LOVE @TittyTopiaxxx @lovethejuggs pic.twitter.com/bxdj3O1hnh

— BoobsRealm.com & onlyfans.com/boobsrealm_com (@BoobsRealm) May 20, 2021
Vous obtenez 25% de réduction sur mon MYM avec le code promo : ANU https://t.co/k9qYrFEYmU pic.twitter.com/v1FIAltlpt

— Evaprevost0 (@evaprevost0) May 10, 2021
Retweet mes seins qui rebondissent et ça te portera chance lol pic.twitter.com/HMwExn61Zz

— Evaprevost0 (@evaprevost0) May 17, 2021