Our lovely model Katie Savannah AKA @realbabygirlxxo is back on BoobsRealm. After her debut on the Video Interview we did I wanted the second video to be one of the ones I had more fun shooting in this past 2 years of shooting content. I dared Katie Savannah to play strip foosball. The result was Katie getting naked and a video of pure fun.
My first videos with Katerina Hartlova included a strip game, same as with Demmy and Sha Rizel, guessing 90's rock songs and Nina Nightbloom playing strip card games. I also had Hanna Orio playing strip foosball. However, the 3 videos of strip foosball -each one ascending in terms of naughtyness…. you will see why- embody my original concept for the BoobsRealm Studio. All sites feature models being always sexy and smiling to the camera. Yes most of the times models have fun, but they also keep a model gimmick. My intention was to not only feature a ho model naked, but also show her personality. I have been able to do that with 90% of the models, bu this Strip Foosball with Katie Savannah – and the next 2- are what I wanted and more. On this video you get to see the real girl smile, laugh, have fun, get worried about losing. All different feelings in one video – or 3-.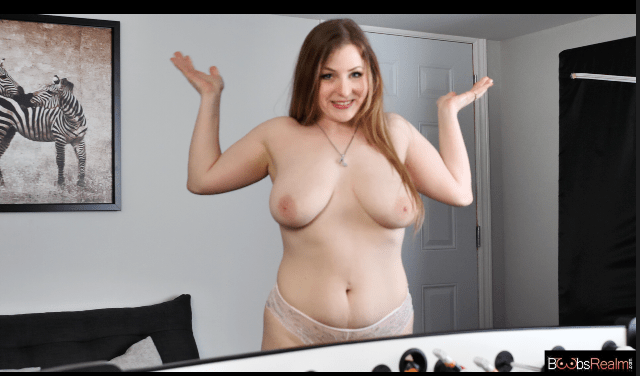 My intention was always to make fans connect with the model through the video. This strip foosball #1 is what I always wanted. I hope you can watch the video and feel the fun. Some shoots are hot, some are fun, but not always you can feel the energy in the room.
For the ones who want pure tits and nudity, you have it here. Boobs bouncing while playing and stripping.
This post has a few screenshots from the video and a teaser uploaded. The video is uploaded to OF and the new Boobsrealm Loyalfans.
Teaser of Katie Savannah playing Strip Foosball (lower quality on Xhamster).