My buddies from Yespjeeway told me about this busty japanese named Momo. I made some research and found out that this gorgeous oriental vixen is 20 years old.  She started doing porn early this year. I am not sure if she is still active but I think that busty Momo can become the next Hitomi Tanaka. What do you think?
Check busty Momo's porn scenes on R18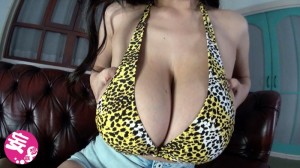 In case you have not noticed the main menu has a STORE tab. As part of the #Pay4YourPorn campaign BoobsRealm and Adult Empire join forces to bring you the Boobs Realm Store. This time, I recommend you to watch 25 Sexiest Boobies Ever. While I think some girls may be missing from the list, you can tell those 25 pair of juggs are monumental: Gianna Michaels, Sophie Dee, Lissa Ann, Alanah Rae and more big-ttitied girls put there huge boobs to work some cocks.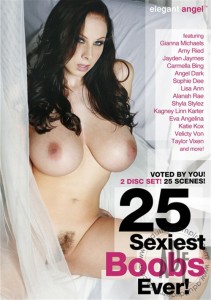 This last news is something that porn fans should be ashamed of. I have critiqued some porn fans on a previous post and we all have read some childish complains about certain models not advancing to the Miss Boobs Realm 2015 final because of not getting the votes they considered those girls should. However, the worst thing is crossing the line. It happened to Winter Pierzina, who got harrased by fans at her work and calling at her place every single hour causing her problems with managers; it happened to Dillion Carter, who I had a long chat with at the Hard Rock Hotel's casino, who was stalked by a fan from California to Vegas. Now it happens to Lucie Wilde. Lucie, has been getting tons of requests on facebook and messaging asking her from escort services to receiving cock photos. Guess what genius… Lucie does not speak english and she is not an escort, let alone fall in love with you because you send her a cock. I don't know what these "fans" want to accomplish. Some of these fans need to grow up and get a life. Hey, I am calling you out guys! If you ever dreamed about watching Lucie again on camera, that is not gonna happen… Even if there was ever a chance, you just scared her away. Why would she remain on the spotlight and expose herself to idiots who are harassing her on a daily basis? These idiots are part to blame why she may never return and why other girls may regret shooting nude or porn. What do you gain by knowing their names, addresses or where they study or work? Are you producers? Are you going to handle the information in a professional way? THANK YOU for fucking up everything. Thank you because there were other models that may have thought about returning and never will because of YOU STALKING them. IF THIS TREND OF STALKERS AND HARASSING CONTINUES we may end up without girls.  Malena Morgan has just asked for protection from the FBI because a "fan" has vowed to kill her on Periscope. What is wrong with these people.
On BoobsRealm.com I can encourage you to watch porn, go online and chat with camgirls, but leave it there. Don't make porn your whole life! This was supposed to be short comment, but I am getting more pissed off as I write this. Go out, have drinks, have real friends. Stop harrasing girls, some of whom may already have lots of problems to deal with and on top of that they have to deal with stupid losers who are "marks" and just live in their heads.
Ok, let's stop the rant… I said Lucie Wilde.. well here you have Lucie Wilde and a photo from one of her latest sets on BustyBuffy.