I found this GirlsDoPorn.com gif online. I am not sure if the girl singing and playing the guitar is the same as the girl getting fucked on GirlsDoPorn, but they look similar. GirlsDoPorn are famous for bringing in real amateurs. They brought Miss Delaware to shoot porn, then Miss Colorado and other famous coeds. They recently claimed they have shot a girl who was on a MTV Reality Show. To watch more real amateurs doing porn for the first time check out Girls Do Porn website.
On a side note, I just posted about Twitch and the busty girls making money there rather on cam sites. I got some serious backlash because I said I would prefer to refer to cam girls and pornstars as Adult models rather than as sex workers and I got bad rep for it. For the record, I support Escorts and I know some pornstars and cam girls escort too, so I would never refer to any escort as something bad, but just I want to clarify that I prefer to use the "Adult model" term instead. Some cam girls and pornstars don't like to be escorts, so why using the boader word that may not help fans understand what some do and don't do. Anyway, the likes -dislikes- on twitter confirmed  that many people just follow what they read online and take it as gospel without digging up more info. This reminded me of Hunter Moore was a guy who started Revenge Porn. If you disliked Dan Bilzerian, get ready for the "worst person on the internet".
Hunter Moore was an internet celebrity who was sentenced to jail after hacking computers of girls for stealing nude photos. In a nutshell, Hunter Moore became the online sexual Charles Manson, who formed "The Family" an online twitter following of horny teenagers who had sex with each other after he just commanded them. Girls were tweeting him nudes so he can RT the photos so the girls got worshipped. Then some would have sex with guys Hunter would tell them to… Incredible, right? He also asked people to take photos of them doing weird stuff and they wold obey.  His fans would do drugs on command and will send him their pics fucking somebody to get a tweet by him. well yeah, this is the world we live in. I stood up against him and "The Family" reported my twitter account and wanted to take it down. I didn't want to give him the privilege of free publicity, but I do it know as he is no longer allowed to use the internet. What was the weirdest, to say the least, is that pornstars and glamour models -some of them stars before the eyes of the fans, were tweeting their nudes to Hunter Moore, calling him Father so they could get that virtual pad on the back. I was really surprised that glorified online adult celebrities needed the endorsement of a guy who managed to messaged them and asked them to send more private pics, which would be rather distributed to others without the girls consent.  Then some girls would freak out when the pics surfaced online.
We like girls going naked, I like girls showing their tits, but I think that girls should be more wary about who they share their photos to. Otherwise, they should not complain their photos appear on the internet.  So I know you want tits, so below you will find a couple of samples from "The Family" days…for more.. Google is your friend -not your friend, but you know what I mean-.
You can find more on the Miss Boobs Realm 2016 page. For the Miss Boobs Realm 2015 information please go here.
You may find some of the early entrants. Do you agree with me that those new girls are really top busty girls! Who would you add?
These are the early entrants as of today:
Avri, KissMeFirst, KittieSauce, Monika, Renata, Cara Ruby, Daniela Leon, Lauraa18, Taylor-HousewifeSwag-, Anabelle, Ally FTV
KittieSauce, one of the top cam girls on Chaturbate
Ally FTV (Ally will debut soon)
Update: She was named Alyssa FTV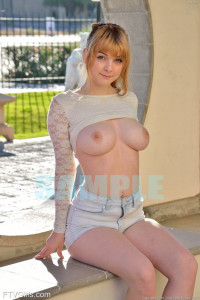 KissMeFirst -From Russia with Love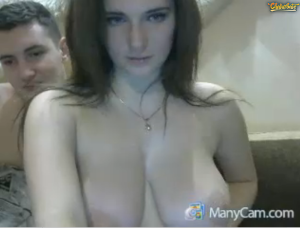 The new Lucie Wilde, Renata