I remember that when I was a kid gamers used be looked as geeks, nerds and no-lifes. I have to admit I used to play Soccer games and WWF/E games. However, I was not addicted to games and never actually had a PS2/PS3. I chose to go out and meet up with friends. Some years ago Gaming became cool. So when something becomes cool everybody jumps on the bandwagon. Now everybody plays games. Years ago only some guys would admit they play games and girls in school would see "gaming" as a turn off. Nowadays, girls, and hot ones are into games and comics.
What does gaming has to do with porn and big tits? A lot! First, it is statistically proven that many porn consumers are also gaming consumers -sorry I don't have the pornhub 2015 report-. Hot girls almost shows their boobs on Comic Cons and Cosplay is billed as "porn for nerds". Again, what does it have to do with big tits? Here is where things get more interesting…
Streaming videos of people playing video games was popularize by a Swedish guy called Piew Die Pie, who makes millions of dollars streaming his games and has over 22M followers. Streaming videos of people "gaming" became the new fap in the few years, and a platform called Twitch capitalized on the idea launching its site where any gamer can stream their stuff. ….
Ok that is interesting, but what does it have to do with big tits?
You know what Chaturbate is right? It is one of the top cam sites that showcases females, couples and more performing -usually- sex acts. We can find some of the best tits on the net there. Most of the girls born in the digital era are gamers; take KittieSauce as an example. She performs great shows on Chaturbate, but also is on Twitch, as several other cam girls from that site and MFC.
This is where camming and gaming get connected. Twitch allows its users to receive donations. Yeah… people will pay you to play video games.. sounds weird for those who are not familiar with the digital market – But is is as weird as Lindsey Pelas and other models making several hundreds of dollars posting photos on instagram-.
MFC cam girl Kristi Lovet on Twitch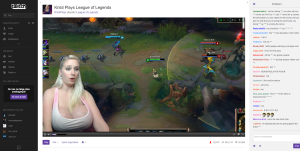 Some of the cam girls on Twitch managed to show a titty or just some cleavage on the videos. Some "Pure Gamers" took it as an offense and complained!!!! Yeah.. WTF.. whereas others -connect the Pornhub report info- donated money to the female gamers.
Some girls just show up and get fans because of their looks. Good for them!!! Smart move!
After several complains Twitch stated that does not allow any nudity and not even cleavages, issuing a dress code. So basically, cam girls and other girls who saw it coming are using Twitch as a platform to get money without having to get naked in front of the camera or getting $800 -at beast- for a boy/girl scene.
I posted the following on twitter, which got me some backlash by a couple of cam girls.
All this time girls getting naked and fucked on camera and all they had to do to make money is play video games .. LOL post coming soon

— BoobsRealm.com (@BoobsRealm) January 23, 2016
I did not have the intention to offend them. I am not sure if my wording was offensive to the girls.. The hot blonde blocked me -the one who has her butt on her avatar. But anyway, I am explaining the tweet here.
And let's be honest, webcamming is a business. That is something fans do not understand. Cam Girls do not usually get naked because they want to be seen by others. They charge money, because it is a business and as a business it has to be handled as such. Why inserting dildos for 20 bucks if you can get those same 20 bucks showing up dressed sexy on Twitch? They can still do whatever they want on Chaturbate, but they should be paid accordingly.  I hope I made my point clear, otherwise, I will reply to the comments. Bottom line, some cam girls could be making more money and have to look for other ways to get the most out of their beauty.
On a side note. I have heard this word "sex worker" been used by some pornstars and cam girls. I prefer to use adult model as a term as sex worker sounds more leaning to prostitution.
UPDATE: Apparently writing that I don't like the term "sex worker" has gained me bad rep. Just to clear up, I just said that I prefer to use the term Adult Model, instead of sex worker. However, some people consider I am offending them. Worst part is that others who read somebody else's comments think that I referred to cam girls as prostitutes, which was never the case. I refer to online "sex workers" as adult models and escorts as escorts. There is no better or worse. I just use less broader terms. 
 It would be easy to deleted the sentence, but I prefer to be 100% transparent… and again, if somebody misunderstood me, I apologize. And for the record, there is nothing bad with prostitutation, I support escorts. It is that I prefer to use different terms. THAT'S ALL!
@BoobsRealm this is how you get unfollowed by sex workers

— Satan (@daisyfairyMFC) January 23, 2016
Katie Noelle is really beautiful. I am surprised why she has not posed for a site like Zishy
@daisyfairyMFC @BoobsRealm yeah, seriously what did you think you'd get out of that post ????????????

— Katie (@KatieNoelle_) January 23, 2016
I think next time I' ll ask Twitch for some sponsorhip of the post. Do you run affiliate programs????????
Hey girls, People use PayPal on twitch, which is a lower commission and is not adult related, so they won't close your account.