Busty Blonde Hannah Woods is the hottest busty girl you will ever find on Tik Tok. Pretty, big naturals and very fit and perfect body.
Tik Tok might be many thigs we do not like, but we cannot deny that it has made many girls famous. With that, it has introduced many girls to our big boobs world. Hannah Woods, is a 19 years-old American girl who went viral after posting some tik toks. The reasons were obvious: Pretty blonde busty girl with a beautiful face and a body any celebrities would wish they had.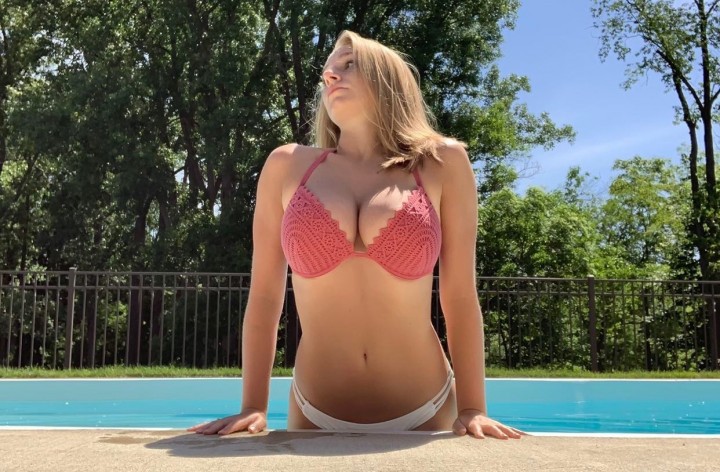 Is saying that Hannah Woods is the pretties busty girl on Tik Tok an overstatement? I do not think so. And it will be more clear for everybody if we also focus on girls who are Tik Tok stars. many models, cam girls, pornstars do have tik toks. But Hannah Woods achieved fame with just her very fun and hot videos. Some people say she has sold some nudes before. I know they might have been taken down from the internet, but still Hannah Woods does not have an onlyfans or is doing any sort of amateur porn. In conclusion, Hannah Woods is a Tik Tok busty superstar.
Having said all that it is with great pleasure that I announce miss Hannah Woods as another entrant in the Miss Boobs Realm 2020. Below some links to her instagram and tik tok so you can enjoy her beauty. Hannah is the total package. Look at those! And that firm butt is amazing!
https://www.instagram.com/hannah_woods8/
https://www.tiktok.com/@hannah_woods8?
I would love to see Hannah Woods in a topless site such as Pinupfiles or Cosmid… hey I would love to have her on the Boobs Realm Onlyfans. However, maybe ZISHY could be a great fit if she ever decides to tease us on a website.