How to make money with porn
I am sure you have wondered how do blogs make money and maybe even how can you make money too. I want to share this information with you now. I think that collaboration is one of the most important things to succeed. Some webmasters trash others or do not want others to compete. However, I think that in a way, we can all benefit from everybody and contribute to other goals. I am not a guru whatsoever, I still have a 9-5 job to pay the bills, but BoobsRealm.com helps add to pay some of those bills too. My goal is to make the site more profitable and increase traffic. Some of the info or tips I'll give you are some that I will apply myself, too.
Note: Don't forget to subscribe to the newsletter and share this blog.
What would this blog be without titties! Torbe fucked this hottie Daniela Leon.. and she has a bukake coming up.
Some more of this beauty to keep you going.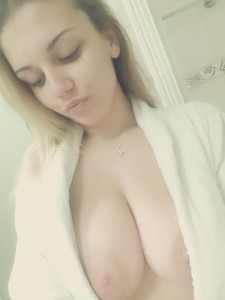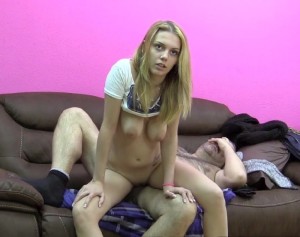 First things first: How do you make money with porn?
Let me give you a little bit of the story here. Many -many- people think that just because of having a porn website, they will make money. People will just visit it and purchase. However, that is not a utopia, that is ignorance. If you sell content, besides SEO and backlinking, you will need to run affiliate programs…and affiliate programs that are attractive. Go to any of your favorite porn sites.. drop down to the bottom of the page and you will find a link that says: Webmasters -or Affiliates- Click on it and you will be taken to an affiliate program website.  This not only applies to porn sites, but you can go to amazon and find the associates program or find out who runs the affiliate programs of the products you want to promote.
What should you do ?
As I stated in the past, on my interview with Lightspeed Media big guy -Tawnee Stone, Raimi XXX, etc- he was the one that advised me to start a blog back in 2008. So I did. First on blogbugs, then on Bogger; however, BoobsRealm.com became more legit when I purchased my own domain. BoobsRealm.com was born in 2013. As you know I love big huge tits and I was a fan of other blogs and was always searching for my favorite busty girls. I decided to launch my site and blog my way. So my first recommendation is to find a niche you are comfortable with.
Some more boobies.. this time… Enjoy Chloe Taylor boobs
And now?
Build a website. Choose the domain, the hosting, get a logo, a design. Now compare yourself with the top guys in your niche and see what they are doing. Do not imitate tjem, let alone copy their content, as you will get penalized by "big brother" google. So, assuming that you can get the SEO and link exchanges you need to start getting traffic and become relevant I will tell you about what programs I suggest you -if you are into the big boobs niche-
Traffic is king: Backlinkg with sites that have a higher DA of 22 is advised. Try to get Do-follow links.Do not get links on lower ranked websites than yours. It could harm your rankings.  Content needs images and text. Images need the Alt Text description and text should be longer than 300 words per post. In porn, it may not work that much, but still write relevant content.
Spy your competition: Use similarweb.com or semrush.com -limited free accounts, if you can't wanna pay, but still help-
Check these SEO free tools: http://smallseotools.com/
Ok.. this was just some basic stuff.. now let's go the affiliate information..
However, not there yet.. some key concepts you need to know beforehand…
Rev Share: If you choose this method you will earn a percentage of the membership a user has paid to join the adult website. This income will exit until the user stops being a paying member of the adult site.
Pay Per Lead: A lead is generally a signup involving usually contact information; it is typically a non-cash conversion event. A lead may consist of as little as an email address, or it may involve a detailed form covering multiple pages.
Pay Per Sign up: You will get paid an amount of money for each person that signs up to the adult website.
Referral programs: You earn money when you refer other webmasters to join the Affiliate programs. You will earn a percentage of their sales. This percentage is not taken from that other affiliate earnings, so is not affected for being referred by you as he will be paid the same amount any other affiliate would.
Pierre Woodman does not have an affiliate program for referring webmasters, but watching Viola Bailey putting two cocks in her mouth is worth promoting.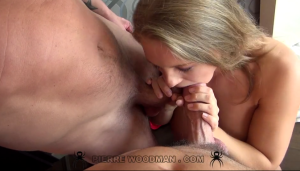 What sites should I promote…Here are my recommendations:
Scorecash: You can promote the most busty girls in the biz from past and present. Merilyn Sakova, Sha Rizel, Hitomi Tanaka, Leanne Crow, Christy Marks, Karina Hart as well as Samanta Lily, Julianna Simms, Larisa Linn and more.. If you would like to sign up using my affiliate link, please click here.
DDFCash DDbusty and its sister websites have being bringing the top euro talent for many years. Lucy Wilde, Viola, Katerina Hartlova, Karina Hart, Marina Visconti, Angel Wicky, Lucie Wilde among others are featured on the sites promoted. DDFbusty has a huge network of sites that includes Hands On Hardcore, 1-byday.com, Only Blowjob and more hot sites. To check out DDFCash go here.
Enjoy DelzAngel's boobs on DDFbusty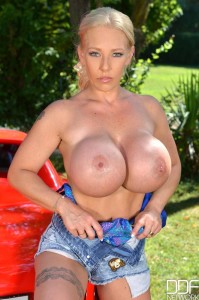 BustyBuffy. This is lthe site has has exclusive Lucie Wilde content. The program that runs it is Teen Harbour. Lucie Wilde might be gone, but she shot tons of scenes for Busty Buffy so there is still new softcore and hardcore coming.. Something that it is mind-blowing is that Lucie Wilde/Busty Buffy is only known in the big boobs community; however, the casual porn fan has no idea who she is. When I was at the AVNs I talked to many fans and even marketing people.. Lucie Wilde was a virtual unknown. T
Pinupcash: They are responsible for the best glamour website in the world dedicated to busty girls. Leanne Crow, Antonella Kahllo, Lana Kendrick, Tessa Fowler, Jana Defi; Beth Lily, Jordan Carver… list goes on and will become larger. Check Pinupcash out. good conversions.
Brazzers: To promote brazzers and sister sites you have to join juggcash. With Juggcash you will have access to content of the top porn sites in the world.
PopAds: I know some hate the Pop Ups, but they are really necessary for the blog be kept alive. I ahve not tried Exoclick yet, but I heard it is great. I have been using PopAds which works good. It is not just related to porn, so you can use it for any website. If you have, let's say 1M visitors, that can represent up to US$4k.. Unfortunately BoobsRealm is not there yet, but I hope it does before the end of 2016.
Pure CFNM: This site has not been featured on the blog yet, but it is very attractive for those who love to see hot girls making guys jerrk-off in fron of them. Girls such as Katie Thornton or Anastasia Lux have been the flagship girls. I have been told the affiliate program is nice. I invite you to try it out on CCBill.
ManicaMoney: If you are a fan of Putalocura.com, join ManicaMoney and start promoting his site. From bukakes to bgi tits freaky porn. Torbe is a legend.. and you can help his legacy.
BimboCash: new czech cash. You need to have a ccbill account and voila!
Webcams!!!
Yeah.. I leave this here as webcams are a different animal. There is nothing that can beat human interaction.
MyFreecams: Check out Crakrevenue site. You will not only be able to promote MFC, but also will have access to tons of sites.
Chaturbate: Fast-growing cam site. Probably the first one that came out with the WhiteLabel concept. It converts well for some, not so much for others. Go to Chaturbate affiliate program.
Streamate: Promote Streamate directly or use a WhiteLabel. Pays up tp 20% of what a cam member spends, but you can choose the program
Viola Baileys On cam every day every morning/afternoon on Streamate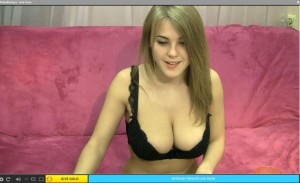 What should I do with this?
Create blogs, if you know some coding or can get scripts, create TGP sites. This one juggiest.com is a good example.. It will to the sites the photos are grabbed from. Create a review site.. check out the porn directories on the top right menu as examples of successful sites. I am giving you some basic tips.. some I have not followed myself, but I know they are profitable if you have the time and resources.
Last tips
1. You will find out if you do better with PPL, PPS or Revshare.. I always choose Rev Share. It is long-term, but you are banking on a customer that will stay.
2. Banners. Don't put too many banners on the site.. And don't throw them there and that's all.. they have to be pretty and engage visitors..- believe me I know.. I have to change mines
3. Post daily: Content is king. I am not the one to follow, as I do not post daily, but I should. I suggest you to post at least 3 times a day. Check what time is the best for posting based on your fans activity.
4. Analytics: Install google analytics on your site. I also recommend supercounters to track your visitors.
5. Do not rely on just one site. It took me time to learn this. The guys that make thousands a day have over 50 sites. Probably just 10% works, but they created a network that helps for their SEO.
6. Forums: Post in forums and give relevant information. Show your site url on your forum signature. Do not spam the forum, otherwise you will be banned. I got BoobsRealm banned on the freeones forum when I was trying to get traffic to the site.
7. Social Media: Create your own twitter, instagram , facebook. or whatever you feel works for you. Twitter is great for promoting, but conversion tends to be not that high. I know people that do great on instagram !.Follow the stars you like in that niche and check her activity in social media. Interact with them. Use ifttt to post often and gain followers, however, nothing beats human interaction. Bots can be annoying.
8. There are more things to talk about, but that is your homework… IPs, SEO tips, page rank, google trends, etc. However, remember this.. keep on learning and trying.
That's all folks! Some more titties from our Miss Boobs Realm 2015 Samanta Lily!