Busty girls. We all love them. However, what makes a busty girl be a top busty girl? Is it the big boobs? The bigger the better? Or is it that despite the fact we love boobs, it is the whole body and face… that full figure that makes the boobs stand out and create the icon models that we consider them legends? For some the bigger the better, so huge boobs –macromastia type-, BBW or boobs that do not go well with the body are better prevail over Double D's or G cups on girls with slim or not so slim, but proportionate figures, while others, like myself, prefer girls whose boobs are big, but still do not look like they do not fit the body of the girl that displays them.
Some people have suggested more of this sets saying that they prefer those boobs rather than small chested girls like Viola Baileys… Come on.. Would somebody say that that girl would be more deserving of being Miss Boobs Realm rather than Viola Baileys, Suzie, Kittiesauce, Tessa Fowler?
This may be one of the most controversial posts I have published. I have been getting messages and also have been reading messages about many guys big boobs preferences. I have noticed that many consider that Best Boobs= HUGE boobs. I noticed it since the Miss Boobs Realm 2014 Contest. This post will start a debate for sure and some guys may not agree with me and would even get angry at me. Big Boobs vs Huge boobs.
Shout-out of the day: Please visit XX-cel and watch how you really should treat big boobs!!!
In the last couple of years I have stated that the best busty new girls I have discovered were Beth Lily, Cara Ruby, Jaynie Rae, Suzie and Lucie Wilde. I even "dared" to call Jaynie Rae the discovery of the year. I think Lucie Wilde is among the all time best busty girls. I think that Suzie aka Suzie Sun has unreal perfect breast. I love how girls such as Beth Lily, Tessa Fowler, Cara ruby, Sensual Jane, Stacey Poole  manage to have gorgeous big boobs while having very nice figures. However, I notice that many fans out there dismiss those ladies in favor of girls whose boobs are two times or three times bigger breast.
I posted about Jaynie Rae being the best busty girl discovery of the year, but I got messages saying that the discover  of the year had to be a lot bigger. In response I saw what these guys find a "best busty girl is"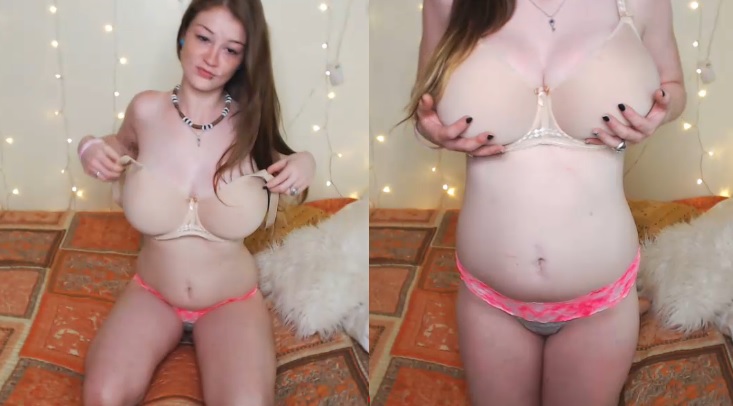 Everybody is entitle to their own opinion, however, I have to say it out loud: I don't just post big boobs. Criticize me all you want, but believe me this: 95% of the time I post girls that I consider attractive and I put in the Best Busty Girls category. It is not just a "you have big boobs, I like you". It is a combination of body and also face what makes a busty girl special.  I have been recommended busty girls many times. Even some models pitched me the idea of featuring X,Y,Z girl. I am sorry, BoobsRealm.com is about the best busty girls, not just a couple of boobs.
So I was told that this girl was better than Jaynie Rae, Beth Lily and Tessa Fowler, because her boobs are bigger… Well, no offense, but I'm sure that if Beth stops going to the gym, she would be bigger, but that would not make her attractive
Now this is when I may "lose some fans" –if I had not lost some already. The 95%  of the girls I post are the ones I find are the best. There are some girls I like that I do not get to post about often or at all, but the niche I cater is Best Busty Girls. There is a reason why Ala Passtel won Miss Boobs Realm Legend. She did not have the biggest boobs, but Ala – or Yulia Nova, or Merilyn Sakova- were more than a pair of tits. On the other hand, I know BBW girls have huge boobs. Some are cute, but others aren't. The ones I post about are some of the ones I find attractive. However, there are others that if they slimmed down, they may not be busty.
A girl from DevineBreast. This site has a niche. I was surprised that they featured Samanta Lily and Suzie. Both have more fit bodies than their models. Again, it is a niceh andthey have their fans. Nothing wrong, but I think that saying those boobs are better because they are bigger is something I would like people to help me understand.
My intention is not to offend anyone. I call it as I see it. However, people say I "do not feature all the girls I should". Then call me different names after I state that some of the suggested girls do not cater to the BoobsRealm.com audience. Some people/models think that because I have a big boobs blog I should feature all the girls with big tits, regardless of if they are attractive or not.
Note: I'm surprised that Scoreland has turned down some girls I – and I know many of you like- in favor of others. even when tlaking about silicone. They did not want to shoot Arianne Saint Amour but did shoot Sandra Star??? Nothing against Sandra, but both have silicones and Arianne's are bigger and nicer – I have touched them-.
Ariane Saint Amour is a good looking girl with silicone boobs
I'm gonna give you an example. I know some of you dislike Legal Porno. Ok, let's go with this site… They had impressive busty girls: Lucie Wilde, Marina Visconti, Suzie Sun to name the most notable names; however, they just released a scene with a girl named Calisi Ink. Watch the trailer. I'm not a fan of tattoos…. 99% against them, but I know some girls can still look good. I am not a fan of silicone, but some girls really have nice fake boobs. I am beating the purpose of the post just to make an example. Would not posting about Calisi Ink make me a "subjective" guy who has "preferences" for some girls? No. Do I have preferences for some girls?? Yes. And if somebody does not know here a list of my favorites I love to post about and I check on every day: Lucie Wilde, KittieSauce, ThatSubieGirl, Beth Lily, Samanta Lily, Cara Ruby, Katerina Hartlova and many more.
I do not want people to agree with me, but would like to express my take on busty girls and my preferences. I do not enjoy watching girls whose tits go up to their knees. Rachel Aldana was a BBW, but she had perfect tits. Sarah Rae was a BBW, but still she is a nice looking girl.
During the Miss Boobs Realm 2015 contest I read comments against some girls. The messages were something like "she does not deserve to win because her boobs are not as big as those of  XYZ". Or, "Her boobs are saggy". Sha Rizel –to name a girl- may not have the most firm boobs, but she is one of the all-time best. I Maybe I am wrong, maybe Huge Boobs should prevail over big boobs on pretty girls bodies.
What do you think? Sorry about the rant, but I needed to get this out of my chest. I know everybody has an opinion, but it boggles my mind when guys that like the first picture complain that Lucie Wilde has ugly boobs!!
Note: Controversy will continue on June 1st. I was going to release my top 111 busty girls of all-time, but then realized that many guys's favorites would either be very low in my Personal Rank or would not even make that list. So I decided just to post My top 50 Big Boobs girls. On June 1st I will have an honorable mentions list and starting June 2nd I will post the top 50 in posts of 5 girls each day. I'm sure many may will not agree.. I hope I do not lose fans, but well.. many asked about my Personal preferences… let the controversy begin!
Note 2 : for those wondering. I think Roxi Red -girl on profile photo- has great boobs, but as a whole I do not think she is at the same star level as Suzie, Rockell Starbux, Luna Amor, Samanta Lily or Dolly Fox, who Scoreland has recently featured.  I think that Pinupfiles has been more consistent in focusing on a specific type of girls. I know, some girls also did not fit their profile, but Scoreland does not have an all-star roster as the old days: Merilyn Sakova, Tanya Song, Angela White, Lorna Morgan, Karina Hart, Karla James…
This leads me to a second question.. after the retirement of Lucie Wilde, Amanda Love, Emily Born, Jaynie Rae, Beth Lily -soon Leanne Crow, Viola Baileys -thanks Pierre again-, Siri we may end up with just a bunch of big titty stars???? With low revenue and lower income for the models, would we be about to witness the scarcity of big boobs models? Maybe this one should be another topic for a future post