KittieSauce is a 20 years-old busty cutie who almost every night turns on her webcam to make guys from all-around the world happy. Busty KittieSauce is one of those girls it is easy to fall in love with. She has great looks, a ver easygoing personality and huge fuckin tits!!! Hey, she has a great ass too. KittieSauce participated in the Miss Boobs Realm 2015. Even though she did not reached the finals, she was one of those girls that caught the eye of many fans. She caught my eye since the first time I have seen her and I manage to check out some of her shows when I have some time. I am not lying here – and with all due respect to all the other cam girls in the world- KittieSauce is the one that turns me on the most. I had the honor and pleasure to interview KittieSauce. I wanted to know more about her and I am sure you wanted, too.
KittieSauce is a college student who loves anime and video games. You can find her on Chaturbate and MFC. Also follow her on twitter @KatKittiesauce And she has become one of my favorite busty girls.
UPDATE: Oh BTW, busty KittieSauce is trying anal plugs!!
Look at this pretty girl who got this photo taken for BoobsRealm.com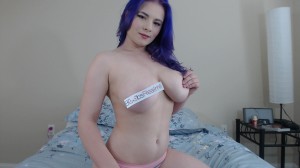 BoobsRealm.com: Why and when did you decide to become a cam model?
KittiSauce: I became one because I saw a cam site and it looked fun. I love how the models were able to connect with their viewers. I thought it was awesome. I was 18 and just beginning college.
BoobsRealm.com: How did you choose the name KittieSauce ?
KittieSauce: I chose the name at random I used to use the username awesome sauce and I changed it to KittieSauce
BoobsRealm.com: How did your friends and family react when you told them you were camming?
KittieSauce: No one knows lol.. I have a couple friends actually that do know.. They just think it's weird LOL..
BoobsRealm.com: but you know that on this age of the internet there is a chance shows end up on some sites..
KittieSauce: Of course… I understand =)
BoobsRealm.com:  And do those friends know how profitable is to be a camgirl? They are girls?
KittieSauce: Nope just boys. I don't have many friends. Thats kinda another reason why I like camming haha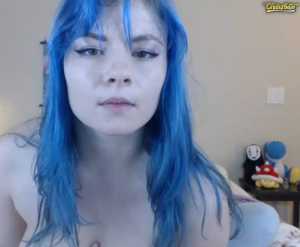 BoobsRealm.com: Oh wow..I bet those guys watch the shows and fantasize about you haha or maybe they volunteer for stunt cock for a BG.. BTW I volunteered first lol
KittieSauce: Maybe haha
BoobsRealm.com: You said you don't have many friends. It is that you prefer more your space or is it that you get along better with boys rather than with girls?
KittieSauce: I think I get along well with most people. I just like to focus on school
BoobsRealm.com: You would consider that you are/were a teacher pet?
KittieSauce: Maybe. All my teachers seemed to like me
BoobsRealm.com: I am sure some fantasize too hehe… Have you ever used your boobies to get out of trouble or get something? with a bf doesnt count haha
KittieSauce:  No just a lot of no eye contact conversations
BoobsRealm.com: Sounds hot enough to me haha… Well, you know this is BoobsRealm, so time to talk about those two perfect big girls.. What size are them? When did they start to grow? How was it back then?
KittieSauce: I am a 34 DDD. I can't remember when I didnt have boobies
BoobsRealm.com: hahaha.. I imagine your school mates may remember when they started growing haha. ow were the boys reacting at school.. and the teachers?
KittieSauce: Idk just looking at me funny
BoobsRealm.com: now lets fast forward….how would you describe your cam shows?
KittieSauce:  Id describe them as a different adventure every day filled with funny strange moments. And tons of unique engaging interactions among myself and my views as well as getting nude and playing as my viewers watch
BoobsRealm.com: How has it been so far? What do you like the most and what the least?
KittieSauce: I love hanging out with my viewers. The trolls can get a little annoying though
BoobsRealm.com: Do you do cam to cam?
KittieSauce:  Not very often. Sometimes I'll make an exception though
BoobsRealm.com: You don't like it much? or is it weird to see the person on the other side?
KittieSauce:  Well I think it's a little more special
BoobsRealm.com:How does it feel that hundreds, if not thousands of guys worship you, and actually.. you know , masturbate thinking of you..?
KittieSauce: It's thrilling for me. I love it
BoobsRealm.com: Sounds good.. now I feel free to do it while I interview you hahaha
KittieSauce: Haha
Probably the hottest girl on Chaturbate!. Kittiesauce masturbates with a dildo
BoobsRealm.com: And speaking of men.. well you said you are busy.. Is it safe to say you are single? What does THE guy need to do or be to get your heart?
Kittie Sauce:Yea. I'm not really sure haha I guess I'll just know when it happens. 😛
BoobsRealm.com: I guess I have chances.. is there an age limit haha?
KittieSauce: I'm not sure hah depends on the person really
BoobsRealm.com:  and speaking of boys.. would you venture into boy/girl videos or cam shows?
KittieSauce: I was possibly interested in girl girl shows
BoobsRealm.com:   oh and who is the lucky girl? is she on twitter?
KittieSauce: I haven't found her yet. But maybe I will 🙂
BoobsRealm.com:  that means you are into girls in your private life? or how did you come up with the idea?
KittieSauce: I'm bisexual
BoobsRealm.com:  I am sure this just got you more fans haha.. Was your first time with a girl or a boy?
KittieSauce: A boy. But my first kiss was with a girl
BoobsRealm.com: I have asked this question to many pornstars.. who lick pussy better, girls or boys?
KittieSauce: idk I haven't had either
Beautiful busty KittieSauce has an orgasm on cam. It is something you need to witness guys!
BoobsRealm.com:   OH!!! * I fell from the chair and tried to teletransportate to Kittiesauce's land * so I am curious now about this question I ask to almost every girl… Spit, swallow or facial?
KittieSauce: I really don't mind any option. Spitting seems gross though
BoobsRealm.com: What is the first thing that comes to your mind?
– Camming: Fun
– Porn: An alternative life – fake boobies
– Happines: success
– Sex: pussy juice
– A dream: flying
BoobsRealm.com:  What are your short term plans on the camming world? Would you consider modeling for a site?
KittieSauce: My goals are to become more creative with my shows and do more viewer involved activities ie. Raffles
BoobsRealm.com: What would be your advice to any girl considering camming?
KittieSauce:  For aspiring cam girls : know your limits and be willing to take the criticism when your friends and family find out
BoobsRealm.com: Is there any message to the fans reading the blog?
Kittie Sauce: For all my fans reading this: thank you for all the love and support
Visit KittieSauce on Chaturbate . I assure you that you will be satisfied