Fiona Siciliano is one of those girls that makes your haw drop. The busty UK brunette goddess has been modeling in the glamour scene for quite some time now. Her heavenly body has graced Zoo Magazine and Daily Star, but probaly was introduced to the whole world by big boobs legendary site Pinupfiles. I had the honor to interview Fiona some time ago. I can finally put up the interview and share with you more information of this stunning young lady. You can follow lovely and funny Fiona on twitter @FionaGirlSoho
BoobsRealm.com: How did you decide to become a model?
Fiona Siciliano: It all happened very randomly! Someone asked me to model some underwear & then I thought actually I could do alright at this!
BoobsRealm.com: What is your bra size?
Fiona Siciliano: 28G biggggg titties
BoobsRealm.com: When did they start to grow? How was it back then?
Fiona Siciliano: When I was about 9 LOL & yes when I look back at pictures with no bra on im like "seriously mum you let me out like this"
BoobsRealm.com: How complicated was posing nude for the first time ?
Fiona Siciliano: I was like do I ? don't I ? Oh what the hell. Posted it then was like OMG Hahaha.
BoobsRealm.com: You are half Brazilian half/English. What characteristics of each culture have you inherited. Partying like a Brazilian? haha
Fiona Siciliano: I don't feel like I have a "Brazilian bottom" however ive been told it's pretty peachy.
I think that booty is really peachy too.. Spank time!
English – well I can't say no to a pot of English tea & scone.
BoobsRealm.com: We saw you on pinupfiles and on the Zoo magazine. What other sites have you been featured at?
Fiona Siciliano:  I've done daily star & zoo Australia.
BoobsRealm.com: You are launching your own site http://www.fionaofficial.com/ When is the launch date? Any spoiler of what fans may find on it?
Fiona Siciliano:  It is very close to going live, just needed enough content to keep you all captured. You'll see exclusive selfies & sexy videos of myself & loads of professional shots of me in pretty much nada.
BoobsRealm.com: What do you do when you are not modeling?
Fiona Siciliano:  I love to eat. Yes. Eat. Me and my girls are big foodies so we have dinner out most nights & then I go gym to work off the food ha.
BoobsRealm.com: I saw you went to Ibiza and Cyprus a lot. Do you get to travel a lot
for modeling? What are the places you have liked the most? What would be the place you would like to visit?
Fiona Siciliano:  Yes I've been on 7 holidays this year which has been amazing! I love to travel. Love seeing different cultures & foods. I really want to go back to Brazil & backpack in the Amazon. It's on the bucket list.
BoobsRealm.com: You are part of Girl Management, which manages the 90% of the hottest UK models. Is there any who would be your perfect partner on a photoshoot?
Fiona Siciliano:  Lana –Parker- @Larrnarr is like my best friend but I'm soon to do a shoot with the amazingly big boobed "stacey Poole" so look out for it.
BoobsRealm.com: What is the story behind the tattoos? They are nice. Not too big and classy.
Fiona Siciliano:  Classy – well that's a different debate. Different – yes. I have loads of random ones. My little triangle on my arm is the best. It's cute & has a personal meaning.
BoobsRealm.com: What do you plan to do after your modeling career? What are your short-term and long-term plans in modeling?
Fiona Siciliano:   Well that is still to be decided. I just go with the flow & see what happens.
BoobsRealm.com: If your friends would have to describe you in two words, what would they say about you?
Fiona Siciliano:   Weird & gross. I come out with shit facts of the day & I'm the most ungirly glamour model ever.
BoobsRealm.com: Now it is turn to answer with the first thing that comes to your mind:
–    Food: calamari
–    Sex: on top
–    Love: my best friends
–    Porn: girl on girl
–    Saturday Night: cocktails
–    Twitter: zoo mag
–    Money: how to make more
–    Happiness: traveling abroad
Fiona Siciliano on Zoo magazine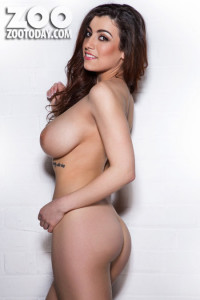 BoobsRealm.com: Do you have a special talent that most people do not know about you?
Fiona Siciliano:   I can tie a cherry stem with my tongue
BoobsRealm.com: Do you have a boyfriend? What does the special guy need to do to getyour heart?
Fiona Siciliano:  Not quite a boyfriend but have more than one special man in my life. You gotta have a good humour – im quite crude. Good dress sense. Got to have a talent or 3 in the bedroom.
BoobsRealm.com: Is there anything you would like to add to the fans reading the interview?
Fiona Siciliano:  Thank you for supporting me, you guys mean the most! Look out for the website fionaoffical.com & sign up. It will be worth it xxxx
Fiona has curly hair and it looks great too
Some more photos of this hot babe Fiona Siciliano