NeoAphrodite aka Modern Venus is a busty blonde amateur who has been taking the internet by storm in the last couple of years.  This young lady in her early 20's is truly a Goddess. When I saw her, I saw perfection. NeoAphrodite is one of the hottest natural busty babes that has graced this blog with her pictures. However, this time I bring you an exclusive interview with the Goddess herself. Get to know more about this 32DDD naughty angel who is into creative writing and rough sex.
Note: You can vote for Neoaphrodite in Group 8 of MissBoobsRealm2017.
NeoAphrodite posing with the Official BoobsRealm Tank Top
When and why did you start posting nudes on the internet?
I've always liked taking naked pictures of myself and sending them to whoever I was romantically involved with at the time. I got into Tumblr and made a NSFW blog and saw that a lot of the blogs I followed were submission blogs that girls could submit nudes to. I did that once anonymously and got a lot of positive feedback on it and eventually began
posting nudes on my own blog. I'm a bit of an exhibitionist so taking nudes and posting them online is really fun and a little turn on, especially now that I have a fairly large following on Tumblr.
How is a normal day in your life?
Really not too exciting, especially now that I'm in between "real" jobs. Usually I'll submit some applications each day and manage my premium Snapchat account and then have the rest of the time to myself. When I'm alone, I tend to Netflixing, write, or just mess around on the internet. I like seeing friends or hanging out with my mom when I can, I usually video chat with my boyfriend (we're long distance), and it's always fun to go out to the bars!
How do you take the online fame? Is it something you expected?
When I first started posting nudes, I really didn't think I'd become as "Tumblr famous" as I did. One picture in particular took off and it seemed like all of a sudden I had a ton of followers which kinda surprised me. I quite like it though! I love the attention and it's really flattering having so many people so interested in you. I think online fame is especially fun because it's not too much–I'm not a celebrity or anything, so my private life is totally private and I can choose when and how I want to interact with the attention I get online.
You are one of the most amazing busty girls on the internet. Have you considered
becoming a professional nude model?
Thank you! No, I've never been interested in professional modeling–it's just not something that's appealing to me in the slightest. Taking nude pictures in my spare time is a fun way to make a little bit of extra money and feed into my exhibitionist nature (plus I like the attention I get online from it), but I have other career aspirations that aren't centered around taking off my clothes.
What size are your breast? When did they start to grow?
32DDD. I was actually a late bloomer and really flat chested growing up, believe it or not. Around my junior or senior year of high school is when I noticed that my boobs had suddenly gotten big. I remember being really surprised. I know that it had to have been a gradual process, but it seemed to happen overnight and it took me a while to get used to it.
Any chance you do something more than solo… maybe boy/girl or do camming?I
Actually cammed on Chaturbate once with my friend Violet (check her out on Tumblr:
www.violetxtheo.tumblr.com) and it was SUPER fun! I really want to do some camming
with my boyfriend when he comes to visit. I currently have one b/g video with him
that's available for purchase and I'd definitely like to make more with him.
One of the latest Neoaphrodite's photos on her Tumblr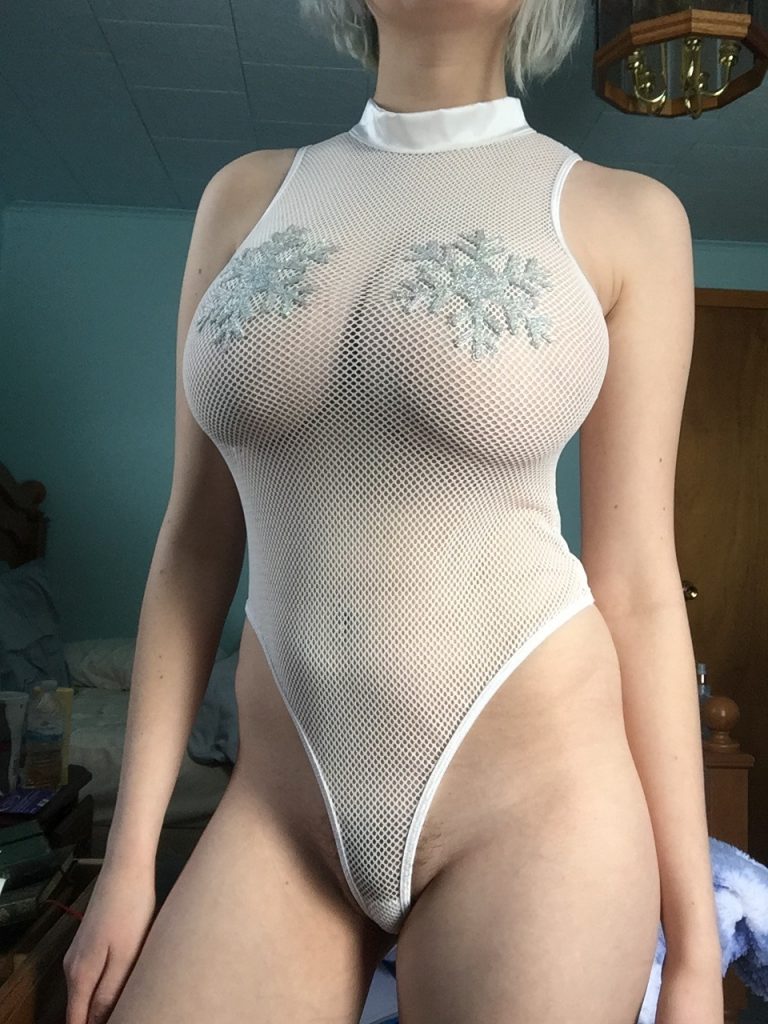 We all know you are looking perfect! That's why you chose the name Neoaphrodite
or why did you come up with it?
Thank you! I've been told that my body looks like a Greek goddess' and Aphrodite is the goddess of love and sex, so that's where the Aphrodite bit comes from. "Neo" means "new" so Neoaphrodite is like a modern Aphrodite!
What is the best part of posting yourself online and what is what you may not like a bit?
The best part is having a large audience to share pictures of myself that I like! It's so much more fun when there's interaction with my pictures and me. I don't like when men feel entitled to my body and me, when they're disrespectful towards me, when they talk to me as solely a sex object and not an actual human being, or when people look down on me for posting and selling nude content.
You have a boyfriends as you mentioned. What does a guy need to do or be to get to your heart?
We've been together for seven months now. To get to my heart, I like to have an immediate connection and good conversation. Someone who's easy to talk to and empathetic. Humor and intelligence are important to me, as are kindness and shared interests. And sexual chemistry doesn't hurt!
Are you into one night stands? Tinder? or how would you describe yourself?
I really don't like one night stands and hook ups–I definitely prefer to be in a relationship because I can't fully enjoy being physical with someone if there's not an emotional connection attached to it. I've used Tinder in the past and actually met my current boyfriend through it! I guess I'd describe myself as a very sexual person, but someone who can only fully tap into that when I'm in a long-term relationship.
What do you think your friends or family would say if you would confess about Neoaphrodite?
A few of my friends already know (Violet is a real life friend)! I think most of them would be surprised but supportive. As for my family, I think my mom would be skeptical and concerned with the risks but ultimately support me. My dad would absolutely hate it and I think the rest of my family wouldn't be too happy with me.
Do you watch porn? What kind of porn do you like? Any specific actor or actress you like to watch?
Only sometimes! I like lesbian porn and rougher stuff. I don't have any specific actors or actresses that I watch, but I do love Stoya as a human being. I also have a huge soft spot for all of the girls I follow on Tumblr who cam and sell their porn.
Add @BoobsRealmSC on Snapchat. NeoAphrodite will takeover today Thursday March 1st starting in the afternoon
What is the first thing that comes to your mind?
Sex: Something I miss a LOT now that I'm in a long distance relationship. Preferably kinky and dominance based.
Love: You just kind of know it when you feel it. Either it's there or it's not.
Money: Something I definitely do not have enough of.
Happiness: Finding your person, working a job you enjoy, being financially stable enough that you don't have to worry, being surrounded by those you love, living somewhere you like.
Neoaphrodite: Modern Venus. Actual angel. Goddess extraordinaire.
And some quick questions about your favorites:
A book: The Night Circus by Erin Morgenstern.
A movie: I'm not really a movie person, but I LOVED Moonlight.
Food: Ugh, that's such a hard question. I love thick potato soups
Sex position: Anything where I'm getting fucked from behind. I like being on my stomach and I like being bent over.
Sport: I'm really not into sports, but I guess yoga if that counts. I like watching pretty sports like figure skating or ballet.
Spit, swallow or facial: Whatever my partner wants.
What is a secret or something many people don't know about you that fans would
be surprised to find out?
I'm not sure. I feel like I'm a pretty open person and I don't know if there's anything that's all that surprising about me. Maybe that I was born in England (that's always my fun fact during those stupid ice breaker, getting to know you games).
What are your short-term and long-term plans as Neoaphrodite ?and some offline
plans?
Not sure about my long-term plans, but my short-term plans are to continue posting pictures and selling content! I'd like to start camming more with my boyfriend and having more b/g stuff available. As for my offline plans, I'd like to get a job somewhere as an editor or a content writer of some sort, although I'm not sure where exactly though.
Is there anything you would like to add to the fans reading the interview?
Yes! I now have a premium Snapchat if anyone is interested in purchasing it (I show
my face on there and everything)! You can find more information here:
www.neoaphrodite.tumblr.com/tagged/snapchat. I also have a private blog in the works so keep checking back on Tumblr for more information about that!