Marina Visconti is one of the best busty European pornstars of this decade. At only 21 years old, Marina is already a girl who reached legendary status and became not only object of desire of many of us, but also caught our heart because of her charm and sympathy. Soon after turning 18 Marina started doing porn. Her cute looks and her natural boobs made her a recognizable name for any porn lover.
I had the chance to interview Marina some weeks ago, but I did not want to post the interview on a day with many posts, as this interview does deserve a lot of attention. Marina Visconti is retired from porn and has no relation whatsoever with it at this point of her life; however, she took the time to give an exclusive interview to BoobsRealm.com and also take some exclusive photos for the blog and its followers. Guys this interview is a must read. Marina Visconti is a wonderful lady. if you were in love with her before, after this interview you will want to marry her. I do.  You will have the chance to get the exclusive Marina Visconti photoset as you read the interview. This is the latest and last Marina Visconti set you will ever find on the internet.
How did you decide to enter the porn business? What was your expectation and who was your first scene with?
I just wanted to make some money. Then once I got in , I liked all these characteristics of expensive fun life that porn brings to you: nice cities, money, attention , parties . I wasn't in a rush to say bye to all of it . My first scene  was with very sexy muscular Russian guy, I don't know his stage name, but I have done 4 or 5 scenes with him. Fans might recognize him.
What is your bra size? When did your breast start to grow?
Now it's about 34 C ,it depends of my weight. It start to grow when I was about 13 years old.
You shot in the States, then went back to Europe. How was your experience in the States? What did you like the most and what did you like the least?
Working in the States was much more serious and professional than in Europe .Now that I'm out of it I can say it was more fun also. In Europe porn is only work . But in the USA it's their passion, people are there really enjoying doing it , trying to improve and put more creativity in their work .They are always trying to do it in the best possible way .
The thing I didn't like about it is that you adopt that attitude you start  loosing yourself. It's no more you. You come back home after work and you go to twitter or snapchat and yI kept being Marina Visconti. Even my friends called me Marina.
 However, you decided to retired. Why did you call it quit? What are the chances to see you back?
Most likely I'm not going back into it.
So the million dollar question is… Why you decided to retire from porn?
I decided to retire because it was not interesting for me anymore. I'm o ver with it.
You are living outside Russia now. What have you been up to?
Im just doing own stuff, nothing related to porn or sex.
What were your favorite scenes? Who were your favorite performers to work with?
Scenes with Brazzers and HardX were my favorites. I liked to work with Bruce Venture, Prince, Jon Jon, Rob Piper , Danny Mountain, Misha Cross..There are more performers , don't wanna make the list too long.
Is there anything you didn't do in porn that you say now "I would have done that"?
No , I have actually done more than I wanted to.
On camera you are a sex machine who always craves on cock. While we all know porn characters are just characters played, what are the main differences between

Marina

Visconti and Viktoria?
The main difference is that I like actually monogamy, it's not my thing to have lots of partners.
If you could write a book about your life, what would be its title and what would be the main storyline you would like to share?
It would be a story about me trying to find my way, going through different situations, but keeping being me:). Maybe about my time in USA. A title would come up while I'm working on it. I can't really tell anything now.
One of the memorable scenes for fans on BoobsRealm.com is the Legal Porno stuff with Lucie Wilde. While she was hot, many fans described her as a "dead fish". What is your take on her from a co-worker standpoint. Do you think she was enjoying it? Or did you see the writing on the wall and knew she was gonna be out soon?
Yeah she obviously was a "dead fish"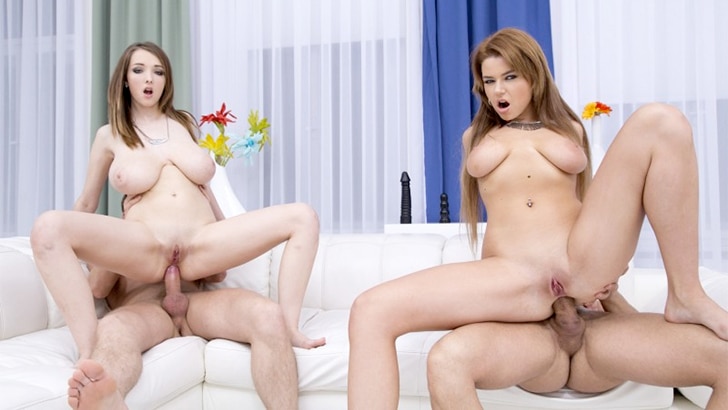 Speaking of shooting with other performers… There is some drama behind the scenes. Did you have any issue with any performer?
No , I never had issues with performers , I only have good to say about them.
Some girls have some talents that fans do not know. What do you think is a talent you have that people would be surprised to hear about?
I don't have any particular talent,but they would probably surprised if they get to know me better, I have many interests besides porn.
Are you single right now? What do you look for a man? How much important is looks?
Look not important at all
This question became a "must" every time… facial, spit or swallowing? Why?
I prefer classic sex with cuming in the place it is supposed to be ;).
We are going with some word association here… please add the first word or short sentence that comes to your mind
Love: care
Happiness: Life
Porn: Sex
USA: Beautiful picture
Family: home
Fun: Friends
Money: Power
Drugs: Death
Music: Soulmate
Food: is good:)
Marina Visconti: an image
What are your short-term and long-term goals in life?
To live life right
What would you have done if you would have not been a pornstar? Would you still have the chance to do it?
I don't know what would have happened , nobody know.
Is there anything you would like to add to the fans reading the blog?
I guess that's it .Thank you for reading my interview.
Marina recorded this video for all the fans reading the interview. It was really sweet of her. She sounds really cute!! Who would not like to marry her!!!
Now some legendary Marina Visconti photos