There is not doubt that when we, boob lovers, read or hear Australia our brain associates the country with Angela White. Angela is, without a doubt, one of the top adult performers in the adult business. Her journey started in 2003, as soon as she turned 18. She graced us with her body as she shot many videos and was the star of many photoshoots for Scoreland. She has shared her beauty with the world while working for other well known sites as XX-cel.com and DDFbusty as well as becoming a fan favourite on as a camgirl Angel was doing solo an girl/girl and fans were dreaming about her hardcore debut. It was March 2011 when the bosomy Sydney native  took the next step in her career.  After almost 8 years, Angela white was doing boy/girl hardcore for Scoreland. The internet got crazy. I have to share a personal story here: As you may have noticed I have some banners on the blog. I advertise those sites and I get a commission from their sales. Well, that day I made 300 bucks. It was amazing. I knew Angela was a superstar, but that day I realized how much fans loved and desired her. We are 2013 and Angela White has launched her own site, www.angelawhite.com where we all can see her do everything we have always wanted to see her perform.
Angela graduated with first-class honours in her Bachelor of Arts in gender studies at the University of Melbourne and has ran for parliament as a candidate for the Australian Sex Party. She has been featured in Australian tv in many occasions  and  Nowadays, Angela is a very busy businesswoman, but she took some time to give me an exclusive interview after the Melbourne Sexpo. So without further ado please enjoy this interview with this nice lady.
BoobsRealm.com: I read that you decided you wanted to be in porn when you were 14 after watching a scene. Then you started doing solo and then you moved to boygirl.. how can you describe the evolution, since your initial idea of the biz before entering until now that you have a website?
Angela White: I started with solo, moved to girl/girl and then moved onto boy/girl. I try new things when I feel ready and comfortable. Now, on my website, I'm exploring other aspects of my sexuality.
BoobsRealm.com: When you made your first hardcore scene for Scoreland it was a big deal. How did you know that was the moment for the turning point in your career?
Angela White: It was a transitional period of my life. I had just finished 4 years of study with my Bachelor of Arts degree and Honours thesis, and I was looking for something new and exciting to stimulate me and help me grow.
Angela making her hardcore debut for Scoreland.com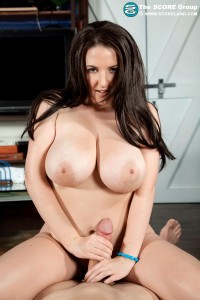 BoobsRealm.com: With all due respect to all the pornstars and camgirls and even the solo models, you are one of the most beautiful overall ladies in the adult industry. How do you manage to keep such amazing looks. Not only your body but your face -with no make up- looks pretty.
Angela White: Thank you so much. I go to the gym most days and eat fairly healthy but I think it's mostly genes.
BoobsRealm.com: You recently launched your own site angelawhite.com. it took almost 1 year from the initial planned launch date for the site to see the light. Some fans even thought the site as never going to be up. How was the process of creating your own site. Was it more difficult and stressing than planned? How do you feel now that the product is out there?
 Angela White: Being an Australian citizen made getting my website up extremely difficult. I had to open up an overseas company and bank account, which was costly and time consuming. Then I had some other issues with individuals lying to me and taking my money without delivering a product. Unfortunately, this made pushed back the launch of my site. I am so happy to finally have my website live and very excited to be able to share my content with the world.
BoobsRealm.com: What would the fans find on your site? What can they expect from Angela White being naughty on her own site angelawhite.com?
Angela White: On angelawhite.com, fans can expect to see me doing things that I've never done before. My first squirting scene with Ramon Nomar is already live on the site. Every month members get a new and exclusive solo, girl/girl, boy/girl and candid photo and video update. Plus, every week there is a free live webcam show where members can interact with me, get to know me more intimately and get off with me.
Angela getting one of the best facials ever (angelawhite.com)
BoobsRealm.com: You have worked with many fan favourites from Phoenix Marie to Tanya Song (who i really love) If you would have to choose a girl to do a threesome (with a guy) scene with (pornstar or solo girl) who would you choose?
Angela White: There are too many to choose just one!
BoobsRealm.com: I have seen interviews on the internet from tv shows and many from adult conventions. Do you consider yourself as an Australian celebrity? Do you get recognized in the streets? Are fans shy?
Angela White: I do get recognised on the streets but fans are usually too shy to speak to me. I'll often get a tweet from a fan saying, "OMG I just saw you at [insert place here]," but it's very rare for a fan to say hello in person.
Angela and fellow pornstar Phoenix Marie
BoobsRealm.com: I have had the pleasure to witness your camshows on MFC. You are very natural -no pun intended- and easy going. What is the most appealing of camming?
 Angela White: Webcamming is a great platform to interact with and meet fans. Plus, it's fun to be able to engage with my exhibitionist streak and masturbate with so many people watching.
BoobsRealm.com: What do you do when you are not shooting a scene?
Angela White: At the moment, when I am not shooting I am busy running angelawhite.com. When I get spare time I like to fuck and read.
BoobsRealm.com: What else would you like to add to the fans reading the interview?
Angela White: I would love to thank all of my fans for all their support over the course of my career. It really means a lot to me.
Thank you Angela for your time and your kind answers. I hope this interview gives fans a better insight to your career and a clearer view of the story behind the delay of the launch of angelawhite.com
I leave you with some more photos of this beauty. Enjoy!
Follow Angela on twitter: @ANGELAWHITE
Her amazing MFC camshow http://profiles.myfreecams.com/AngelaWhite
 Angela and lucky member of metal band Steel Panther at a public appearance
Angela waiting for the money shot?
Do not hesitate and join her site angelawhite.com and do not miss the surprises she has gotten for her fans: