Some days ago Noelle Easton agreed to this interview. I apologize for not posting it before, but I have some issues.
Noelle, is the best newcomer of 2013. The soon to be 19 years old Louisiana native debuted this year and has became a sensation. Despite her short career she is probably one of the best active busty girls. She is considered already an icon. Her cute teeny face and her overdeveloped chest plus her amazing body have turned her into a fan favourite. . She is the next big thing in the adult business. She has worked for Scoreland , Brazzers, Inmorallive among other sites. Noelle is really busy, but she took some time to answer some questions.  If you want to know more about this big boobs queen do not hesitate to read the interview.
She will be in the BoobsRealm Best Busty girl of 2013 that starts next week.
Noelle Easton's pretty face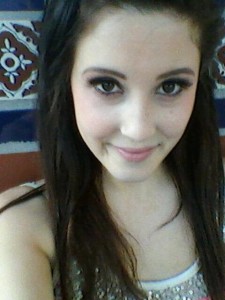 BoobsRealm.com: You almost literally entered into porn after turning 18. Right? How did you decide to do it? Who convince you?
Noelle Easton: When I first started I was already 18 and a half, and had been stripping since I was 18.
BoobsRealm.com: How did you come up with the Noelle Easton name?
Noelle Easton: It sounded good, there's no reason behind it really
BoobsRealm.com: How different is the porn world and the life of a porn actress fro what you thought it was going to be?
Noelle Easton: I definitely had some misconceptions at first like most people do, but now I love it
She does enjoy the adult business
BoobsRealm.com: What is your ba size? When did it start to grow? How was it back then at school?
Noelle Easton: I am a 38G and growing, they started when I was in 2nd grade
BoobsRealm.com: How did your family react and friends or even guys from your school when they found out you wee in porn?
Noelle Easton: My family supports me no matter what, as long as I'm happy
BoobsRealm.com: You are the most amazing newcomer. Perfect face, natural well rounded boobs and a perfect ass. Your boyfriend is a lucky guy. Have you seen your scenes? How does he react when you go to shoot a scene?
Noelle Easton: He's cool with it. He just wants me to be happy overall.
No anal for Noelle?
BoobsRealm.com: Sometime ago you said you were never going to do IR and anal. Well you have been doing some IR scenes Why did you change your mind? It means we mays ee you performing anal? Do you do it in your private life?
Noelle Easton: I've always done IR actually. My first scene was IR. I will never do anal though. It's horrible for your body, and I don't enjoy it.
BoobsRealm.com: Have you done swallowing scenes? Would you prefer facial or the guy cumming on your breasts?
Noelle Easton: I like it to aim for my face and drip down my tits
Here a samples of Noelle getting some jizz on her pretty face and boobs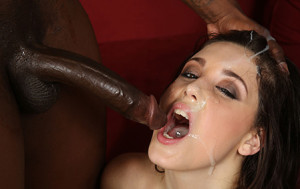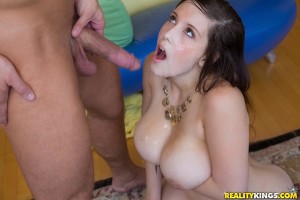 BoobsRealm.com: I think, as well as many others, that you have the IT factor to become a legend in the biz. Some people think that the last completed package was Gianna Michaels, who is retired. You are labeled as the next Gianna Michaels. What are your plans in and out of the biz short term and long term?
Noelle Easton: Definitely wanna stick around as long as possible. I love sharing my body with people and letting them look and enjoy 🙂
BoobsRealm.com: Who are your favourite porn girls? And guys? Is there someone you would love to work with?
Noelle Easton: I really love Dianna Dee and Jessica Ryan. I would LOVE to someday even just meet Jesse Jane!
BoobsRealm.com: Porn parodies have become very popular. If you were to be a character of a porn parody. Which character would you like to be? Movie, tv show, comic.
Noelle Easton:  I think there should be a 2 broke girls parody where I play the big titted brunette 🙂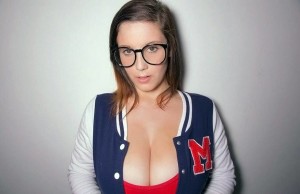 BoobsRealm.com: Some girls such as Jenna Doll and Cassandra Calogera quit porn because they felt some producers and male talent take liberties during shoots. E.g cumming on face despite it was stated it was not going to be that way. Without naming the company, if you do not want to say the name, did something similar happened to you?
Noelle Easton:  Yes and I think it's very disrespectful. I don't allow ANYONE to treat me that way, and no girl should.
BoobsRealm.com: There is this controversy regarding the use of condoms in the industry. Some people say that condoms take away all the "mystique" in porn, while others say this does not matter as quite often we here about talent getting some ill. What is your take on that?
Noelle Easton:  I'm super allergic to condoms and hate to use them at all
BoobsRealm.com: What is a fantasy you would like to have on film?
Noelle Easton:  I'd love to do a cuckold shoot soon 🙂
BoobsRealm.com: Would you do a bukake? Or what would you never do?
Noelle Easton:  No I don't like bukkake
Noelle in interracial action
BoobsRealm.com: You have worked for inmoral productions. I know Dan's work and I have seen he uses the fuck a fan (http://www.immorallive.com/en) concept. Have you fucked fans? Would you do it?
Noelle Easton:  I never have but of course would require their clean test even though there is condom usage.
BoobsRealm.com: I will give you seven words or phrases and you will have to write the first thing that comes to your mind
Love– animals
Pornstar– fun
Facials– can I have one right now? (Note.. If the interview was in person I would have given her one!!!)
Religion– hell no
Money– can only put off happiness
Fav movie– Cabin in the Woods, Hostel 1,2,3
Fav song – I love all music
BoobsRealm.com: What would you like to tell your fans reading the interview?
Noelle Easton:   I love all my fans so much, and without you guys, I couldn't make it! Thanks for all the love and support that makes my days brighter!
Thank you Noelle so much for the iterview. I hope you do great. I see nothing but success in your career and wish you the best inside the biz and in your personal life. See you soon again!
And now, some additional photos of this beautiful lady.