One day I was on myfreecams searching for busty girls when I noticed Antonella. This sensational brunette caught my attention because her profile picture teased that she had the greatest set of boobs I have ever seen. I thought it was not real and I skipped her. It was a sinn. Three days later I returned to MFC and checked her out. My surprise was that her huge breasts were real. It is true, Antonella Kahllo, was performing a great show and I was hooked in by her beauty. In addition, I have talked to her and she is really lovely.
A couple of weeks ago she debuted as a topless modelling for  Pinupfiles.com. I think
pinupfiles
has hit it on the nail as I see her as the next Jordan Carver or Leanne Crow.
Meet Antonella Kahllo
I have talked to Antonella and let me tell you that she is lovely!! I think that if you have not seen her you will fall in love with her now! I had the privilege to interview her and fortunately she answered  kindly all my questions. I can say I have the honour to give to you her first interview. Guys beware, she is here to stay and make us all of us happy.
A Screen capture from her exclusive video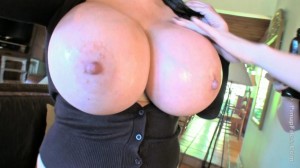 BoobsRealm.com: How did you decide to become a camgirl? when was it?
Antonella: I really didn't know much about camming, and the couple of times I looked at sites, the girls were mostly very average, usually didn't talk much, and they all did full-on porn. I didn't think it was the right place for me. But I had a week off from work several months ago, did a little research, and thought I would give it a try just for fun. I realized that Antonella could be anything I wanted it to be. So I bring my super-energy, my Latin passion, and of course my massive, all-natural 32-J cups out to play and the reaction has been amazing! Plus, I have met some truly amazing men in my room.
BoobsRealm.com: What else do you do? How is a day in your life?
Antonella: My life is pretty normal other than the fact that people stare at me non stop everywhere I go, lol. I love to work out, I do like to cook healthy cuisine, and anything that has to do with the beach is where my heart and soul is. I spent a lot of time in the Galapagos Islands when I was growing up, so I am truly at peace in the ocean. And NO ONE can float as well as me, hahaha!
BoobsRealm.com: When I first saw you I said "No way this girl's boobs are natural" but you proved me wrong. I have seen them and I melted…what size are they? When did they start growing? How was it back then?
Antonella: Believe it or not, I was a very late bloomer. When I graduated high school, they weren't even D-cups. But in my early 20's, they just started to bloom, and in fact they have even grown significantly in just the last 3 years. I've gone from a DDD, to a HH, and now I am a 32-J. I'm afraid to imagine what will happen if this keeps up!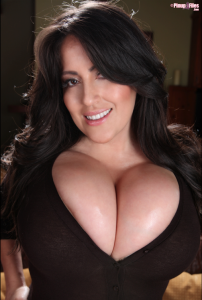 BoobsRealm.com: Do you think your boobs give you some benefits? and what is the downside of having big boobs?
Antonella: I can honestly say; I love my boobs. Yes, they are painful to carry around all the time, but I think they are works of art. The truth is, a while ago I had a boyfriend who really informed me about the specifics of what determines if tits are just big, or world-class. I always knew that guys (and girls) went crazy over them, but he taught me about breast density, shape, and maybe most importantly, nipple placement. And I guess that was confirmed by Leanne Crow who helped me at my PinupFiles.com shoot when she said, "I think you might have the best tits everrrrrrr!" Wow, what a compliment from the woman I think is the Queen of busty glamour girls.
BoobsRealm.com: Is it hard for you to find a bra that fits? How do you do?
Antonella: Finding bras that fit, or any clothes for that matter, is brutal. There are only a couple of manufacturers who make anything pretty in my size. So I have some things custom made, and every once in a while I get lucky and find cute stuff.
BoobsRealm.com: When you do cam2cam, what is the weirdest thing you have seen?
Antonella: LOL, actually, I'm not sure I consider anything "weird." My favorite thing is when guys feel comfortable enough to share openly with me. I want to be a sexual oasis for my fans, so I never judge them in any way. I even do "Fetish Fridays" where everyone can talk about what turns them on without being embarrassed. I have definitely been exposed to things I have never seen before, but my guys know that ALL their secrets are safe with me.
BoobsRealm.com: You have many fans that go to your room often. Do you get to know them better? I heard a story that a camgirl got married with a fan…do you think that is possible?
Antonella: Absolutely! Like I said, I have met lots of great people. Even though I am a private person, I have many fans that I keep in touch with through email etc. And the love and support they show me means the world to me. Dating a guy that I meet in my room wouldn't be my first choice, but I wouldn't rule out anything. The universe works in mysterious ways sometimes, so who knows.
BoobsRealm.com: You recently shot for pinupfiles.com why did you decide to pose for a site? How was the experience?
Antonella: Not only did I shoot for PinupFiles.com, but that was my first ever photoshoot—and it was an AMAZING experience! It actually took 2 years from the first time I had a conversation with the owner until I agreed to go for it. A lot was going on in my life and I wanted to wait until I was ready to give this new career my full focus. I was honored that they were so enthusiastic, and all the people there are SUPER-PROFESSIONAL! I have been contacted by many "big-name" websites and magazines along the way, but no other group can compare in terms of quality and integrity. I am very proud of my work with PinupFiles.com and my pictures and videos will be coming out on a regular basis. Sign-up now!!! Lol.
Antonella behind the scenes of her debut video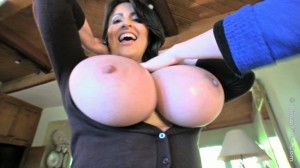 BoobsRealm.com: What can we expect from you in the future? maybe more websites? Would you consider going into more edgy stuff?
Antonella: I actually have lots of plans, but I am not rushing anything. I'm all about quality, not quantity. But yes, I will have my own site and I have a list of other things I am working on. I like being edgy and I will be doing some photo-shoots that will be mind-blowing, but if you mean porn, no, that will never happen. I like to say, "I am a freak from the waist up."
BoobsRealm.com: How do you feel when you realize there are guys (and maybe girls) who are fantasizing about you on the other side of the computer?
Antonella: I love it! That's why I'm there, right? If I'm uncomfortable with that, I am definitely in the wrong place.
BoobsRealm.com: Do you like titty-fucks?
Antonella: Is that real question? LOL. A better question is, "Do cocks get lost in there?" Absolutely! Hahaha.
Check Antonella You will be in heaven!
BoobsRealm.com: Have you ever watched porn? Do you remember the movies you have seen? DO you have a favourite adult performer?
Antonella: Sometimes, but not a lot. I think most porn is pretty boring. But every once in a while, if I'm fantasizing about something in particular, I'll check out a few sites. But that's it. To be honest, I do think I could be very successful in porn, but there are lines I just won't cross.
BoobsRealm.com: I noticed you speak Spanish too. What is your family heritage?
Antonella: I am from South America, but I have a very interesting ethnic mix. If people don't hear my voice, they wonder if I am Italian, Persian, Spanish etc. Let's just say, I am a woman of the world.
BoobsRealm.com: What does the perfect man have to do to have your heart and mind? Is there a special someone right now?
Antonella: I keep my personal life very private. But I am attracted to men who are very bright with a great sense of humor. I need my guy to be of strong mind and body, and I'm also attracted to men of vision who have the ambition to go out and make it happen.
Who would not love to be the chosen one for this incredible girl?
BoobsRealm.com: How can fans contact you? Do you have a twitter?
Antonella: Yes I have a Twitter account @antonellakahllo  Once I know someone, then I have an email as well that I use to keep in touch.
BoobsRealm.com: What would you like to add to the fans reading the interview?
Antonella: My favorite thing on MFC is Privates. Since I often have as many as 500-600 people in my room at one time, I love it when a guy is bold enough to step up and have some intimate time with me. When it's one- on-one, I can really let my guard down, loosen up, and just enjoy some very special time together. Other than that, I want guys to know that I don't bite, and I truly love it when people join the discussion in the room. Anyone who has been in my room knows how much fun it is in there.
Thank you Antonella for your kindness and your time for the interview. We are enjoying your video and photos. And we will join you at your camshow.
Feel free to spoil this cutie. Check her amazon wish list
here
:
I share with you some additional pictures from her
Pinupfiles.com
debut
Antonella is here to stay guys.. More stuff may be coming soon at 
pinupfiles.com