Taylor Stevens is one of the most famous camgirls of all times. The Ontario native was featured prominently on Scoreland  where she made it as a top BBW. In 2006 Big Stack Stevens, as her high school classmates used to call her, decided to drop weight. Her new figure was that of a dream girl. big bust, slim, pretty face, blonde and everything else you would dream about. Nowadays, the chesty canadian is a top camgirl on ifriends, as well as on her sites playwithtay.com and www.camwithtay.com. There is no doubt that Taylor Stevens has reached legend status with all her contributions to the adult industry. Taylor gave BoobsRealm an exclusive interview that is a must read!
Note: You can vote for Taylor Stevenson the MissBoobsRealm2015 contest. She is in Group 16. And follow her on twitter @TAYSTEVENS
BoobsRealm.com:  How did you decide to become an adult model? When was it? What's was the reaction of your family and friends?
Taylor Stevens: It kind of happened out of the blue. Ive always been a very sexual person and a very social and uninhibited person so when the opportunity came to me through a friend who I bartended with I thought ok ill give it a shot and from then it was history lol. It was back when I was in university and I am the person who will try almost anything so I gave it a shot. At first I didn't realize how popular I would become so I thought none would ever find out but then as I grew more successful I was just open with them lol. My friends from high school went crazy saying "omg thats Taylor on the internet" my ex boyfriends cried a little I'm sure lol and my family of course didnt take it too well at first but now they are good with it :).
BoobsRealm.com:  How is a normal day in your life?
Taylor Stevens: Work Work work,gym lol, truth is I am a work a holic. If I'm not live on cam at www.playwithtay.com (which btw everyone can join FREE with the link www.camwithtay.com) im working on photoshoots, interviews,conventions and so many other projects. I love love love what I do I cant imagine doing anything else so I spend most of my time focused on it. On the rare occassions when im not working I spend time with my doggies, cook, bbq, sportsbet of course ! watch some amazing TV shows (game of thrones omg) !
BoobsRealm.com:  You have been spotted on NHL matches. Toronto is not in the Play offs. What are your thoughts?
Taylor Stevens:Ha well Chicago won it was well deserved it was a great Playoff Series. I wish the Leafs or Kings made it but they didnt. As us Torontonians who bleed blue say "maybe next year".
I have to be honest. I loved all the photos that Tay sent me, so I share them all with you guys!!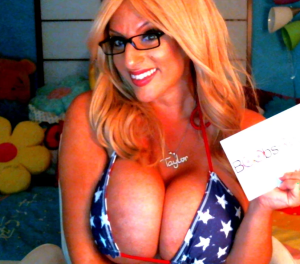 BoobsRealm.com:  Speaking of Cups.. What is your bra size?
Taylor Stevens:My boobies are a 34HH 🙂 Super bouncy and soft 🙂
BoobsRealm.com:  Many people labels adult performers such as camgirls or nude models as pornstars. What is your take on being referred as a pornstar instead of a nude model?
Taylor Stevens: This is where it gets blurred. Ive been labeled a pornstar and I have ZERO issue with it I do solo porn not just on webcam but for a Major Porn production company so its ok to call ME that. Although I would rather give much  more credit to the girls who do Hardcore Porn or girl girl porn and are real stars of porn. Some cam girls dont like the reference and its understandable some of them have not done porn for major labels and like to not have that title. To each their own Im a lot of things lol people can call me what they want im good with me and that title 🙂
BoobsRealm.com:  You revealed some time ago that you have een battling lymphoma cancer. I wish you are overcoming it.  How did you find out about it? How is everything going?
Taylor Stevens: Yes I was diagnosed with Cancer Xmas eve (yes xmas eve) 2010 I went through countless rounds of chemo and radiation. I lost all my hair I was down to 98lbs it was one of the scariest and toughest times of my life but im very happy to say I am now a Cancer Survivor. It came out of nowhere im a very healthy person there is no history of cancer in my family, but I believe nothing gets put in front of you that you werent meant to handle. I value and cherish my life so much right now. I would not take back that experience ever. I did a video when i was shaving my head for national lymphoma awareness month. My hair was falling out daily and it was excruciating to go through so I thought im gonna shave it off before Cancer takes all of it from me and I wanted to be very public about it so everyone who may be suffering might find some inspiration or hope.
BoobsRealm.com:  What is your message to all the people battling cancer?
Taylor Stevens: Never EVER EVER stop fighting and never give up. Its amazing what we are capable of when we have the will to do something.
BoobsRealm.com:  What are your plans in the adult industry and outside? short-term and long-term?
Taylor Stevens: I have a lot going on right now im doing a LOT of shooting for my site www.taystevens.com I'm super career focused so I dont forsee myself stopping what im doing anytime soon lol. I would say I would like a boyfriend but I just cant ever find the right guy and to be honest I travel too much and work too much to be in a relationship. It takes a really strong person to be with me they have to deal with a lot within my career. So for now ill keep doing what im doing and rocking it (lots of surprises in store). In the longterm I just want to be happy and continue loving life and sharing it with my fans.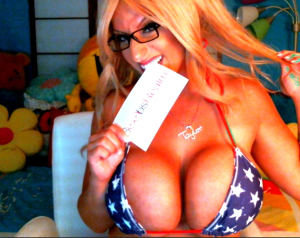 BoobsRealm.com:  I have heard you love camming. When you do cam to cam. What is the best thing you have seen? and the weirdest one?
Taylor Stevens: I dont judge because everyone has something special that they like. I LOVE EVERYTHING about camming lol thats why im on cam non stop when i get going lol. The best thing I see honestly is my fans my friends smiling thats the best feeling for me on cam. When I can put a smile on their face and I see that they are enjoying themselves then to me thats the best thing ! Ok I wont use the term weird cause some peoples fantasies are just different but I did see a members mom com on cam and yell at him for being on cam that was hilarious.
BoobsRealm.com:  Many fans have dreamed about you going boy/girl. What is your take on that?
Taylor Stevens: I can appreciate that they want to see that. I have been offered life changing amount of money to do hardcore but its just not going to happen. It has nothing to do with anything but my personal preference. I have so many amazing friends who do hardcore and I love and respect them tremendously for it. Its just personal preference. Im successful where I am at right now and I dont see the need and dont have the desire to do it.
BoobsRealm.com:  What is the naughtiest thing you have done in private that you said "I would never do it again"?
Taylor Stevens: Hmm I dont think ive ever said that lol. Im pretty naughty on cam and off lol.
BoobsRealm.com:  The webcam industry awards are coming and you are Nominated for Top Honors. What was your reaction to it?
Taylor Stevens: TY ! Im so glad you mentioned it because actually not only was I nominated for Top Honors which is such an honour, I was asked to join the TEAM ! Its really amazing to be recognized,appreciated and respected for what they feel I have brought to this industry.I am now a Lead Organizer and host of the Adult Webcam Awards and im so excited about it because I have been saying forever that cam girls do NOT get enough recognition in this industry and finally there is an awards show that will showcase the amazing cam girls out there. For any press or any information about the awards please contact me at Taylor@AdultWebcamConference.com.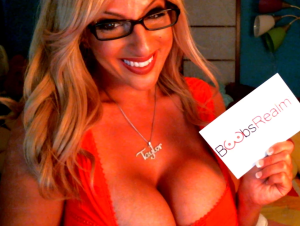 BoobsRealm.com:  If you would write a book about your life or make film. What genre would it be? What would it be its name?
Taylor Stevens: Ha ! Reality. In fact I am doing some writing (hint hint lol) Everything I have been through in my life it would almost seem fictional but it would be a no holds barred book about everything ive been through in my life. Ive had so many ups and downs but I always get back up and im so thankful for that. Im not sure what I would title it yet lol maybe been there done that lol.
BoobsRealm.com:  The number of camgirls has increased tremendously in the past few years. What would be your advice to all the girls caming out there?
Taylor Stevens: Ive said this many times and I truly mean it. I would tell them dont do it if you dont love it. If you cant put on an amazing show and make your fans happy dont do it. Respect your fans, forget the bad ones.
BoobsRealm.com:  I have not seen many busty canadians camming. Do you think Canada lacks of busty and exhibitionist girls?
Taylor Stevens: Not at all lol. We love to show off here in Canada. There are a LOT of Canadian cam girls you just have to find them. You found me 🙂 lol and so can everyone else at www.playwithtay.com,  www.taystevens.com
BoobsRealm.com:  What does a guy need to do to get your heart? Is there a special someone right now?
Taylor Stevens: LOL… its so hard for a guy to date me. Not because I am picky or anything like that but because I just don't have the time for a realtionship, I travel too much and my ex left a bad taste in my mouth when it comes to relationships. Ive been hurt so i don't trust easily and my guard is always up. Being in the profession I'm in its tough to distinguish what someone wants from you, although i have a fantastic bullshit meter. It also takes a really confident (not cocky) guy to be with me. Im not really letting anyone into my heart right now but when I do I would say have an amazing sense of humour, love sports (being a patriots fan wouldn't hurt lol), be HONEST but most importantly be YOURSELF the last thing I want is to end up liking someone and it turns out they were being fake with me the whole time.
BoobsRealm.com:  Is there anything else you would like to the fans reading the interview?
Taylor Stevens: I want to tell them TY for all their support and love !! I will be LIVE on cam daily so use the free link WWW.CAMWITHTAY.COM and join me live. Stay tuned to my blog WWW.TAYSTEVENS.COM for tons of new surprises coming son  🙂 I cant wait to share more with all of you. Your amazing and its time for us to have some boobie bouncing fun !!