Delz Angel has taken the adult industry by storm in the last few months. Her amazing big breasts, her face and her hypnotizing eyes have rapidly placed her as a fan favorite. I have been talking with her for a while. She is a really friendly and down to Earth lady. She has gave me the honor to be the first blogger to interview her. I take said honor with pride and joy.
I posted about Delz some days ago. Delz Angel has honored ddfbusty.com as it has been the only site she has posed for. Like I said, Delz gave me the privilege of interviewing her yesterday. As you may see, she is really fun and very nice. Wanna know more about this busty milf goddess? Please read below.
These pictures for this interview are courtesy of amazing photographers  Matt harper ( who happens to take pictures of very hot girls) You can visit his site here, South Devon photography (check its site) and Chris haley at Image photographics.
Photo courtesy of Image Photographics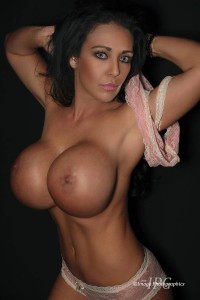 BoobsRealm.com: You have became very popular. How have you taken your new position in the adult business?
Delz Angel: If I am totally honest, I would have to say a little surprised as well as flattered. After all, it was only meant as a hobby and never for one second did I think Delz Angel would become so Popular.
BoobsRealm.com: Why did you chose the name Delz Angel?
Delz Angel: As you know, I am married. My husbands name is Robbie however I must be the only person who call's him by his first name, most people call him Del, short for our surname I then came up with  Del's angel and simply swapped the "S" for a "Z" creating Delz Angel.
BoobsRealm.com: You told me your bra size is 30/32L. What was your bra size before the first implant? When did you get it?
Delz Angel: I have always been lucky in that department, before my first pair of implants in October 2008, I was 32 DD
BoobsRealm.com: Do you have pictures of the evolution of your breasts, before the surgeries until now? Can you share?
Delz Angel: I don't have many pictures to be honest, believe it of not , I hated having my picture taken haha So I will have a look about and If I find one, I will send it over.
Note: Here Delz with her natural blonde hair, then with her lucky hubby, Delz in a nice dress some years ago and finally her 700cc implants (2012)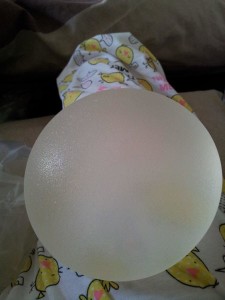 BoobsRealm.com: What do you do when you are not modeling? How is a normal day in your life?
Delz Angel: Hectic ha ha I do still have my "day job" which is full time, five days a week. I also have two teenage Daughters so trying to balance modelling, working full time, being a mum and wife can be difficult at times but my hubby is great and help's out a lot (I hate the ironing) 😉
BoobsRealm.com: How has your family reacted about your topless modeling career? Does your husband know many guys would like to be him? (me included!!)
Delz Angel: My family are great and without their help and support I would not be able to do all the things I have so far. My girls are pretty cool about it all and always ask what's next or can they see the latest images? As for my husband well his reply to your question would be, "you don't have to live with her" Ha ha Yes, I can be difficult at times 🙂
BoobsRealm.com: You have only modeled for DDFbusty.com. How did you decide joining Denys and his team?
Delz Angel: When Denys contacted me in August, he was not the first to offer work of this nature however his offer is the first one I accepted because I guess, the best way to explain it is, you just get a feeling about something or someone and you know deep down, yes, this is for me. Denys and team are awesome to work with, I had such fun.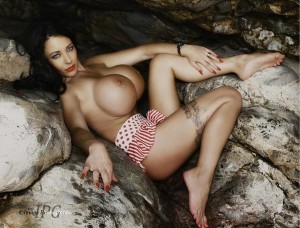 BoobsRealm.com: What would be your perfect photshoot? What location? What theme?
Delz Angel: Good Question and something I have not really thought too much about, although I am thinking about some latex work and I guess It would be cool to visit the US.
BoobsRealm.com: Are you considering getting an augmentation? Is there a desired size you would like to have?
Delz Angel: Rather a sore topic for discussion in my house, I drive my husband crazy with all the talk of boobs, implants  and re-augmentation's ect So , yes is the answer to that one and as for my desired size ? all I know is, I am not done yet.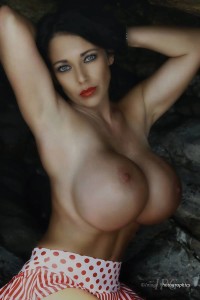 BoobsRealm.com: Is it difficult to deal with big breasts? I mean, in your private life and also in public situations.. Any anecdote?
Delz Angel: I don't have big breasts haha to me, they are normal 😉
BoobsRealm.com: Is there any big boobed model you admire or would like to pose with?
Delz Angel: This is a hard one as there are so many beautiful big boobed models in the industry, each one of them to be admired and respected but to pose with one, then I would have to say Beshine, just to meet her, I think I'd need to pick my jaw up off the floor, It would be like Little and Large haha,  Beshine Rocks !!
BoobsRealm.com: You are a happily married lady. How did you meet your husband? How did he get your heart?
Delz Angel: Yes, I am very happily married, He is my world! We are both from the same area so have known each other since we were children although we didn't get together till later on in life. We are both very different, personality wise , he is so laid back and chilled, nothing really get's to him, life is like one big laugh and joke with him plus he has the patience of a saint, with me anyway and deserves a medal to put up with me (did I mention, I am difficult to live with) So I have to say, his personality and he is rather sexy in his uniform haha
BoobsRealm.com: Going back to your new fans.. What is the best thing a fan has told you? Are there any fans you have in a special place?
Delz Angel: Your husband is a lucky man ??? all fans are special, without them there would be no Delz Angel.
Delz Angel's body  makes us sin in our minds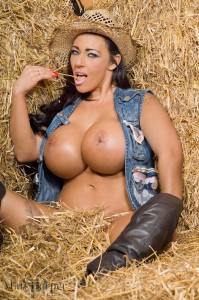 BoobsRealm.com: You are a topless model. Would you ever consider a full nude?
Delz Angel: No, never, full nude is reserved for the hubby and only on special occasions hahaha 😉
BoobsRealm.com: What are your short-term and long-term plans?
Delz Angel: Short term plans are to get some sleep , I have just finished a ten and a half hour night shift 🙂 Long term …. I am in the early stages of having my own website built and of course shooting the content for it.
Delz Angel selfie from her Marbella trip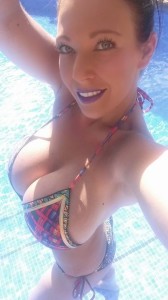 BoobsRealm.com: Is there anything else you would like to add to the fans reading the blog?
Delz Angel: I guess, A big THANK YOU !
I really appreciate Delz's taking the time for this interview and more important for being a friend. I think she is one of the few models I have contact with and have been able to have chats about our private lives. Thank you Deb!!.. All good vibes for you and your family!!!!
Please enjoy more amazing photos of this beauty and don't forget to check all her photoshoots and videos on DDFbusty.com She has more material to come soon!