Sensual Jane is one of the prettiest and hottest Romanian pornstars. Romania is famous for bringing us girls such as Joanna Bliss and Luna Amor; but Sensual Jane is one of a kind. She debuted in 2009 and since then she has appeared in many movies and scenes where her big boobs were the stars of the show. However, you just need to take a look at Jane to realize she is not just busty, but has a well-rounded ass, a pretty-shaped body and a face that makes you want to marry her. I had the pleasure of interviewing Jane last week – I apologize for the delay-. Jane is a very down the Earth lady who knows what she wants. Read below to discover more of this stunning Romanian.  I became a fan of her some time ago, but after this interview and interacting with her for a while I can say that she will be the first person I want to meet-up with when I get to visit Romania next year! She has became one of my favorite pornstars in the world!!
Ladies and gentlemen, perfect Sensual Jane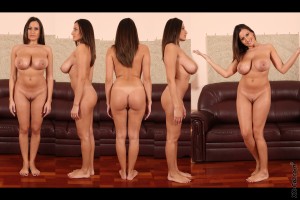 BoobsRealm.com: When and why did you decide to start modeling?
Sensual Jane: In 2009 and because i found it very hot and because of the financial oportunity
BoobsRealm.com: What is your bra size? When did your breast start growing? How was it
back then?
Sensual Jane: They start growing when i was 16 . I was very shy about this because all the boys were staring at me and make fun of this.
Note: Her size is 32G!!!
BoobsRealm.com: What do your friends and family think about your career choice? How did
they find out about it?
Sensual Jane:  First they were scared but when they actually understood that i am well motivated and mature enough they just chill
BoobsRealm.com: Was it hard to perform boy/girl for the first time? What were you thinking at that specific moment? How has your mindset change since then?
Sensual Jane: I just prepared myself mental and that was it . Just like in real life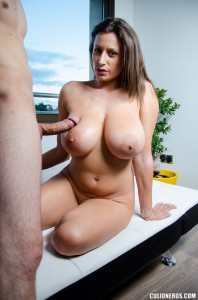 BoobsRealm.com: We have heard that you are married. Is that true? Kids or plan on having kids?
 Sensual Jane: I am not married . I want kids but in a few years from now

BoobsRealm.com: What do you do when you are not performing?
Sensual Jane: I am just like other normal people . Cinema , party , family reunions , travels etc
BoobsRealm.com: Romania and Czech Republic are the countries that have introduced to us the prettiest girls in the world in the last few years. You are an example
of that. Why do you think more girls in those countries are choosing to be a pornstar, nude model, camgirl as a career?
Sensual Jane:  Of course because of the financial reason and also for being fun . It's only advantages
BoobsRealm.com: What sites have you modeled for? Is there any you would love to work for?
Sensual Jane: DDFBUSTY, BRAZZERS , REALITY KINGS , XX-CEL , BANGBROS , CUMLOUDER  , TWISTY'S , 21 SEXTURY … I love many of them, there are just great people to work with.

BoobsRealm.com: We have seen you do many stuff… but do you have a limit? Would you do bukake, gangbang, BSDM? We heard that LegalPorno is really interested in having you in their series. Would you do those 2-way, 4-way hard anal stuff?
Sensual Jane is one of my dream tit-fucks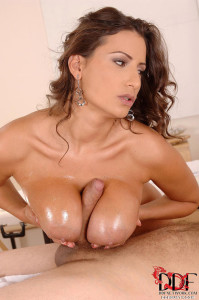 Sensual Jane:  Actually i don't feel comfortable doing those things and i don't do it . For me porn is first mental comfort and then money
BoobsRealm.com: Marina Visconti went to the USA and has became more popular. Would you be interested in doing the same? What are your goals?
Sensual Jane: I would like to become more famous but unfortunately for eastern europe there is problems with US visa and i can't go there myself but through internet 🙂
BoobsRealm.com: Do you have any anecdote from  shoot? Maybe issues because of the flu, or a male talent who couldn't hold it much, or anything?
Sensual Jane: There are many funny things happening at the scenes , i remember one boy falling out one tooth during a hard scene … we were laughing like crazy and many many other funny moments
12. If you could choose your perfect scene, how would it be like?
Sensual Jane: With me performing 🙂
BoobsRealm.com: You have your own site, it looks very artistic. What can fans find in there?
Sensual Jane: They can find unique scenes by my style
BoobsRealm.com: Has it ever happened to you that the scene got really hot and you had to continue after the director said "cut"?
Sensual Jane: Yes , actually many times is happening this 🙂
Sensual Jane with lucky titty lover Cel from XX-cel and heavyonhotties.com

BoobsRealm.com: If you could describe yourself in three words what would you say?
Sensual Jane: Sensitive , Sexy , Sensual …
BoobsRealm.com: Spit, swallow or facial?
Sensual Jane: Facial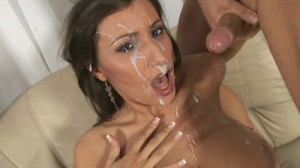 BoobsRealm.com: Is there anything you would like to add for the fans reading the interview?
Sensual Jane: I am on my way to be the hottest star . I just earned  BUSTY GODDESS TITLE at DDF this year 🙂 .
Congratulations to Sensual Jane for the award! She truly deserves it. She is one of the best out there and I wish soon the world will relaize how great she is. I appreciate she took the time for the interview. Please enjoy her beauty and follow her https://twitter.com/sensualjane
Some more Sensual Jane for start the week turned on!!