I got to meet Kierra Wilde some time ago on twitter while scouting newbies for a site. Kierra had that look of a girl next-door who might be innocent and naughty at the same time. The Denver native is 19 years old and her 34D rack have been featured in quite some films. Kierra started in the adult business as a camgirl, then after having some offers she heard the Calling of porn, so she decided to g full-fledge pornstar. Kierra not only has a pretty face and big boobs, but also she has a very well-rounded-ass which she has put in action several times. She was kind enough to give me an exclusive interview. Please read below to get to know more about this ginger cutie.
BoobsRealm.com: When and why did you start in the adult business?
Kierra Wilde: Spring 2013, started web camming as an interest
BoobsRealm.com: How did your family and friends react when they found out about your career choice? What do they think now?
Kierra Wilde:
They were shocked and concerned. Now they still don't know what to think, they want me to be happy with my life at the end of it.
BoobsRealm.com:  What is your bra size? When did your breast start to grow?
Kierra Wilde:
34D started to grow in 5th grade
BoobsRealm.com: Did you have any expectation before getting into porn and then found out it was different? Or was it as you imagined it?
Kierra Wilde:
I expected for agents to be more considerate and professional. I expected for producers to be creepy and unprofessional but it was the opposite. Agents can be more unprofessional then producers.
BoobsRealm.com:  What sites have you shot for?
Kierra Wilde:  Exploited college girls, immoral productions, devil's films, evil angel, DogFart blacks on blondes, combat zone, Adam and Eve, kink.com, dungeon corp
BoobsRealm.com:  Have you gotten turned on while shooting the scene? Or is it possible to act all the time?
Kierra Wilde: Yes I have several times. It depends on the talent, work environment, as well as producer/videographer input and requests for scene content. At the same time I can get into character well and act when needed.
Kierra Shows her 34Ds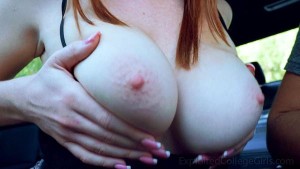 BoobsRealm.com:  Do you have any restrictions? anal, bukake, swallowing, etc?
Kierra Wilde: My restrictions are no water sports, hardcore bondage, electro shock, anything illegal
BoobsRealm.com: Has your private sexual life changed since you got into porn?
Kierra Wilde: Yes I play with myself more as well as I have to be aware of how conflicting it is to have relations with people outside of the industry.
Kierra during her first gangbang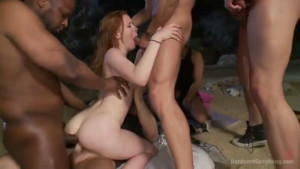 BoobsRealm.com:
  Was there a scene during which you thought " I quit" or maybe "This is the perfect job"?
Kierra Wilde:
First scene for exploited college girls was great and had me thinking this is perfect job…when I shot for kink it was such an exhausting shoot it had me thinking if I should continue with this type of work.
BoobsRealm.com:  Is there a pornstar you would love to shoot with?
Kierra Wilde: I would love to shoot with mild Kendra lust or Chloe amour.
BoobsRealm.com:  Is it difficult for a pornstar to find a boyfriend outside the business? What is your experience or what have you heard about it?
Kierra Wilde:  It is difficult because as an adult model I need to have independence with my work and it can be hard to balance a between boyfriend and business..someone outside of industry is not going to understand compared to a male talent that is familiar with how things go in the adult business world.
BoobsRealm.com:  Facial, swallow or spit?
Kierra Wilde: Facial
BoobsRealm.com:  If you could play a character in a porn parody, who would it be?
Kierra Wilde: Lindsay lohan- Cady from mean girls
Kierra being a mean girl and sucking two big black cocks
BoobsRealm.com:  What are your short-term and long-term plans inside and outside the industry?
Kierra Wilde:
Short term: (inside) create content for Kierrawilde.com (outside) get new car
Long term: (inside) start feature dancing and building modeling portfolio (outside) buy property
BoobsRealm.com:
 Have you met your fans? Were they respectful or did they think you were in "sex machine mode 24/7"?
Kierra Wilde: I have met a fan or two. There were respectful, they were surprised as I was that someone recognized me.
BoobsRealm.com:  Would you like to add something else to the fans reading the interview?
Kierra Wilde:
I am currently taking requests for custom videos. Look up kierra wilde on 
customs4u.com
 Follow me on Twitter and Instagram @kierrawilde . I am also selling panties and booking for skype shows, to inquire about either email me 
kierrawildexxx@gmail.com
 Check her ass!

Giving blowjob lessons

Sexxy Selfie