You know her as Sexy Lovely Sam or busty Samantha.  She might become the discovery of 2015, she is currently competing in the Miss BoobsRealm 2014 contest (Group A). You all wanted to know more about her, so BoobsRealm.com got an exclusive interview with the busty goddess. Samantha is from Russia and has been camming form quite some time on Streamate. She has natural unreal big breasts and a really pretty face. When I saw her I thought she was not a real girl, but I peeked at her shows and she is real!!! She is nice, kind and very down-to-earth- lady. You wanted to know more about her, so here an exclusive interview with Samantha Lily aka Sexy Lovely Sam…. and get ready because she will conquer 2015.
Meet busty dreamgirl Samantha Lily aka Sexy Lovely Sam
BoobsRealm.com: When and why did you decide to become a camgirl?
Samantha Lily: I started to work as a camgirl in 2012.  I decided to work on cams, because something bad happened in my life and after it I had big trouble with  Banks. So i had  to get money as soon as possible.  And my girlfriend advised me to work on cams, she told me that I am born for that kind of work J.
BoobsRealm.com: What does your family and friend think about your job?
Samantha Lily: For a long time I was keeping my job as a secret. I was lying that I still work in office like before. But in the end I told my family about it. So, my mom said – If you will resolve your problems with loans and make your life safe and stable, you can do it. So after this conversation we have never talked about my job anymore. And my friends – some of them banter, some of them don't pay attention to my job.
BoobsRealm.com: What do you do when you are not camming? How is a normal day in your life?
Samantha Lily: Besides camming I study. Since I was kid, my dream was to be a doctor. So thats why I study veterenery  now.  Normal day in my life: Wake up, having breakfast, then study, then cooking dinner and waiting for my man to come home. After dinner I do camming till midnight.  And ofcourse in holidays I like to chill, meet friends, have parties. I enjoy sport.
BoobsRealm.com: What is your bra size? When did your breast start growing? How was it back then?
Samantha Lily: Actually I don't know my bra size. It depends of brand of the bra. Sometimes I wear H cup, sometimes K cup.  There are no standards for bra size.
My breasts started to grow when I was 9 years old.  It was very hard back then. I was too young to accept my female curves. And I had to leave football because of my big boobs.  I remember I was hiding them under 2 tshirts and 1 tight sportbra, but it did not help. And I had so much interesting accidents at school caused by my tits.
Samantha is happy with her breasts.. She is the "Next Big thing" -pun intended-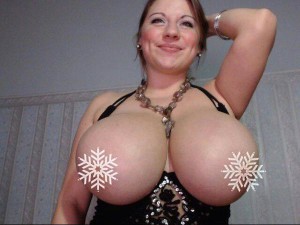 BoobsRealm.com:  Are you single or married? What does the lucky guy need to do to get your heart?
Samantha Lily: I have boyfriend. And we have plans for marriage this year. What does the lucky guy need to do? He needs to be honest, reliable and NEVER lie to me. In return I give the same. I am reliable, and I never lie to my boyfriend. I never go out without him. I don't pay attention on other guys. I am faithful wife. J
BoobsRealm.com: How did you meet him? How long have you been together?
Samantha Lily:  He met me in my work, when I worked in office 5 years ago. He was my customer. After that he wrote me on Facebook and wanted to know me better. But I was in relationship. After 2 years I broke up, and then he wrote to me again.  And since we got together, we still live have been living together for 1.5 years.
BoobsRealm.com: Russia and Ukraine have brought us some of the bustiest stars in modern history: Merilyn Sakova, Yulia Nova, Sha Rizel. Are you familiar with them? Who are your favorite busty models? Is there a model you would like to do a photoshoot with?
Samantha Lily: I am not familiar with them. But I like Sha Rizel. My favorite is Rachel Aldana. She has pretty face, and  beautiful  body. She looks so natural. I would like to do photoshoot with Rachel.
BoobsRealm.com: Do you often get compliments from guys on the street? Do girls compliment you breasts too? Or are they mostly jealous?
Samantha Lily: Not really. I live in disgusting society where people on the street staring at me with wide opened eyes and sometimes I hear loud comments about my boobs. Often girls laugh and other people look back at me. Probably it's because people think that I am overstated with implants.
But intelligent and grown men treat me like queen. They tell me compliments and behave like real gentlemen.  And all my friends are very good with me. They don't pay attention to my boobs. Because they know me, they know that I am friendly person with good soul.
Samantha is without a doubt our Queen!
BoobsRealm.com: Besides your big breasts, I am stunned by your pretty face. Besides your boobs, what is your second favorite part of your body? Is there anything you would like to change?
Samantha Lily:  Yes I have pretty face and I am proud of it.  I think that people soul and personalily is written on their faces.  I have talent – I can read people personalily by their faces. J
Besides boobs, I like my strong legs and long hair. And I like my beautiful green eyes. I like everything in my body, except my teeth.
Anyway – I tell thank you God for everything he gave me. Magnificent body and great personality.
BoobsRealm.com: Your streamate profile says that you like blowjobs…what about titfucks?
Samantha Lily: I like titfuck so much. Almost all my cam shows include tittyfuck.  It's a favorite part for boobguys =)
BoobsRealm.com: I always ask this and fans like it: Which one do you prefer ? Facial,
swallow or spit?
Samantha Lily: MMMM… I will be honest…. Spit.
Samantha posing with a fan sign for Boobster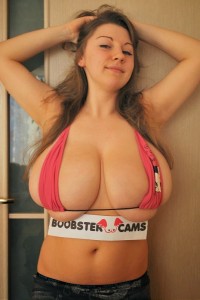 BoobsRealm.com: We went to the hardcore questions lol.. so the next logical question
is.. would you consider being in boy/girl scenes?
Samantha Lily: I would do scenes with another girl only and no hardcore! I prefer modelling and showing my tits!
BoobsRealm.com: Going back to camming. What do you like the most about it? What you
don't like so much?
Samantha Lily: I like when guys tell me compliments. I like to surprise guys with my body, who did not see it yet and watch their reaction.
I don't like when guys complain about price. First of all – my rate 6.99 $ per minute is very adequate. I work on cams 2 years and I am very friendly and lenience with my customers. I even remember their names.
Secondly – I receive less than 1/3 of earnings.  That's why I do skype shows. It is cheaper for customers and profitable for me.
BoobsRealm.com: If you could have an special power. What would it be?
Samantha Lily: I want to have only one magic power. I want to manipulate with all people minds in the world. What would I do with them? I would make all people not to put money in first place in their life.
Now people are very selfish and what they think about is only money, oil, power etc.  Money is the reason why people do war. People listen to their government and kill, because it's profitable for commonwealth. So that's why I would like to have this telepathic power.
BoobsRealm.com: What are your short-term and long-term plans in and outside the adult business?
Samantha Lily:  Long-term plan is … If I will succeed, I will become vet after few years.
Short-term plan. . . If I will succeed, I will have studio for new models soon. I have my studio webpage already.
Samantha thanks BoobsRealm.com for the interview
BoobsRealm.com: What would you like to tell all your fans reading the interview?
Samantha Lily:  Dear fans. Don't be scare to create large plans and big goals. The only thing, which can affect reaching your goal is your insistence and time.
Love yourself and your relatives. Happy new year.
BoobsRealm.com:  Thank you Samantha for this interview. In fact you are really lovely. Your boyfriend is really lucky. Now I will leave share with the fans the photos you took for the blog and some additional ones. I really appreciate it.
Samantha Lily:  Thank you for the interview.