Sarah Rae has come a long way since she started webcaming in 2012 under the name CherriBlossm38J. The bosomy Philadelphia native made her modeling debut for Scoreland and the became a fan favorite for all the HUGE BOOBS lovers and BBW fans. However, Sarah is not only a great pair of boobies; she has a pretty face and even more important she is a smart girl who knows what she wants in life. 2014 is over, but it represents the year Sarah launched her own site YesBoobs.com. Sarah planned carefully all the steps – from building the site to scouting the talent- and is offering a quality product full of stunning bra busters! In December 2014 I had the pleasure to interview Sarah, who happens to be a very nice and positive girl. I should apologize the delay on posting the interview, but I thought it would be better to kick off the year with her. Sarah answered my questions from her home in "Big Titty Island".
BoobsRealm.com: How and when did you decide to become an adult model?
Sarah Rae: Hey BoobsRealm! I decided to become a webcam model about 5 years ago. I was tired of working my previous job at a drugstore. I'd always wondered if I could do something with my boobs. My boyfriend at the time (now ex) had frequented a busty blog. He told me about the ads for camsites that were always on it. I decided to give it a try and that's what I have been doing since!
BoobsRealm.com: How do people react when you tell them you are an adult model or do webcam shows?
Sarah Rae: I get mixed reactions. Some people are really stoked on it and others judge. I really don't care. I'm upfront about what I do for a living if anyone asks. If they have a problem with it then I don't need them in my life anyways. I've tried covering up what I do and lying about what I do, but that hasn't really worked out for me and I just prefer to be honest now.
BoobsRealm.com: What do guys tell you when they saw you walking on the street? Do you notice they are looking?
Sarah Rae: The only ones who say anything are actually really rude and I tend to just ignore them. Sometimes I get better service at resturaunts or banks because the guy working likes me and my boobies 🙂 I think the really nice guys out there that like big boobs tend to be pretty sly about it.
BoobsRealm.com: I have seen you in Scoreland. What other sites have you worked for? Which ones would you like to work in the future?
Sarah Rae: Well you can find me on my new site, YesBoobs.com! I haven't worked for any others. I've had offers but never went through with any of them. Every time an adult convention comes up, I always get these weird emails from some random dude to do a pov bj in a hotel near the convention.
Quoting WWE's Daniel Bryan.. Yes! Yes! Yes! Yesboobs!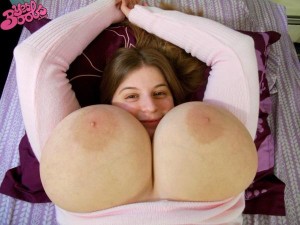 BoobsRealm.com:
 I have to admit that despite I love big boobs what actually captivated me even more than your great chest is the fact that you have a cute pretty face. Do you think your face is the next part of your body that guys love?
Sarah Rae: Awwww thank you 🙂 I hope so 😀 Guys always tell me that they really like my smile.
BoobsRealm.com:
When did you breasts started to grow? How did you feel back then? and now? What size are they?
Sarah Rae: I guess they started to grow in middle school. Developing so quickly while growing up was kind of rough. I was always getting in trouble for wearing "inappropriate" clothing in school. Really I was just wearing the same things as all the other girls, but I guess my breasts made it more sexual. I think a lot of people were jealous of me. At the time I couldn't see it for that though and it really got me down.
It was also really difficult because my mother wasn't that great at helping me with them. She didn't really go out of her way to help me get a proper bra. Once they got above a D she just told me I was getting fat and needed to lose weight. At the time I was 125 pounds so it definitely was not that.
They are a 36 JJ. I actually wanted to get a reduction until I was 19 and had my first boyfriend that really loved big boobs. I started looking into finding better fitting bras. I found some online shops based in the UK  and started feeling better about them. Once I started webcamming I absolutely fell in love with them and am so glad I never went through with a reduction.
BoobsRealm.com: Would you do boy/girl?
Sarah Rae: I would never do boy/girl in the sense of doing hardcore for a major company. I just don't find it all that appealing. Call me old fashioned, but I'm not one for having sex with random guys and believe a guy should somehow earn it. In the future I may take some hommade videos with my boyfriend. We have talked about it before but who knows.
BoobsRealm.com: I guess most  (if not all) the guys that you have been with love titty-fucks.. Their dicks must have looked tiny. Do you like Titty fucks? Have you ever found a dick that can manage your boobs?
Sarah Rae: I love titty fucks! I'm pretty much an expert since I practice all the time on cam 🙂 My boyfriend's dick can manage them well, he's pretty big 😀
Sarah loves titty-fucks!!!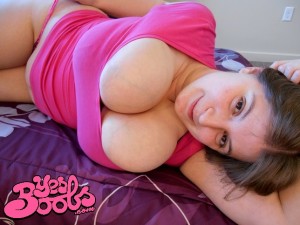 BoobsRealm.com:
You have contact with your fans through twitter. What is the weirdest thing anyone has told you or sent you?
Sarah Rae: Oh man, that's a tough one. So many weird things lol its hard to pick one.
I guess one of the weirdest was in an email I got a year or so ago. Some guy told me that he has seen so many pictures of tits that he now believes they are "indeed alive". That he views the model as the "mother caring for the babies" and the breasts themselves as some kind of "living sexual babies" that are "alive, aware and sensual sexual beings". He also told me that after studying big tits for over 40 years he is now a master at naming big tit poses. He has counted how many can be executed and there are over 500.
He also wanted me to model some sort of boob necklace that he was creating and called it "Boobie Bling".
BoobsRealm.com: Who are your favorite busty models?
Sarah Rae: I love Micky Bells! She's super adorable and I find her weight loss really inspiring. I also love Cameron Skye, Tiffany Blake aka Bailey Santanna, Maggie Green and Sheridan Love. Except for Micky, I've met them all in person and they are super cool!
BoobsRealm.com: You are launching Yes.Boobs.com. What should fans expect to find on the site?
Sarah Rae: YesBoobs.com is finally live and accepting members! You can expect big titties! We have HD videos and pictures of exclusive content taken by yours truly 🙂 We have everything from bouncing, lotioning, oil, tityfucking with toys, weighing, measuring, bra shows, to masturbation, squirting, anal with toys and much more!
Cup sizes range from DD to N. We are actually about to release exclusive content of an 18 year old with massive N cup titties that has never modeled before. I will be measuring her huge boobies and we end up weighing our tits together and comparing them 🙂 You should definitely go check it out.
This site is a dream of mine and I truly appreciate all of the support I have gotten. Modeling has really helped me feel good about myself and I am so excited that I now have my own site that celebrates big tits!
One of her new site's stars Payton Thomas
BoobsRealm.com: What do you do when you are not modeling? How is a normal day in your life?
Sarah Rae: Well I'm sure everyday is filled with some aspect of my modeling. If I'm not on webcam or doing a shoot, I'm usually responding to emails, tweeting or editing content.
Aside from modeling, I'm sure my life is just like everyone elses. I visit family, shop and go to bars with friends. I love beaches and going to the zoo. I've recently gotten some orchids and I really enjoy taking care of them. I'm also getting into a gym routine.
BoobsRealm.com: When did you lose your virginity? How was it?
Sarah Rae: I don't really remember the exact age but I think I was like 14 and it was really awkward 😛
BoobsRealm.com: Do you have a boyfriend? How is the perfect man for you? (How can I apply hehe)
Sarah Rae: I do have a boyfriend and I feel like this time I finally got it right lol! The perfect man for me would be someone who is honest, has a good sense of humor and supports my titties and all my big titty decisions 🙂
BoobsRealm.com: What are your favorite..?
– Food: Oh man. Shrimp, corned beef, steak, cheesesteak, brownies.
– tv show: I don't watch much tv.
– sport: Boobie Bouncing
– movie: A Clockwork Orange
– Book: A Clockwork Orange 😛
– actor/actress: I don't watch many movies.
– hottest actor/actress: I don't really follow celebrities.
– sex position: I love being on top!
BoobsRealm.com: What are your plans short-term and long-term in the adult business and outside?
Sarah Rae:
 In the business, my plans are to grow my site YesBoobs.com and continue webcamming on Streamate. You can find me here;
streamate.com/bustysarahrae
.
Outside the business, I plan on being a healthier person, establishing a workout routine and just working on myself physically and mentally to grow as a person.
BoobsRealm.com: Is there anything you would like to add to the fans reading the interview?
Sarah Rae:
Check out my site YesBoobs.com. Follow us on twitter
@YesBoobs1
and you can follow me personally
@BustySarahRae
.
Thank you so much for all your big titty patronage and special thanks to BoobsRealm for this interview. I've enjoyed flashing my titties for the past 5 years and here's to hopefully many more! <3