Hi guys.. I bring the last interview from my first blog to the new one, cause it is worth keeping and sharing it (them =)) I bring you an exclusive interview with Spanish Busty girl Eli. She is a blonde with natural huge tits that took the world by surprise when she and her boyfriend met spanish king of porn Torbe at  putalocura.com for making their first porn scene.
Then they added Torbe for a threesome in a subsequent video. Well, I had the privilege of contacting Eli_Tetona (which means Eli_Busty) so she could tell us more about her. The interview was in 2012. During 2012 Eli worked for Cumlouder.com and know seems to be away from the cameras and cocks (well, I am not sure about this one). Take a read and let me know if you would like her to come back
Raven_azrael

:
 How did you get interest on entering the porn biz and how was the process?
@
EliTetona_xxx

:
 I was with my boyfriend and we decided to shoot a scene fro Torbe.
Raven_azrael: What does people tell you when they get to know you are a porn actress?
@EliTetona_xxx: People closer to me didn't take it well. As the time went on they assimilated it and now they accept with naturally
Raven_azrael: What size is your bra and since when did they start growing? How were guys about it at school?
@EliTetona_xxx: My boobs are 110cm (European measurements) and at school, indeed, I was standing out of the rest
Raven_azrael: Have you ever used your bobos in order to get something?
@EliTetona_xxx: Actually, I haven't used them to get anything or take advantage of them
Raven_azrael

:

 Do you prefer swallowing cum or rather take a facial?
@EliTetona_xxx: It depends on how horny I am at the moment, but I like both.
Raven_azrael

:

 How is the job at doing camshows? Any anecdote?
@EliTetona_xxx: Well I love cam shows. I am happy doing something I really enjoy. Hmm an anecdote, well I met one guy that turned on when I ordered him to buy more minutes or to come back to connect and chat. Lol. You see lots of different kind of people on webcam
Raven_azrael

:

 Once you had a threesome with your boyfriend and Torbe. Would you have a gangbang? How many guys maximum?
@EliTetona_xxx: Actually, I don't like the idea of having sex with more than 2 guys. I wouldn?t go beyond a threesome.
Raven_azrael

:

 Do you like anal sex?
@EliTetona_xxx: I like anal, but not in front of cameras, just in my private life
Raven_azrael

:

 Have you appeared on another site besides putalocura.com? which one would you like to have a scene for?
@EliTetona_xxx: I have had pictures for a japanesse web site. I would really love to be on an American site, but I don't know many sites from USA.
Raven_azrael

:

 What would you like to add to your fans?
@EliTetona_cdt

:

 To my fans,  I would like to thank them for following me and I expect they keep on watching my videos and joining chicasdetorbe.com to cum to chat with me and do some nasty stuff on webcam.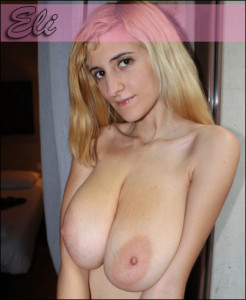 Raven_azrael

:

 Thank you Eli, I am sure they will join you, If I were in Spain I would really ask for a live show, lol just a bonus question, what are your goals for 2012?
@EliTetona_xxx: Well, I want to keep on doing scenes and become more famous, not only in Spain, but around the world. Thank you to you all for your support. Kisses!
So guys this amazing busty pretty girl is waiting for you on www.chicasdetorbe.com If you don't speak spanish, she will teach you the basics: "Follar, Dame tu lefa, tetas, Polla, Te la mamo" yes forget the "Mi nombre es…." and go direct to the action. And just so you know, she is not the only hot busty girl on the site. You can meet also my other favorites Hanna Montada and Nekane.
Hope you like the interview and follow us on twitter and check more of Eli on her twitter account @EliTetona_xxx
A souvenir from Eli