Legalporno is one of the top porn websites in Europe. It might also be the one with the hardest scenes. I got to find out about LP last year when the Lucie Wilde debut. Since them LP has been one of my inter-daily stops to see what's new in the European extreme scene. The type of models featured tend to be slim and spinners: Linda Sweet, Cayenne Klein, Lola Taylor and Gina Gerson might be among the top  non-busty girls I like the most on LP; however, Legalporno has also given the double penetration, gangbang and fuck-every-hole-the-hardest-possible treatment to Lucie Wilde, Marina Visconti, Shione Cooper and just recently Jemma Valentine.
NOTE: I wanted to share again this interview from 2015, so this is a repost.
The owner of Legalporno, known as XXX, gave BoobsRealm.com a exclusive interview that was posted first on the LP website and now I procede to share with you all. It is worth to note that the interview angered longtime competitor Pierre Woodman… the reason? Read the interview below.
BoobsRealm.com:  When and why did Legal Porno start?
LegalPorno.com: 2nd half of 2012. I had been producing for years but I needed a site to sell those unreleased scenes.
BoobsRealm.com:   How many scenes do you have? How many girls have you shot?
LegalPorno.com: About 1500 scenes are exclusive to LP. A few hundred models.
BoobsRealm.com:   BoobsRealm.com is dedicated to busty girls. The most notorious ones that have shot for Legal Porno are Lucie Wilde and Marina Visconti. Can you tell us how did you get them? Specially Lucie, who is set to have shot her first hardcore on her 18 birthday. how accurate is that?
LegalPorno.com: We simply booked them through agencies, but in the case of Lucie Wilde we had a long talk with her to decide her to work without her boyfriend (who is now in jail). She accepted because I made an offer she couldn't refuse : lots and lots of $$$. She was worth it. many people were making offers to her at this time and they were all cheap. I was not as I was certain she would be a phenomenon. To this day she remains the highest paid model we had, far ahead of the others. She doesn't really work as well as others, but her value comes from her physique.
She did not shoot her first scene on her 18th birthday. She was already 18 when the agents heard about her.
BoobsRealm.com:   Is there a chance to see Lucie Wilde and Marina Visconti again on the site?
LegalPorno.com: There is a chance, yes.
Lucie and Marina back at Legalporno? Let's cross fingers!!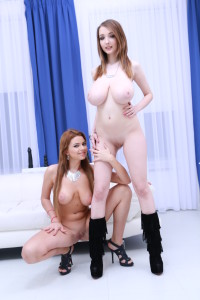 BoobsRealm.com:   Is there any busty girl that we would see debuting on the site?
LegalPorno.com: I have a very systematic approach so I give a chance to all decent models, even some types that I know do not sell well here. And then we see how they do. Sometimes we have a good surprise.
BoobsRealm.com:   Is there a girl that you think would be the ultimate fantasy for Legal Porno fans? Maybe a girl that only does solo?
LegalPorno.com: I'm not too familiar with the soft side of porn.
BoobsRealm.com:   On Legal Porno there is a lot of gangbangs, anal and piss. Some people consider it harder. What is your take on those characteristics of the site? Why the piss drinking?
LegalPorno.com: It's all fine as long as it's all between consenting adults. However, for various reasons, I have decided to tone things down a bit.
BoobsRealm.com:  If somebody asks you which scene is the one that represents LegalPorno the best which one would you pick?
LegalPorno.com: SZ701, which was released during last Christmas, would be a good one.
Jemma Valentine did a 3 on 1.. her first ever!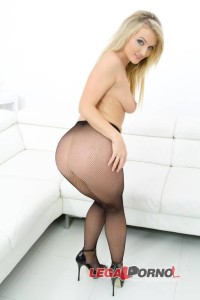 BoobsRealm.com:  Going back to the busty sensation Lucie Wilde…. some fans say she was not into the action, that she was dull and was not enjoying the scenes. Can you give us more inside of what was happening during the scenes?
LegalPorno.com: What can you expect from a 18 YO girl? Many of these girls are relatively normal. Models don't have to act like sex-craved monsters. But all her scenes were still immensely popular.
BoobsRealm.com:   This might be a not so easy question… There was some heat Legal Porno and Pierre Woodman. I found out about it after Woodman claimed that he was offered Lucie Wilde before anybody else. Then he made some proof less accusations. What is the reason of the bad blood between Legal Porno and Woodman?
LegalPorno.com: He is a notorious liar (and worse). The case of Lucie Wilde is a perfect example of what kind of person he is and illustrates perfectly the problem between us : he was so mad not to have gotten this model he had to do something… So he went around claiming that he was offered the model first, but didn't shoot her (what a joke, right?). But to make us look bad (the usual for him) he also claimed that we had shot her while she was 17. And as usual he wanted to attach a "proof". So what did he do? He took a screenshot of the email from the agent who offered her, and he pretended that it was sent to him way earlier. But there was just a minor problem : the date didn't match. No problem! He hid it with a black square (even though that's the only thing that could prove his point) and posted this joke of a proof on the EBI forum. Bottom line : Woodman is a fucking pathetic liar who is obsessed with us.
BoobsRealm.com:  Speaking of Woodman.. Viola Baileys was his muse for the past year. Many fans on the legalporno forum were expressing their desires and fantasies of having her on the site. Was there any interest or attempt to have her on the site?
LegalPorno.com: Some contact was made at some point I think. I don't remember. But he is very good at brainwashing 20 years old girls. He has many years of experience at this. And when models don't go his way he won't hesitate to send her scenes to her parents, family, friends, school. That happened to Lucie Wilde right after we had an argument on EBI where I exposed his way of fabricating proofs (remember the "first" Linda Sweet DAP?). He is a fucking trash of a person.
BoobsRealm.com:   There are not many busty girls on the site, but we have really pretty girls such as Linda Sweet, Cayenne Klein, Lolita Taylor, Timea Bella. Do you think that your core fan base is not so much into big tits?
LegalPorno.com: Our users like busty models I'm sure, but there are very few so it's more difficult to build an audience.
BoobsRealm.com:  Who is your core audience. Are European fans more into the hard stuff, or is legal porno growing in America or Asia too?
LegalPorno.com: I'm not checking this kind of statistics so I couldn't tell you.
BoobsRealm.com:   Who are the girls that are going to be featured in the upcoming scenes?
LegalPorno.com: A couple new girls to the site that are about to be released : Taylor Sands, Claire Castel.
Claire Castel looks so cute! Good she will take many dicks in her!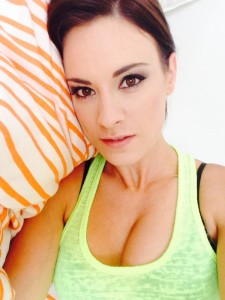 BoobsRealm.com:   What are legal porno plans for the future?
LegalPorno.com: Open the site to more studios, and focus on several niches with frequent updates for each of them.
BoobsRealm.com:   Can you give me the first word that describes the following:
LegalPorno.com: I'm sorry but 1 word is just not enough to say anything relevant about anything.
BoobsRealm.com:   Is there anything you would like to add for the fans reading the interview?
LegalPorno.com: Yes : buy porn to support the people who work in it, otherwise the content you like will not be produced anymore. It's as simple as that.
Note:  There are many stories floating around about Lucie and also what happened to Linda Sweet. I heard this particular one time ago. This also reminds me of the story about Viola's family getting videos of her porn scenes. What is true, right now it is not important. Everybody should shoot whoever they want and do not let others influence their decisions. I know that model agencies sabotage each other and producers talk trash about others. Some models hate girls they shoot with. It is like any other business, but for the good of the industry, the fans and the talent who gets to deal with " I wanna fuck her first" behaviour porn should be entertainment for every party involved.
Shione Cooper DP at Legalporno