Scoreland has teased the Hardcore Debut of a big name comparing this event to Angela White's first porn and Lindsey Dawn McKenzie first boy/girl. Fans speculate and throw in some wishful thinking. However, all roads lead to Joanna Bliss first boy/girl after 15 years of solo work.
Scoreland announced on April 1st that a big name was making her hardcore debut. They made parallels with Angela White And LDM. The news made fans  play the guessing game. They started throwing in names such as Cheryl Blossom, Sha Rizel, Demmy Blaze, Luna Amor, Micky Bells and even names that never did Scoreland before such as Abbi Seccra and Nadine Jansen. I cannot blame them, Scoreland made it look like it was a legendary model at the same level of Angela and Lindsey. This means Goddess-tier girl.
All indications let to the girl being Joanna Bliss. Obviously Joanna is a legend. She started in 2007 and took a break for a few years, recently coming back. As of March 2021 her only interaction with a man was with Cel on XX-Cel.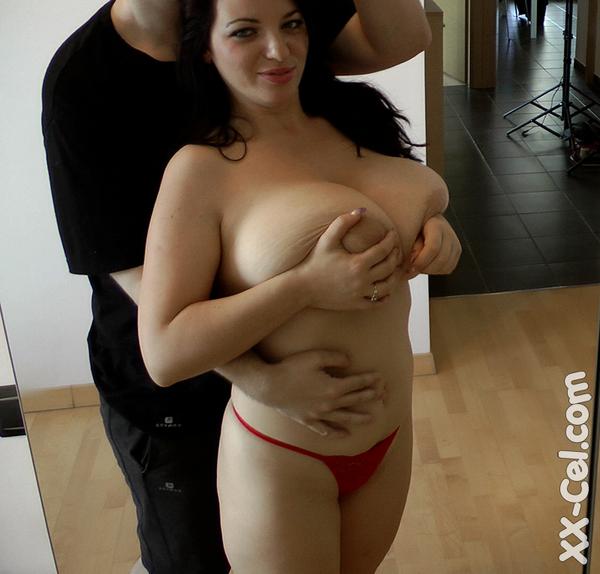 The news could be the worse kept secret in big boobs world. Boobsrealm was the first to guess it was Joanna Bliss when someone asked in the comment section. My guess was because Scoreland needs a b/g debut. They brough Kittycute to the XXX site and now the buzz is gone, they needed someone else. Demmy stated on the latest interview for Boobsralm that b/g was not for her. Sha Rizel and others denied being the aforementioned mystery girl. Joanna Bliss was the only one who dodged the question. Joanna has done a boob grabbing video with her husband. Joanna is also a producer now, who shoots other Romanian girls for their onlyfans and for Scoreland and independent producers. All roads lead to the Joanna Bliss.
This is comparable to Cody Rhoades debuting at Wrestlemania as Seth Rollins' secret opponent. Eervybody knew it and was ready to pop when he showed up. Shane McMahon or any other was gonna be a let down.  Scoreland got themselves in a position where they can deliver their Cody Rhodes, or they can steal a page from Tony Kahn's AEW and overhype a big signing just to debut Keith Lee, or Toni Storm or even Jeff Hardy and then have fans disappointment. We hope Score brings in Joanna Bliss, as she is the only big enough name to move the needle. The star sisters or a busty girl from an obscure corner of Romania is not a big enough name for the hype. Yes, for some fans this could be like WWE bringing Sting 20 years too late; however, Joanna Bliss at 42 is still a great-looking lady and has aged well.
The expected release date is Easter – or they could start teasing it on Easter-. Unfortunately for Scoreland some fans have already complained that they expected Cheryl, Sha or Luna Amor based on the comparison with Angela and Lindsey. That is what happens when you book yourself into a corner.
Is there a chance it is not Joanna Bliss? Maybe, but the big names are dismissed. Any other girl is going to be a major disappointment.
If it is a bigger name: Luna Amor, Alexsis Faye, Sha Rizel, Demmy Blaze, Micky Bells, Samanta Lily, Valory Irene, Leanne Crow I would give away 100 free subscriptions to the BoobsRealm Onlyfans.
If it is Joanna Bliss I will make a 50% off for the next 30 days after Scoreland released the hardcore debut.7
(scoreland link – still to be 100% confirmed by Scoreland)
Below a tweet from Joanna promoting a dildo titfuck on her own platform
Thank you for buying! Secretary cheers up her boss – 4K https://t.co/mjl1X14Bj5 #MVSales pic.twitter.com/sBKv0eN6MP

— JoannaBliss (@realJoannaBliss) April 7, 2022