Tessa Fowler's sister joins Onlyfans. Eugeniya Diordiychuk updates. Mady Gio to Scoreland rumors debunked.
Eugeniya Diordiychuk teased opening an onlyfans in her IG account. The story was deleted and it seems she does not want to go that route.
Eugeniya Diordiychuk has been semi-retired for a while. She did shoots under the name Katie Fey. It seems she is married now. Here is her IG https://www.instagram.com/eugeniyadior/?hl=en.
Kayla Fowler FKA Kelly Rich followed her more famous sister Tessa and joined Onlyfans. The account is brand new. Onlhy 12 posts and 36 likes. Would Tessa make an appearance? She had a BJ and facial video on Cosmid. That does not mean she will do another one on her OF. However, it is 2022 and girls want to make cash in the recession. I heard she was married. I am not sure about the accuracy of the rumors. We will find out soon.
Here her Onlyfans and a screenshot from her infamous facial from 10 years ago. https://onlyfans.com/kaylamf_xoxo.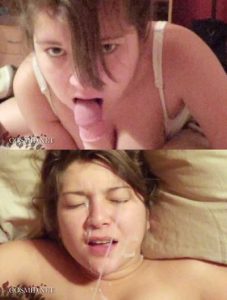 Mady Gio, the girl of 2022, posted that she got the American VISA so she could visit Miami. Speculation went wild online as Scoreland's headquarters are based in Miami. However, it is worth noting that Scoreland usually shoots European girls in Prague. Mady Gio has been pushing her limits every week. A couple of months ago she was not even showing her nipples and now she is doing shibari and getting her tits sucked by a man on camera.
There is something I can tell you after having interacted with Amateurs, attention can be addictive.  Many girls spend hundreds in photograohers so they can post a photo on Onlyfans and tell their friends they are models -but it would not increase their subscribers count-. Some girls will suck dick for not paying for professional photos. So while I am sure Mady does not need the money, the constant pushing and pushing of her content might give us the message that she is just here to experiment. I hope I am wrong and Scoreland can really sign her, breaking the bad girls 4-year streak.