I got some great surprises in the last couple of days. KittieSauce, Casey Deluxe and Anjii Ross posed wearing the Boobs Realm tank top.  They really made it look great! The logo was a bit too big, the person in charged of printing it made it bigger than I wanted to; however, KittieSauce, Casey Deluxe and Anjii Ross made it look great on their great bodies and the logo stood out on their perfect big natural breasts. KittieSauce promised to take another photo where we could see her pretty cute face. Casey Deluxe is 7 months pregnant and her boobs have grown. The Boobs Realm tank top look great on those soon-to-be milk wagons. Anjii Ross showed how big her breast are posed dashing on this sexy selfie. KittieSauce, Casey Deluxe and Anjii Ross show that her big natural tits could be put to use as billboards.
KittieSauce
Casey Deluxe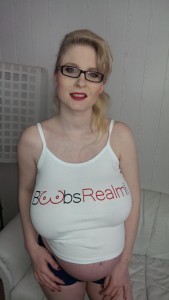 Anjii Ross
This is the last post of 2015 I want to thank all the fans and models who have made 2015 a great year. I invite you to read all the BoobsRealm.com interviews I made this year. I promise more in 2016… oh and next week, finally I will put up all the AVN content..one way or another… I apologize. I wanted to make it look good and end up procrastinating. That will not happen again and will be my years resolution. I also promise to update the blog more often. Back to the interview, be ready for new exclusive interviews: Darcie Dolce, Enki Bracaj, Rockell Starbux and Megan Clara will be interviewed in January. I also will bring 2 more sites that I am sure you will love. I will also invest on advertising. BoobsRealm.com has grown in the past 15 days 30%. Thanks for your preference and your support. However, I want BoobsRealm.com to be the best source you can find on big boobs sites.
I won't be going to the AVN's this January. I would love to, but I chose to either go to Exxxotica or AdultCon in California and heading to Europe for a month. I will try to get some behind the scenes of DDFbusty, LegalPorno, Putalocura.
On a side note, I'd like to reply to the comment made by Bob on Zoo magazine busty glamour models. He is right I forgot cams; however, it is worth to point out the following: Most of busty UK models who are flirting with porn are already on BabeStation or have already done masturbation scenes(Daniella Levy, Katie Thornton, Hannah Claydon, Cherry Blush). The ones who only pose for glamour sites or used to be Page 3, Nuts or Zoo regulars (Lucy Pinder, Jessica Davies, Beth Lily, Ellis Attard, Stacy Poole, Lucy Vixe, etc) can be classified in two groups. One group are the Glamour Bucks girls, who are girls that are already doing cam on Glamour Stars Live -free advertisement buddies!!- which might be an additional income, as that site gets less than 15% of the traffic that BoobsRealm.com get -They should cam with me lol-. but still is up because of the regular customers. This group of girls – Lucy Collete, Jodie Gasson, Holli Sparrow, Jessica Davies, Lacey Banghard, etc is managed by one agency. The second group are the UK Centerfold girls, managed by Girl Management Agency, where Beth Lily, Ellis Attard, Fiona Siciliano, Stacey Poole, Demi Rose Mawby, etc work. This site had Bedroomcelebrity.co.uk which was shut down this year because of the lack of traffic. Having said that, it is very unlikely that those girls will venture into sites like Streamate, MFC, Chaturbate as said sites contain hardcore content. Keep in mind that the girls are managed by the agencies and said agencies have/had in place camming sites on their own. Bottom line, it is unlikely we will see the aforementioned on a porn cam.
Beth Lily.. no it is not the casting couch =(
As a final comment in 2015, I would like to add that I offered a partnership to one of those Glamour Model cam sites. I partnered to bring imodel4you.com to life and I thought that BoobsRealm.com could offer more traffic and income to the girls on those sites; however, the idea was shut down by the owner. It is worth pointing out that I am no longer involved with Imodel4you.com as I may launch a site under my own vision and a different business strategy, but I invite you to check it out. Samanta Lily, Jemma Valentine, Casey Deluxe, Jenny Smith, Basil Meadows are on it selling personalized photos and videos.
Have a Great 2016! All the best! Thanks for supporting BoobsRealm.com!
Let's say hello to the boobs of 2016 with Miss Boobs Realm 2015 Samanta Lily