Kylie is back at xx-cel. This time for a long boobplay with Uncle Cel. Video for big boobs lovers, focused on boobsplay and her giant tits only.
Busty Black newcomer Kylie is back with a new video o XX-Cel. This time the video shows us Kylie revealing her giant … unreal.. spectacular.. gigantic… enormous… mega udders. Cel plays with her giant funbags for many minutes. Tits play, tits bounce, tit sucking! That is a tits buffet!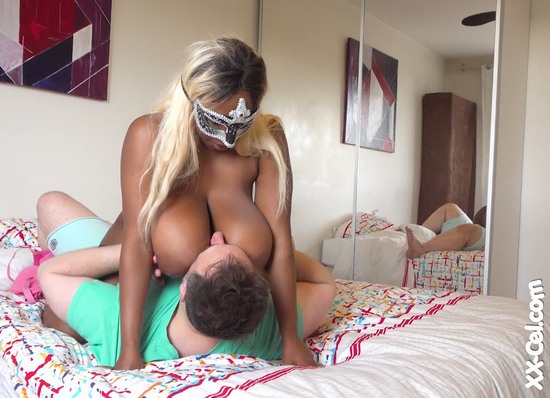 Another thing that came to my mind while watching that video was that poor camera man. Yes, imagine having those giant tits in front of you and watching somebody else getting all the fun while you are having a boner 1 meter from it. Yes I have had wishing to touch tits of models when I shot them, but obviously I behaved or got the manhandling videos. However, seeing other having the fun you would like to have in front of your eyes, might be really hard.
Kudos to Uncle Cel for bringing in Kylie to our big boobs world. Those tits are spectacular. I am sure we all would go crazy on those giant boobs!
Below some screenshots of the big boobs encounter.