You voted. You decided it. The best girl to ever have been featured on BoobsRealm has been declared by you. The contest that consisted of all Miss BoobsRealm winners and the Best Girls of each year since 2009 -and one from 2000-2008- has been declared. The Generational busty girl Lucie Wilde joins the Elite and becomes a Miss BoobsRealm by winning Best of Miss BoobsRealm.
Was it poetic justice? Did fans righted the wrong 8 years later? This brings mix feelings. I will start with the positives. Lucie Wilde, the most legendary girl to appear in the Boobs World in the last 10 years has become the Best of Miss BoobsRealm by beating the top of top.
For many, and me included, Lucie Wilde should have won Miss BoobsRealm 2014, but the rules allowed fans to vote every day -unlike every 7 days in these days-. We also found out that someone supporting Antonella was an IT programmer. However, we could not prove anything as several IPs were used -which applied to 2013, too. Anyway, we cannot reverse the results. However,. the fans in 2023 decided that the best 5 girls were Lucie Wilde, Merilyn Sakova, Hitomi Tanaka, Yulia Nova and Touki. Ultimately, in the final featuring the biggest boobs stars of this century Lucie Wilde won her first and only Miss BoobsRealm.
Voting was ending on Sunday. however, at 19;00pm EST Lucie Wilde and Merilyn Sakova were tied at 167 votes each, while Hitomi Tanaka was behind them at 165 votes. Just like in 2014 when Antonella and Lucie were tied at 1700 votes each – Tessa was 33rd at 248 votes=, we allowed one more day and finally one vote decided Antonella's win. This time the additional day favored Lucie Wilde. The surprise was that Hitomi rallied from behind getting the second place.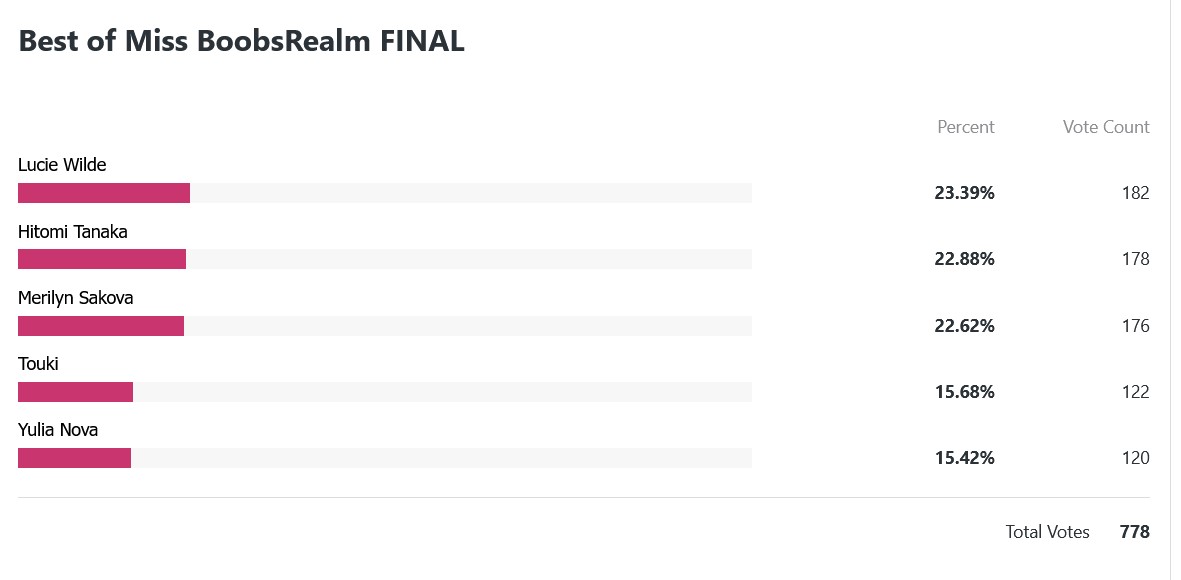 If you ask my personal opinion, the original first ever Miss BoobsRealm Merilyn Sakova should have won the Best of Miss BoobsRealm as she is the biggest icon in our community.  However, Lucie is the icon for a younger generation. I am ok with that. On Sunday declaring TWO winners crossed my mind as it was going to be hard for me. I did not vote until Sunday and I decided to vote for Touki because I did not want to be the one deciding. In a way I do regret not auditing more deeply the results from 2013 and 2014 which left Sha and Lucie in the losing end, and I preferred that fans added their votes.
I think Lucie or Merilyn were the rightful choices. Hitomi is great. a Legend; however, I think that longevity and recent memory play a factor. Hitomi has been present for more years, while younger fans are not that familiar with Yulia Nova or Merilyn, while more familiar with Hitomi and Touki.
It is imporant to mention that the irony is huge when we see the standings and notice that the two girls with the most votes never won a yearly Miss BoobsRealm.
I only compare this win for Lucie to Messi winning the World Cup that was eluding him for almot 20 years. While Lucie may never find out, Lucie Wilde and the words Miss BoobsRealm is something that feels right.
On a side note, in 2025 we will have a Miss Boobsrealm Legend where all these girls will compete against the best busty models from 1960 to 2025. At the end of that year or in January 2026 BoobsRealm will officially stop updating, but will end with Miss BoobsRealm GOAT where Lucie and Merilyn will have the chance to win the Biggest Award of them All. Regardless of what happens later, Lucie Wilde is now in the books as Best of Miss BoobsRealm.
Lucie Wilde Miss BoobsRealm