We bring you a a photo we found online of Mady Gio with a dick close to her mouth. Also we bring the finals of the Miss BoobsRealm Content next week. To conclude we have a busty amateur named Amedee Vause to entertain us with her huge boobs.
Miss BobsRealm Content was held in early January. Five girls advanced to the finals. The 5 groups featured different categories based on the type of content -or main video- the girls shot for BoobsRealm. The five girls who will compete for the Miss BoobsRealm Content are: Sha Rizel (Best Manhandling), Katerina Hartlova (best topless/solo), Rachel Aldana (best remote video), Goddess Arianna (best boy/girl) and Katie Savannah (Best Debutante). The winner will add a Miss BoobsRealm batch to her resume and will compete in the Best of Miss BoobsRealm the following week which will feature all prior Miss BoobsRealm winners and the best girls of each year.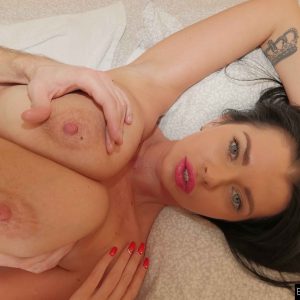 Time to introduce you to Amedee Vause. Amedee brags about her slim figure and her 36K natural tits. The bustyy brunette does hardcore and is great at giving titfucks and sucking dick. Undoubtedly, Amedee is someon you need to keep an eye on. It seems we have found a new star to watch. Amedee Vause is the girl giving a BJ on the featured image of this post.
Find her on:
twitter.com/amedee_vause
https://www.xvideos.com/video60193679/step-daddy_s_new_year_surprise_-preview-_taboo_blowjob_fucking_by_amedeevause
The main event of today is Mady Gio. She has been playing with dildos (over her panties), and getting her tits sucked by men and women. We posted the tease of a possible b/g debut. It seems that Mady has already shot some hardcore, but it is to be released when the right time comes. Let's not forget that Mady has been making over $1M/year just with topless, so hardcore may be saved for when money goes down. Remember that there are many videos that have been shot by girls that have been released years later (see Amanda Love IR, Tessa Fowler's blurred BJ or Alice Brookes boob play), so let's not rule out several b/g scenes of Mady have not been recorded yet. We came across this photo. Maybe it is not real, but it is hot to believe.