Two bizarre stories today. Busty blonde Marsha May has been sentenced for child porn. Also meet the new Tracy Lords who shot porn for Reality Kings under the name Bieyanka Moore when she was only 15 years old.
Blonde vixen Marsha May was charged with multiple felony counts of lewd and lascivious battery on a child and promoting sexual performance by a child. She pleaded to reduced felony raps, including child abuse.
When she was arrested she took to twitter not to apologize for her behavior but instead to say "i hope this doesn't interfere with my dreams but only time will tell.
According to police, Marsha May and her co-defendants "engaged in sexual acts" with the victims, who at the time were 12, 13 and 14 years old. Marsha May, investigators alleged, transported the minors to the home where they later drank vodka and gin, took Xanax, and had sex. The sex acts took place when streaming shows on Camsoda.
Tracy Lords became a legend after shooting porn when she was 15 years old. While we all could assume there is now a huge background check to avoid these situations to happen again, it happened back in 2011 when  a missing child from Nevada starred in a Cumfiesta porn scene under the name of Bieyanka Moore.
East Coast Talent is an adult talent agency under that has been under the eye of the storm lately. O'Byrne emailed porn director Ashley Billington advertising the services of a new starlet– "Stage Name: Bieyanka". O'Byrne claimed that her birthday was November 19, 1990. That's actually the birthdate of Tyler Chanel Evans, the Las Vegas-area exotic dancer who claims her ID and social security number were stolen.
Criminal child porn and rape charges aside, the victim's mother sued Reality Kings in civil court. I am told they ended up settling out of court for an undisclosed amount. Even to this day Bieyanka Moore won't say how much her mother got in the settlement agreement with Reality Kings.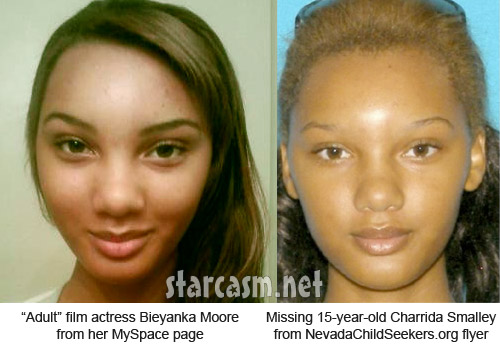 Now let me tell you a really fucked up part of this story. Despite the fact that Reality Kings got in all that trouble filming a 15 year old having sex, did you know that PornHub – owned by MindGeek, who also now owns Reality Kings is showing the movie on their website?!!
NaughtyNews contacted Bieyanka about her decision to make porn despite knowing all the implications it had:
"I was distracted by the promise of easy money."
"At first, I was told she would be in a music video. Instead, I found myself having sex on camera with a man I didn't even know."
"I was a runaway who didn't want to go home. I knew I had to do what they told me to do if I wanted to stay."
"I was manipulated," says Bieyanka Moore. "They were throwing money in my face. I was 15, I didn't know better."
On a more positive note, did you notice this busty redhead on Big Naturals? She goes by Ginger Rose.