Welcome to the last 5 groups of the first round of Miss BoobsRealm 2015. As these are the late entries only 2 girls from each group will Qualify. Finals date has been changed due to scheduling issues. It will start in the first weekend of October.
Go on the BoobsRealm forum and voice your opinion. Share your thoughts. If you are a model and want to have another photo for the contest, feel free to contact me.
RESULTS: Eugenia Diordiychuk and Tiggle Bitties advance to the final round.
Bella Porsche: A beautiful blonde with a pretty face and natural big breasts. Bella might be new to most of you, but I am sure she will become one of your favorites. Follow her at @TheBellaPorsche and see all what she has in store for you.
Danniella Levy: Latest update on Pinupfiles. She large big breasts. They are fake, but they are amazing. I hope Danniella stays with us for a long time and we see more of this stunning hot girl.
Emma Leviathan: A Streamate star. emma has a beautiful sexy face which combined with her natural huge breasts and her personality creates the perfect combo for those looking for a good time on webcam. Follow her on twitter @EmmaLeviathan. I enjoyed her interview on SexcraftBoobs. she is a girl I am interested interviewing or at least having a chat with. I am also curious about if she is into occult or the name Leviathan was chosen without knowing the origins. She is a babe to check out daily!
Eugenia Diordiychuk: Known as Jenya D or Katie Fey, Eugenia Diordiychuk is one of the top girls to ever grace Playboy.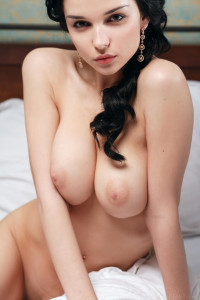 Jenna Justice: Jenna is a super babe who spends her time on cam. She is one of the most beautiful cam girls I have ever seen. Not only fans agree with me, but also Rob from FTV shot Jenna for ftvgirls.com. Follow her and find out what she is up to.
Nadiya: Just debuted for XX-cel.com. This girl has huge boobs. You will only see her on XX-cel.com so make sure to enjoy the show. Cel knows how to threat huge boobs.
Sandra Drake: The new busty sensation in Europe. Sandra Drake debuted for Woodman as Nikki Thepair, then got DP on legal porno as Sandra Drake and finally debuted for Scoreland as Jessie Simmons. Regardless of the name she goes by this busty euro cutie might be the new Marina Visconti or even Lucie Wilde.
Themis Thunder: Another XX-cel discovery. He brings us new blood and new boobs for the big boobs lovers. Themis has big heavy tits. I am sure Cel has managed to treat them as they deserve.
Tiggle Bitties: Tiggle Bitties had a short-lived career in 2010 under another name, but she just returned in 2015 to take the world by storm. Find her as @Tiggle_Bitties and witness her busty adventures. She is really cute and friendly. I strongly recommend you to try her official site http://tigsfanclub.com