Welcome to the first round of the contest to name the best big boobs of 2015. To know see the list of participants per group and links to each group visit the #MissBoobsRelm2015 main page. The top 4 girls of each group will advance to the finals which will start in late November. The lady who wins the final round will get US$300.
Go on the BoobsRealm forum and voice your opinion. Share your thoughts. If you are a model and want to have another photo for the contest, feel free to contact me
UPDATE: First round has finished for the first 19 groups. The additional 5 groups will be posted on Thursday July 30th and will be up until August 17th.
QUALIFY FOR NEXT ROUND: Anri Okita,  Sarah Randall, Angel Wicky and Ronna Raze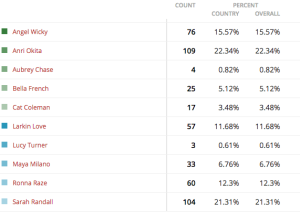 The following are the 10 girls in this group:
Angel Wicky: The czech bombshell continues thriving in her career. She is gracing playboy pages and doing mainstream appearances. You may find a lot of her hardcore and girl/girl on Scoreland and ddfbusty.com.
Anri Okita: Probably the most beautiful Japanese girl I have ever seen. I had the pleasure to meet her. A really gem.
Aubrey Chase: Another newcomer introduced by Cosmid.net. Aubrey gets naked in public showing her big natural breasts.
Bella French: French Canadian with a lor of experience. She has graced Scoreland and is one of the symbols of manyvids. Probably one of the most well-known busty silicone girls. Her site is bellafrench.com
Cat Coleman: One mega busty babe. One of the new flagship girls from Cosmid. She has two things that would make you love her. Her smile and her eyes…oh yeah. Obviously her big natural rack is a given.
Larkin Love: A cute brunette with two powerful reasons to follow her. Four hands are needed to lift those big girls.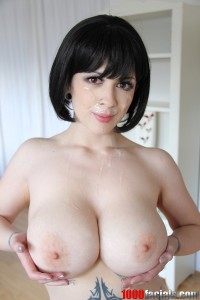 Lucy Turner: A glamour uk babe with a celestial figure. She does not shy away from showing her chest and I am sure we will hear from her in the years to come.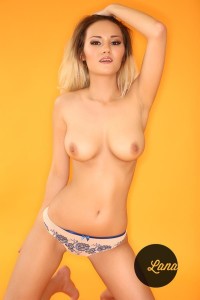 Maya Milano: Scoreland shot with her and made her become a fan favorite. People want to see her return later this year. I want to see her!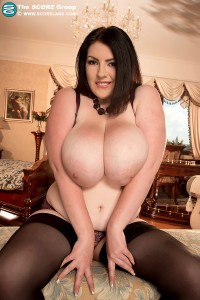 Ronna Raze: Webcamgirl with ample breasts that would feed the most hungry baby -and man- Ronna enjoys running around naked and bouncing her juggs on webcam. Visit her room to see her naked.
Sarah Randall: She just bea everybody in the preliminary round. This means that fans care less if she goes fully-naked or not. She is still a fan favorite. There is no doubt that Sarah Nicola Randall is a mega busty star.