Hello guys, The wait is over! It took some time and a lot of going back and forth with the members of the Committee. The girls that will participate in the Miss Boobs Realm 2016 have been selected. This edition features a lot of busty cam girls, which may be introduced to you on this site. It also features busty models, busty pornstars and a few amateurs.
It was not easy. It was originally to feature 120, then 150 then 170 and now it has 174 busty girls. The best busty girls who have at least posed topless and cause quite an impact are here. The finest busty girls  from all around the world have been selected. I know there will be always opinions about girls who were left out, but you can't make everybody happy.
The contest mechanics are as follows:
– Round 1: Will feature 80 girls in 8 groups of 10 each. These girls need to qualify to the round 2
– Round 2: 11 groups of 10 busty girls each. One girl advances to the final.
– Redemption Round: The 11 girls with most votes who did not reach the final will go on a short round to choose finalist #12.
– Finals: 12 girls compete in an 8-days round.
Will Samanta Lily repeat this year? She gives a titfuck and gets a cumshot on her tits  -It,s a dildo btw-
In previous editions fans decided who advanced to each round and ultimately, the contest winner. This format caused controversy as it was not advantageous for girls who were not on social media or whose fans were not as die-hard as those of other models. In addition, it is important to say that the contest looks to award the best busty girl of the year, who has worked her tail off to please her fans or has been releasing new content. Some girls may be stale in their works, while others despite doing the same style of work have managed to captivate the minds of their fans and gain new followers.
In order to counter obsessive fans and attempts to hack the polls -which has actually happened – a Committee has been formed. Its members are 3 fans who have been following the blog for years and have made contributions of different kind to the blog. In addition two independent producers, experts in big boobs will cast their votes. Also, for the first time ever I will take part in the voting.
Would a newcomer like Rachel Raxxx get a win? She auditioned for a singing audition. She did not sing that bad, but the judge knew what her real talent was. Rachel Raxxx gives a moaning concert as she gets pounded hard. She also teaches the guy how her big natural tits will use his meat mic between them.
Each member of the Committee will have a vote that weights 1. Overall Fans votes will weight 2. This makes a total weight of 8 votes. The girl with the most Votes will win their respective group. This new format is a step forward to make Miss Boobs Realm the first contest that focuses on all big boobs models with the goal to turn it into an adult industry recognized contest.
Note: all girls will be featured on the blog starting Monday October 3rd until the 31st. ? Girls per day so you get know something else about each girl before the contest start.
You can tell your favorite model about it. Contest starts in November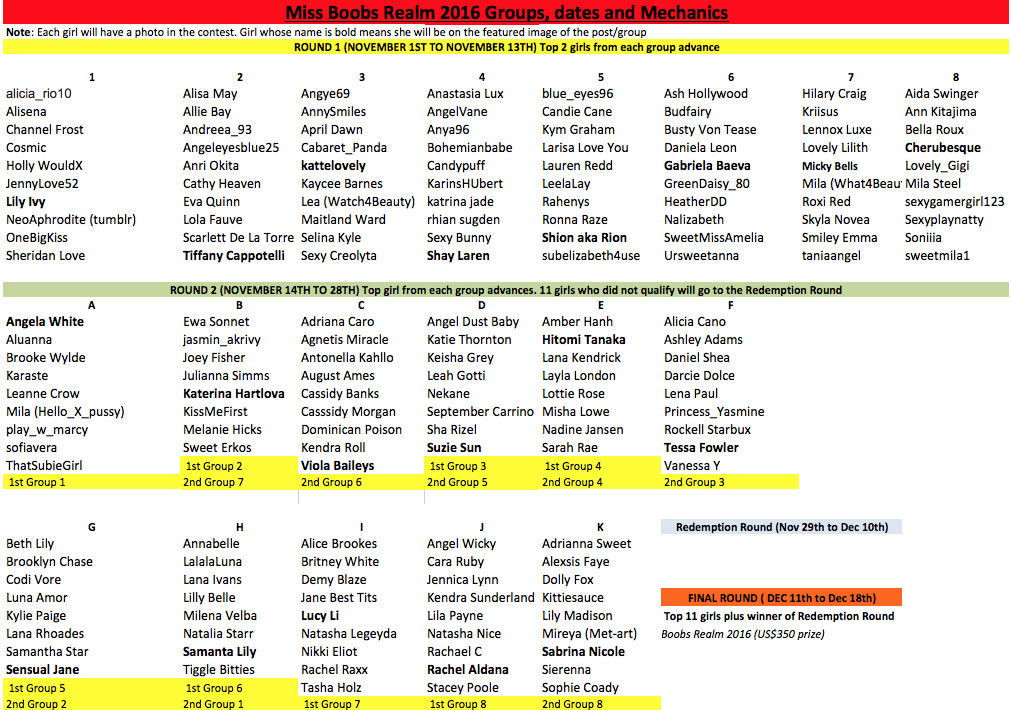 Let me introduce you to Lalalaluna (twitter @lalalaluna_mgf) who posed with her Boobs Realm tank top. There are several models who have done it in the past few days. You will get the photos on here. One of them being a retired pornstar who did a farewell interview and showed her boobs for the last time for the blog.