It is time for the MBR222 second qualifying group. Some adjustments were made. Here are the 8 girls. Two of them will qualify to the contest.
Isa Gomez, Kendall Navarro, Lolosavo, Lori Taylor, Louisa Khovanski, rivtittyjones98, Tara The Witch and Violet Myers.
Voting will last a week.
The HUGE news is that the contest will Officially start in mid November; however, the FIRST Group will be started next week to warm you up for the other 16 groups.
Isa Gomez
Busty Colombian girl who has debuted for Scoreland in 2022.
Kendall Navarro
Spanish busty lady Kendall Navarro has so much potential. This one has been selling solo and b/g content on different platforms. Kendall has also been online under the name  Leidyka on chaturbate. Find her on twitter: https://twitter.com/leidykendall
Lolosavo
The "would have been  legend" is in the list because despite having a breast reduction, her tits still look wonderful. Please vote for her based on her current tits and not on the pre-BR size.
Here are the tits+body you should consider before voting.
Lolosavo 2022 pic.twitter.com/28lhmbrda0

— BoobsRealm_official (@Boobsrealm_VIP) October 2, 2022
Lori Taylor
The former Lilian Faye returned in 2021 as a cam model. She had a remote-shoot debut for Pinupfiles. Follow her amazing giant naturals on twitter: https://twitter.com/LoriTaylorxx. Lori is the girl on the featured image of this post.
Thank you for buying! Breast Exam https://t.co/J5NBblTaoY #MVSales pic.twitter.com/6XFNbM8Run

— Lori Taylor (@LoriTaylorxx) September 30, 2022
Louisa Khovanski
The Ukrainian MILF has a cult following. While I am not a fan of filters and adjustments, I still think Louisa is pretty in a natural way. Her https://www.instagram.com/louisakhovanski/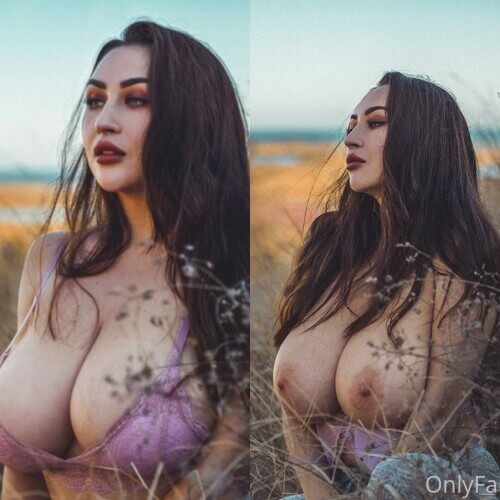 Rivtittyjones98
I was surprised to see her on Pinupfiles. It helped her get more exposure. Her twitter https://twitter.com/rivjones_
Add my new Snapchat @rivtittyjones98 pic.twitter.com/oqqolV9gHJ

— Riv Jones (@rivjones_) September 19, 2022
Tara The Witch
Dutch faceless creator. You can find her big natural melons on twitter: https://twitter.com/pas_tara
Jiggly innit pic.twitter.com/5x1qXfg9L6

— Tara.the.witch (@pas_tara) July 2, 2022
Violet Myers
Violet has nice tits and ass. She makes her MBR debut. Gladly she stopped playing with her Poop . Anyway. Violet is a popular pornstar and is in the qualifying group due to popular demand. Let's see if she makes it to the contest.
how I picture you fucking me right now pic.twitter.com/GRE46aQ2Fp

— Violet Myers (@violetsaucy) September 27, 2022
Only 2 girls will advance to the contest.